11th June 2019
The man who has spent the best part of the last four decades in charge of the ball boys and girls at Wolves games has retired.
Dave Shaw has been the Ball Crew Coordinator at Molineux for the past 37 seasons but stepped down on the last game of the 2018/19 season.
His first match in charge of Wolves' ball crew was all the way back at the first match of the 1982/83 season. On that day, Wolves ran out 2-1 winners against Blackburn Rovers thanks to a double from Mel Eves.
"I've seen a lot of ups and downs in my 37 seasons – put it that way – but have some fantastic memories," Dave said. "My favourite match in more recent times are the win over Manchester United in which Kenny Miller scored, and the 4-3 win over Leicester City from last season with the Jota hat-trick.
"I remember at the end of the first season I was in charge of the ball crew we got promoted and the club presented me with a plaque to commemorate it, which was very kind of them."
Following the final game of his Molineux career, Dave was surprised with another gift from the club – this time a shirt signed by the current members of Nuno Espirito Santo's squad.
He added: "It's been a privilege to represent the club for so long and work with some fantastic people and most importantly all the boys and girls who did he hard work and got the ball back.
"I'll be back next season as a season ticket holder with my grandson, which I'm really looking forward to."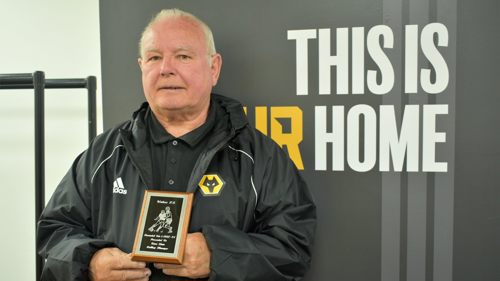 Will Clowes, head of Wolverhampton Wanderers Foundation, praised Dave for the hard work and dedication he has given to the role during his time at Wolves.
"Dave has been a wonderful servant for the club over 37 years," Will said. "It's incredible to think that some of the young people Dave assisted as ball crew all those years ago are now in their 40's and 50's.
"During my 17 years here at Wolves I can't recall Dave missing a single first-team fixture, and his support extended to many reserve games and more recently the under-23 games staged at Molineux.
"The sheer length of his dedicated voluntary service, which was always delivered in such a calm, controlled and friendly manner, is something quite unique these days and is something that we're all hugely grateful for and I hope is something that Dave is immensely proud of.
"Next season will be strange not seeing him pitchside, but I'm pleased he'll be returning as a season ticket holder with his grandson for our home games."