9th April 2019
A Wolves season ticket holder is calling on others to get checked for prostate cancer after discovering he had the illness during an event at Molineux.
Lifelong Wanderers supporter Lee Sammons was one of 450 men who turned up for a simple blood test at a prostate cancer screening in October which was put on by Wolverhampton Wanderers Foundation, alongside the Graham Fulford Charitable Trust and The Barry Kilby Prostate Cancer Appeal.
The 48-year-old first came across the test for the cancer when he was searching on wolves.co.uk with his friend and decided to attend the screening, which picked up that Lee had prostate cancer.
Lee, a postman from Wednesfield who is now receiving treatment for his illness, told the Express and Star: "I went round to see my mate, Paul Carpenter, and he was looking on the Wolves website and he mentioned they were doing blood tests at Molineux, so I went down and had the test.
"If it was not for him telling me what they were doing, I probably wouldn't have known – I've got him to thank as well."
Shortly after receiving his results, Lee underwent two more blood tests and an MRI scan, which proved inconclusive, before undergoing a biopsy. He received his results in February which revealed 10 of his 14 samples given were cancerous.
"It was type two and type three prostate cancer," Lee said. "The shock just hit me. When you think of cancer you always think the worst."
Lee is set to undergo a major operation to try and cut the cancer out.
"I'm not looking forward to it because I've never been in hospital and it's going to be scary for me," he added. "Hopefully they're just going to get all of it out."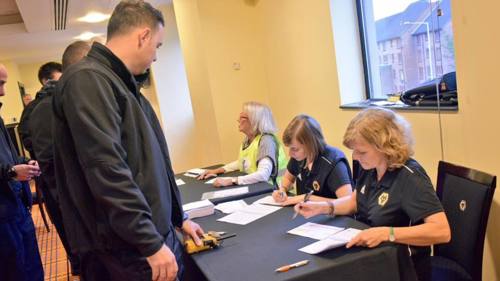 Following his diagnosis, Lee is hoping to raise awareness of prostate cancer in men of his age by encouraging other people to get themselves checked.
"All it is is a blood test," he explained. "You can be fine and healthy and living your normal working life and you never know what's going on inside."
Rachel Smith, senior health officer for Wolverhampton Wanderers Foundation, added: "The screening was very popular and successful with just under 450 men over the age of 40 being tested in a three-hour window.
"We were approached by the Graham Fulford Charitable Trust and The Barry Kilby Prostate Cancer Appeal and wanted to get involved following successful events being run at other football clubs such as Burnley FC.
"It's reassuring to know a quick, simple blood test can hopefully catch things early enough for successful treatment."
For more information regarding the work carried out by Wolves Foundation, click here.