6th March 2019
Wolves midfielder Romain Saiss joined schoolchildren from across Wolverhampton at Molineux this week to Show Racism the Red Card.
At an event run in association with Wolves Foundation, pupils from several city primary schools took part in a range of anti-racism workshops. They also watched a screening of the Show Racism the Red Card (SRtRC) film, before posing questions to a panel of experts and professional footballers.
Saiss was joined on the panel by former Wolves striker, and co-host of the Old Gold Club podcast, Chris Iwelumo – an ambassador for SRtRC – and Claudeth Mcleod, Unite the Union's regional BAME representative.
During the question and answer session, Saiss spoke about how his Wolves teammates and the club supported him when he encountered racism on the pitch.
"When I first came to England I received some 'bad words' about my colour and my religion," he said. "But my friends and the club helped me a lot.
"It was not easy for me. I was coming into a new country which was very different from France or Morocco, so I was thankful to have the support of the club and my teammates.
"It's important when we receive racism to tell someone about it. Don't be afraid to tell the truth to your parents, your teachers or your friends, because they can help you."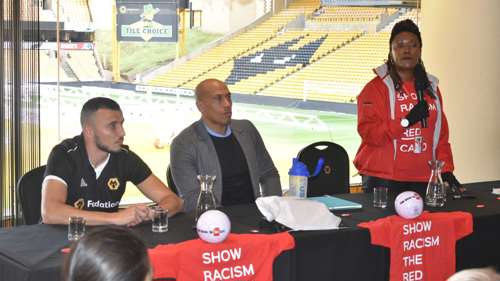 While Iwelumo described how he 'normalised' the racism he encountered as a child in Scotland by not speaking out about the abuse he received.
He explained: "When I was a child in Kilmarnock, I was the only black family at my school, and racism was something I received most days.
"My message, and the important message from the Show Racism the Red Card film, is to tell someone; to talk out.
"That is something I never did. I normalised it. It was something I was getting every day and I never let it affect me, but still, I got it every day and the wrong thing to do was not to share it with my mother, not to tell my father, not to tell my teacher.
"But in a safe situation, can we confront it? We want to try and eradicate it from the world totally, and it's going to be a very big job, for us all to do, but if you experience it, please tell someone."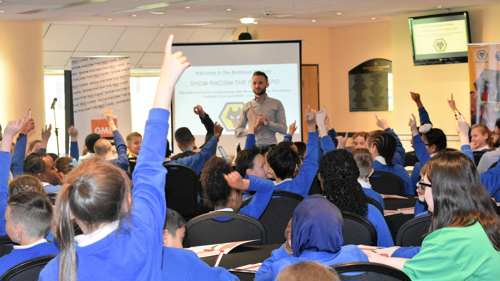 SRtRC is an anti-racism educational charity which hosts educational events with school pupils and professional footballers, ex-professionals, managers, coaches and high-profile members of the community at events held in football stadiums around Britain.