24th December 2018
Singer-songwriter S-X and Wolves defender Kortney Hause recently paid a visit to a Wolverhampton junior school to surprise the city's Premier League Writing Stars winner.
Avid Wolves fan S-X, aka Sam Gumbley, used to work in the retail department at Molineux before his music career rocketed, and Wolves Foundation invited the music producer back to his old school – Springdale Primary – to announce the winner of the Premier League's poetry competition, which centred on the theme of diversity.
During his visit to Springdale, S-X said: "It was great to be back in my old school. As I was walking down the corridors it was reminding me of when I was here.
"It is such a diverse school, so I'm really intrigued to get involved and see what the kids are about."
Tom Warren, school sport manager at Wolves Foundation, who accompanied S-X and Kortney on the visit, explained how the Premier League initiative is a 'huge' project in Wolverhampton.
"Across the city we have run a competition for pupils to write their poems and then join the national competition," Tom said. "It gives us opportunity to work with children and make a real difference to those children's lives by teaching them educational lessons."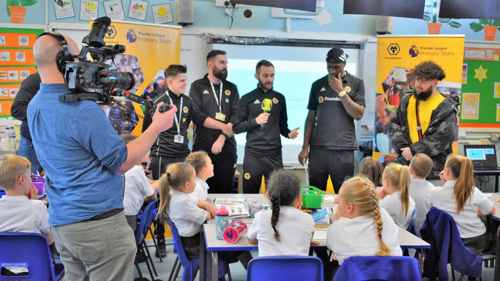 The winner of the competition was announced as nine-year-old Springdale pupil Kelsey Salmon.
Following the visit, Kortney said: "It was good to see that the kids, at such a young age, have a good understanding when it comes to diversity. When we read Kelsey's poem it was very good, and very touching."
As part of her competition victory, Kelsey was invited to Wolves' recent Premier League fixture with Bournemouth where she was accompanied by S-X in reading her poem to a crowd of 30,000 at half-time.
Surprised to have won the competition, Kelsey admitted: "I didn't know how to feel because I wasn't really expecting to win, but at the same time I was very happy that I won.
"I was excited to be performing the poem in front of the crowd. I was definitely more nervous, but it was really fun. Walking out of the tunnel I felt like a football player. I wasn't expecting to hear all the cheering."
She added: "I've loved it. It's been really exciting experience all the different opportunities that I have had."