11th January 2021
Friday evening's FA Cup victory against Crystal Palace, the importance of a cup run and Adama Traore's first goal in almost a year were just some of the topics discussed on the latest episode of Wolves' Matchday Live Extra show.
Joining Mikey Burrows was regular co-commentator and ex-Wolves full-back Andy Thompson, as well as fellow former old gold players in defender Sam Ricketts and striker Chris Iwelumo, who analysed the third round win against the Eagles.
Also joining the panel were special guests including former Palace midfielder Darren Ambrose and ex-Wolves and Palace winger Simon Osborn as the team discussed Ruben Neves' outstanding cup performance as well as an early return to the club for Morgan Gibbs-White and Patrick Cutrone.
On Traore's stunning winner
Iwelumo said: "It's great for Adama Traore to get his first goal in 32 games, and although he should be scoring more with the chances he's had, if that's the start of going on a little run of scoring goals and putting the ball in the back of the net, that will be brilliant."
Thompson added: "Palace were thinking that he's going to be a danger going down the line, so they were showing him inside and if you're going to do that to somebody with the pace that he's got, he's going to exploit it.
"He did that with the goal. A little flick from his right foot onto his left and then he's hit a great shot in. Eze has tried to help van Aanholt out down that side, but it was a fantastic goal."
On Neves dictating play with accurate long passing
Ricketts said: "The change in formation to allow Neves to just play in front of the two centre-halves, he's acted as the quarterback. He gets it from the left, he switches it to the right, he receives from the right, he switches it to the left, and that's his game.
"His passing over 50 yards is the same as if it's over 10 or 15, it's directly to the players' foot, but his range of passing is superb and what that did was really stretch the game as Palace came to sit in tight and that opened the game up to allow Traore and Neto, as well as the full-backs, to dominate the wide areas.
Iwelumo added: "Neves was outstanding. It's what he does, he makes us tick. He gets on the ball, no matter where he is on the pitch, he can put it anywhere."
Ruben Neves making it look 𝑒𝑎𝑠𝑦.

🎨👌 pic.twitter.com/94fs10xuXv

— Wolves (@Wolves) January 10, 2021
On being in the hat for the fourth round
Ricketts said: "It got a bit edgy towards the end of the match as Wolves needed a second goal to kill the game off, but Palace never had a clear opportunity to test Ruddy and in the end they saw it out relatively comfortable."
Thompson added: "They saw the game off very well. We talk about clean sheets and the way that Wolves play, and the results that they've had in the past over the years, so it was good to see a clean sheet once again.
"I thought Conor Coady and Saiss read the game really well when we had to defend a bit at the end, but Crystal Palace didn't really pose much of a threat, but they'll be happy with the result and getting back on winning ways, which is the most important thing."
The hat is neeeeearly full 🎩

Find your team's draw ball number here 👇

— Emirates FA Cup (@EmiratesFACup) January 11, 2021
On the importance of the FA Cup
Thompson said: "Teams are going to change their squads and change their starting 11s because of the league, but I think it's a great opportunity for us to actually go somewhere.
"You saw what it meant to Wolves fans two years ago, and how disappointed we all were when it ended, but it's great having a cup run in the FA Cup. You can see what it means to the players and if they can emulate that again, it will be absolutely unbelievable. If we can keep performing like this, I just think it would be great for the club."
Iwelumo added: "You have to have a balance because the Premier League takes priority, but this is a nice distraction and a cup run is a must. Go on and try to win a trophy and get into that momentum of winning games, managing games and getting over the line with a good result as that will only breed confidence within the group."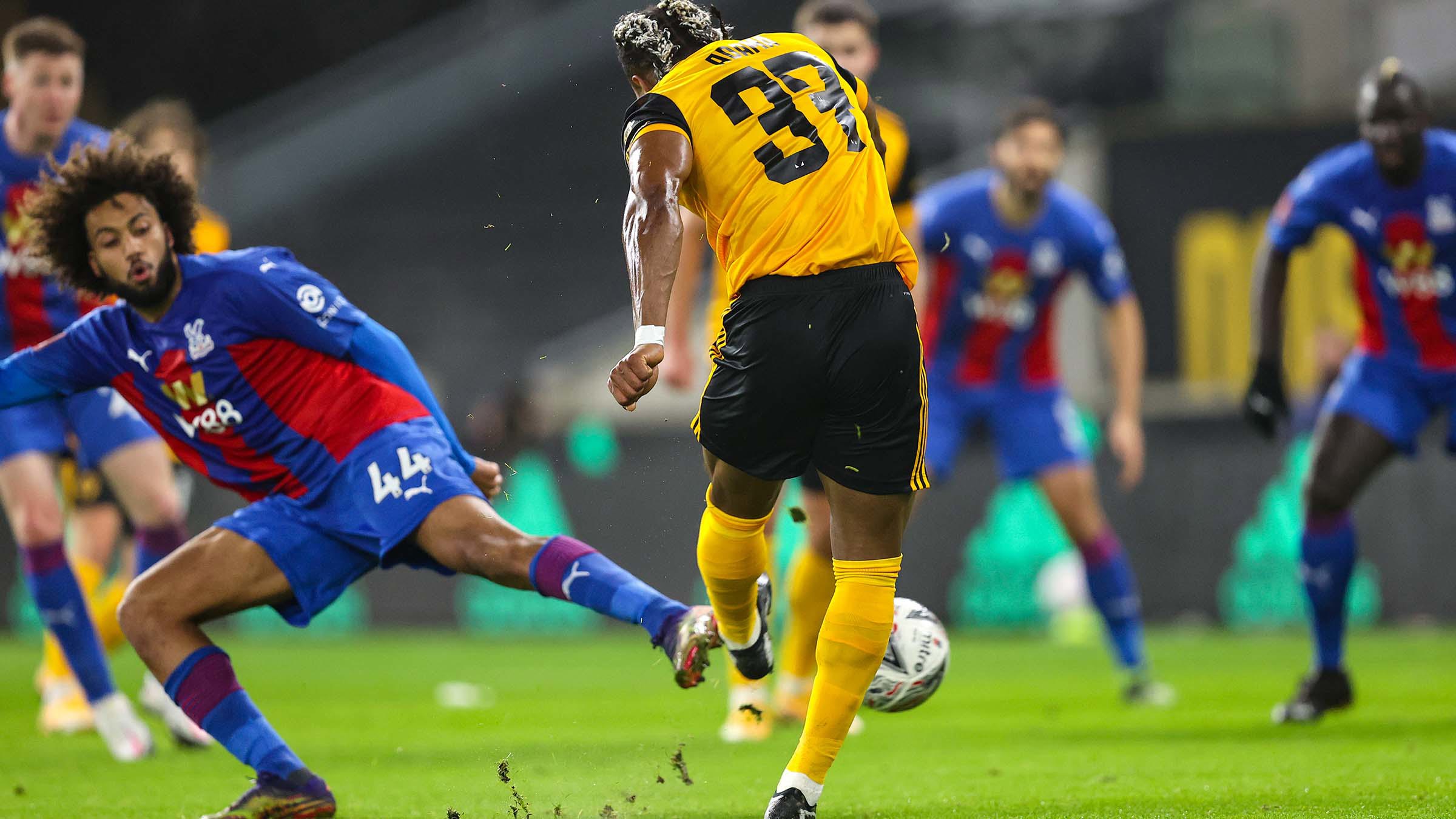 On Gibbs-White and Cutrone returning
Ricketts said: "They know the way Wolves play, which is the big one. They've come back in, they're familiar with the surroundings, familiar with the players, familiar with the way Wolves play, and they both have big points to prove.
"Morgan's loan hasn't gone who he would've wanted it to with his injury, Cutrone wasn't here for too long, didn't do an awful lot and went out on loan, so these are there big opportunities now, and both players need to take them.
"They're going to get playing time because of the lack in numbers of players Wolves have got available to them at the moment, so they're going to get their chance, and this is their time."
On difficulties of signing players in January
Ricketts said: "It's not only the usually January issues, but you've got to look at the Covid situation and the financial difficulties for everyone.
"Wolves have got two good players in and not had to spend a penny. There are teams like Liverpool who are unsure if they're going to be able to sign anybody, but Wolves have managed to bring two into positions they needed to fill. They might go and sign someone else further down the window, but these are two players who are ready to go now."
Iwelumo added: "Wolves would've been thinking about who they can bring in on loan, and then they've brought these two players back who give you that extra bit of quality and depth, but they have to come and deliver."
To rewatch the latest Matchday Live Extra show from Friday, click here.

#WOLCRY