24th August 2020
One of the few players who have ever played for Wolves in a European final, Gerry Taylor, who spent 13 years at the club, including a memorable summer tour of America as Los Angeles Wolves, looks back fondly on the 1972 UEFA Cup run, despite the side falling short at the final hurdle.
THE MOVE
When I was younger, Bob Hatton and I were scouted from Hull and we went to play for Wath Wanderers, the Yorkshire nursery team of Wolves, which was ran by Mark Crook at the time. We were there for a season and then we came on trial at Wolves. We nearly never got signed up because it coincided with Stan Cullis parting ways with the club, so the board said nobody who was due to be signed, would be signed up. But Mark Crook said, 'If you don't want them, then Sheffield Wednesday will.' That's what they told us, but whether that was true or not, I don't know, but Wolves eventually signed me and Bob.
WOLVES DEBUT
I had three years or so with the youth teams and the reserves at Wolves before making my debut against in a 0-0 draw against Ipswich at Molineux in December 1966. It was very exciting because at Wolves, if you worked hard, you would be rewarded, and this was something that I really worked hard for. I was really pleased with it, especially as it came in the promotion year as well. We got relegated the year before, but we were promoted the year I got into the team with Bob.
WINNING PROMOTION
After my debut, I was a regular in the side throughout the next six months, but I picked up a hamstring injury which meant I would miss two or three Division Two matches towards the end of the season. Unfortunately, one of the games I missed was against Coventry, which we ended up losing 3-1. That was a crunch game because Coventry pipped us for the title by just one point.
FIRST GOAL
I was more of a defender than an attacker, so goalscoring was never my strongest attribute, but I will always remember the one goal I did manage to score, against Southampton away. It came in the 1971/72 season and I was having another run in the team at left-back. It was great to score my first goal. It was more like a cross to the far post, and the goalie misjudged it, he came for it and missed it, and without touching anybody it went straight in the back of the right-hand corner of the net. I must have been about 35 yards away and I was aiming for Derek Dougan in the middle, but I tell people that I meant it and that I noticed the goalkeeper was too far out and placed it straight over his head! I also won a bottle of whiskey off London Wolves supporters club as they donated a bottle to a player who scored and I got it.
EUROPEAN FINALISTS
My most memorable game has got to be the 1972 UEFA Cup final, although we did lose to Spurs. Bill Nicholson was their manager at the time and even he said after the game that the best team lost on the night, and it all came down to who scored more goals. That was the only time Wolves have ever got to a European final – obviously they didn't have these European competitions during the roaring 50s – and we were all so proud of what was a great achievement. It was just disappointing that it was against another English team in the final.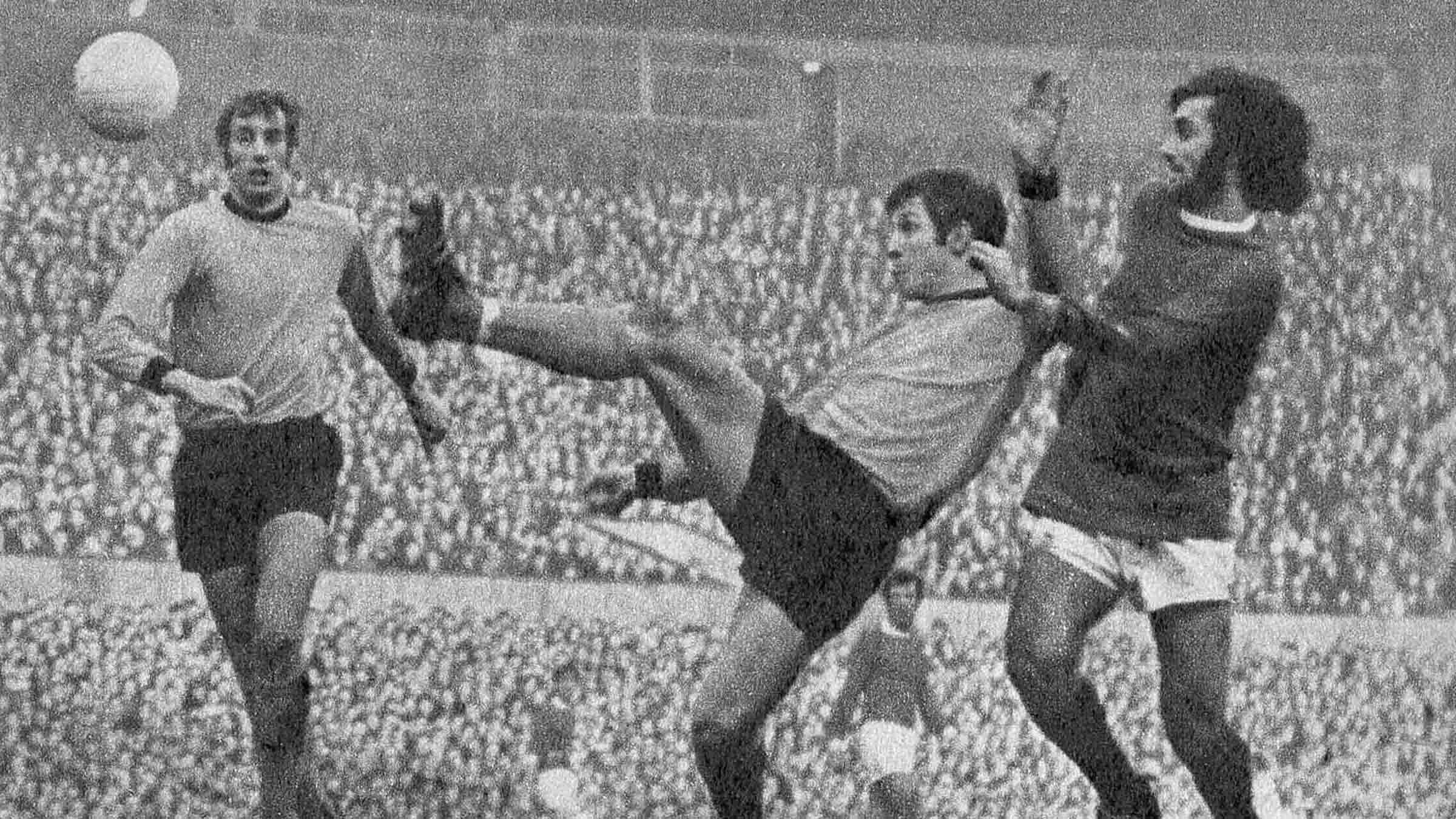 WORST GAME
That would be losing the two cup semi-finals in 1972/73 when we were beaten by Spurs in the League Cup and Leeds United in the FA Cup. It's never nice to lose in the semi-final, but we did beat Leeds at home when they were up for the double the season before. It was the biggest crowds at Molineux I'd ever played in front of with almost 55,000 people in there for a tremendous evening match. Being a Yorkshire man, I was half disappointed, but I was also happy to beat them.
BEST PLAYER
Peter Knowles. He was the most talented player I've ever seen in a Wolves shirt. He was a two-footed player and his passing and control was second to none. I think if he hadn't followed his path, he would have been a regular England international and one of the best players in this country.
BEST TRAINER
Dave Woodfield. He was so dedicated, it was unbelievable. I latched on to him so I could get my fitness as good as he had his and we became good friends. I've got to say he was the most dedicated player in training that I've ever come across.
ROOM MATE
I shared a room when I was with Dave in Los Angeles for 10 weeks. We never really did overnight stays at away games. There were only the odd occasions when we were playing teams such as Ipswich, Newcastle or Southampton. Everywhere else we went to we would catch the train down on the morning of the game and come straight home afterwards.
LOS ANGELES WOLVES
Representing Los Angeles as Wolves in an American league was completely out of the norm from what we were used to back in England. It was the best summer tour we ever had, and better than what anybody could have wished for. The Americans really looked after us and we had some really good trips and really good games. Our opening game was in the Houston Astrodome against Brazilian team Bangu who were representing Houston. It was all a bit of a novelty to us because we'd never played a proper match in an indoor stadium before and a lot of their pitches had artificial turf. We were a good side and were up there with the best of them, but it just all came together and we beat Washington in the final, who had our good friend Frank Munro playing for them at the time.
BEST MANAGER
Ronnie Allen and Bill McGarry were the two I had while at Wolves and you couldn't have picked two different managers. I felt Ronnie Allen was the better of the two because they had different types of personalities; Bill McGarry was more of a disciplinarian and Ronnie Allen was quite inspirational and flamboyant with his football. He was very good at getting the best out of you and we were successful in winning promotion with Ronnie, so I enjoyed playing under him.

Wolves Scrapbooks