3rd August 2020
Sky Sports commentator Don Goodman crossed the Black Country divide from West Brom to Wolves in 1994 but was a fan favourite during four years at Molineux, where he helped the club to their first FA Cup semi-final in 18 years as well as narrowly missing out on promotion to the Premier League.
THE MOVE
I'd always done quite well against Wolves in my games for my previous clubs. Graham Taylor obviously liked me and liked my style, and just wanted another option in the forward areas, but once he expressed an interest, put the bid in which was accepted by Sunderland, it was just a case of meeting up with Graham and it was a forgone conclusion. I thought Wolves would have a better chance of getting me to the Premier League than Sunderland who were struggling mid-table at the time; unfortunately, we lost to Bolton in the play-offs – but that's another story.
WOLVES DEBUT
It was a 1-0 win over Notts County at the start of December '94 and I thought I played ok. I remember enjoying it, there was a full house at Molineux and remember thinking about how brilliant the Wolves fans were with me, even though I had played for the old enemy back in the day, and just loved it. It was me and John de Wolf, who had signed on the same day, and we were making our debuts, but from what I can remember it was quite a comfortable 1-0 win.
FIRST GOAL
I can't remember how I scored my first goal for Wolves, but I remember it coming in a heavy defeat at Bolton, so it's not the greatest memory. It was about six games into my Wolves career and I hadn't scored, but by that time, Graham put me on the right wing, as he liked me to play those diagonal balls. I can't remember whether the goal was a header at the far post or whatever, but that's where me and most other strikers differ. However, I might have remembered it more fondly had we won 5-1, rather than the other way around.
BEST GAME
That's a tough one. I remember feeling that I could do no wrong at the start of the 1995/96 season and Graham was playing me in my natural position down the middle rather than on the right, and by the end of October I'd scored about 13 goals. I was just having one of those real purple patches where you didn't feel you could miss. I don't remember too many of my goals, but I do remember scoring away at Ipswich I that spell. I picked up the ball on the half-way line, turning Tony Mowbray and going all the way to their goal and slotting one in with my left foot. Another memorable game from that time was a 3-0 win against Derby at home and that was the game where I felt like I was at my best in terms of consistency and goals that I had at Wolves.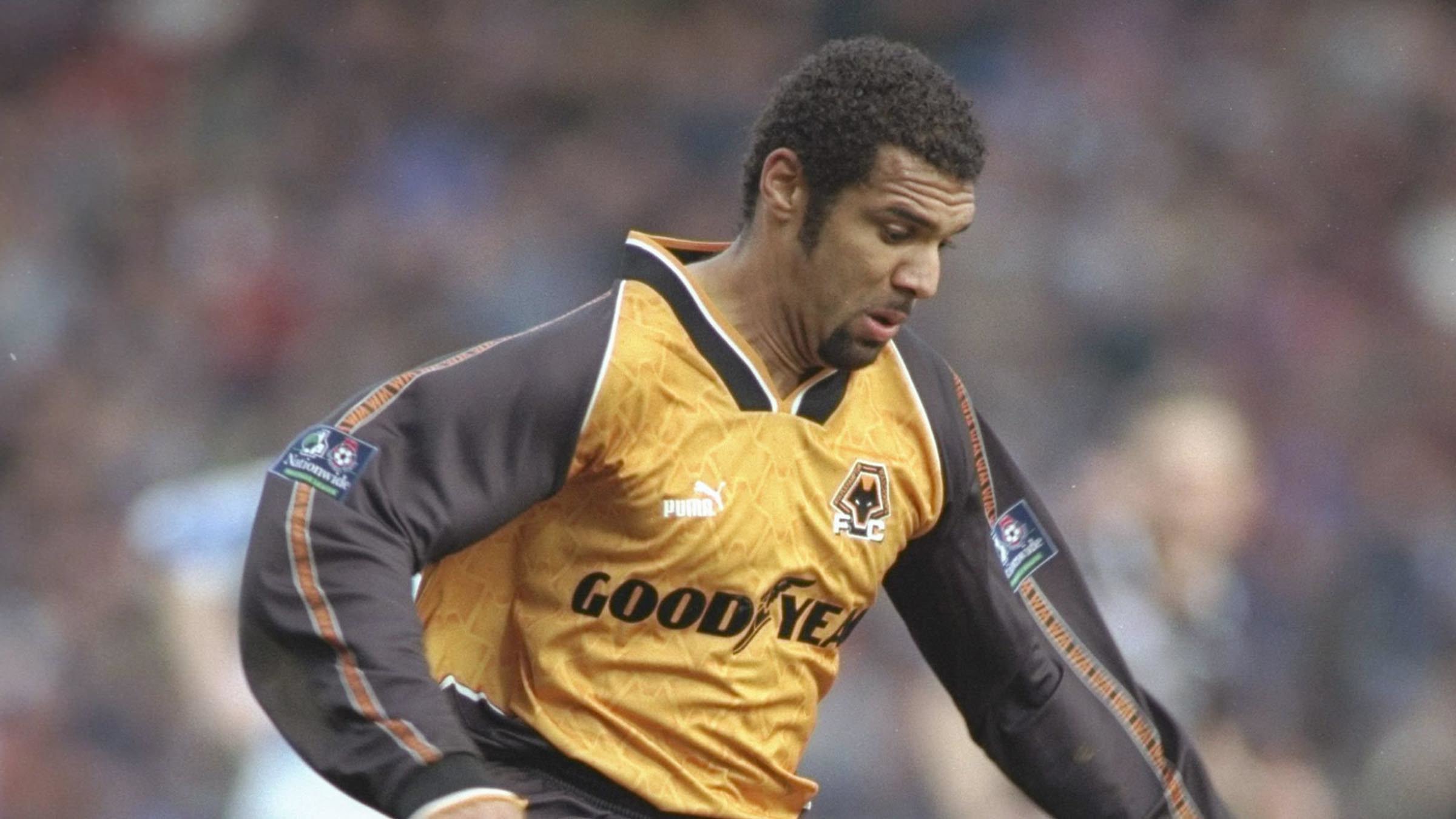 WORST GAME
Not necessarily the worst game performance-wise, but the worst memory is obviously losing against Bolton at Burnden Park in the play-offs. I remember sitting in the middle of the pitch at the end of the game and shedding a tear – I'm not ashamed to say. I just felt robbed. We absolutely battered them at Molineux and only won 2-1. I think we hit the woodwork about five times and Peter Shilton had an unbelievable game. Over the two legs we were way better than Bolton, and then at Burnden Park you had the John McGinlay/David Kelly incident, in which McGinlay should've been sent off, but the referee bottled it. It probably wasn't the worst game that I'd played but it was the worst experience and lowest point of my Wolves career.
BEST PLAYER
I played with a lot of good players, some seasoned internationals, and then there was young Robbie Keane who went on to have one of the best careers of the people I played with. It's a difficult one, because you've got Bully banging in all of those goals, but if you're talking about pure ability and impact on my game then I would have to say Gordon Cowans. He was the most remarkable passer of the ball I ever played with. It was towards the end of his career when I played with him at Wolves, but I still remember being blown away by how good of a player he was; I dread to think how good he was in his prime. I'll go with Gordon, with and honorable mention for Robbie Keane and Bully.
BEST TRAINER
In the five-a-sides, you would have to go a long way to beat Darren Ferguson. That might surprise a lot of Wolves supporters, but Fergie was a brilliant footballer who never seemed to be able to take it out onto the pitch on a regular basis. But in terms of training, he was very impressive and a great player. He had so much talent and I don't know whether it was a psychological thing in terms of producing it at the highest level. When he went to Wrexham, he was smashing it in League One, so I just don't think Wolves fans saw the best of him for the ability that he had.
🎈 A birthday special for Don Goodman as he turns 54 today!@Coindealcom #GoalOfTheDay

🎂🎁 pic.twitter.com/cPvrEnWhjh

— Wolves (@Wolves) May 9, 2020
WORST TRAINER
I'd probably have to say Bully. It's just that Bully was Bully, he was a natural goalscorer and when you're doing the technical drills and the passing in training, that just wasn't his strength. His strength was scoring goals, bullying and outmuscling defenders and getting the better of them, which are all things you don't really do in training too much. When it came to the five-a-sides, he was probably going to be one of the last picks – with respect, because he is one of my best mates, so I'm not saying this to be cruel, because he was the most remarkable goalscorer.
BEST MANAGER
That's an easy one really, because there were only two in Graham Taylor and Mark McGhee, and Mark and I didn't particularly get on. Graham's sadly missed and got me more motivated than I'd ever been by a manager. I was quite good at self-motivating myself, but Graham was the kind of man who would make me want to run through a brick wall for him. If you were on the right side of him, it was great, but if you were on the other side, he was ruthless. Graham was really underrated and one of the worst things Wolves did was getting rid of him. He went straight to Watford, got them promoted from League One into the Premier League in two seasons.
BEST MATE
In those days, the dressing room was a close-knit community when everyone would get on with everybody else. But I lived for six months with John de Wolf when he first came to Wolves because we signed on the same day and stayed together at the Mount Hotel. Brian Law and I became very close, we would always socialise and he would come round my house for dinner, and I also played a lot of golf with Steve Froggatt and Geoff Thomas. Then over time, I've got closer with Thommo and Bully, but the people I saw most off the pitch was Brian Law and Dean Richards.

Wolves Scrapbooks