1st August 2020
His mother for an agent. Bus trips home from first-team matches. Work experience trials. Few Premier League winners had a humbler commencement in the game than Joleon Lescott.
The defender's modest route from Wolves Academy to football's high life, Champions League and major international tournaments, mirrors his unassuming, likeable character.
This month marks 20 years since debutant Lescott burst on to the scene as the latest product of the 'old golden generation' taking shape at Molineux, sandwiched in between Robbie Keane and Matt Murray's maiden steps into football.
However, relevance for those 20 years comes from the astronomical transformation of the football world in that timespan.
For Lescott, his face lights up when sparking memories from back then, around the turn of the Millennium, when he embarked on a glittering 17-year career as a professional.
"When we were negotiating my first first-team contract, I was playing on young apprentice money - £250," he revealed.
"I was unsure about agents, so my mum got involved. She wanted the best for me and whatever numbers we were talking about were far greater than my parents had earned."
This was familiar territory for a young Lescott. Each step of his development was a family affair, no agents, no advisors, purely those with his best interests at heart – even if his opinions were surplus to requirements.
"Getting to the last year of school, our team was pretty decent, so we all went for trials at Derby – 100 kids and two of us got through. Chris Evans at Wolves had still been speaking to my dad when I was away, said he'd like me to come in and do work experience, and Derby had too.
"So, I had two weeks off school, one at Wolves, one at Derby. I came to Wolves and they offered me a YTS and I was going to Derby to see what they'd say, but my mum said I'd have to go into digs at Derby and that wasn't happening, so I didn't have a choice, I was signing for Wolves, whether I liked it or not.
"I used to get the bus from Birmingham every day, my kids don't want to walk to the shop now, whereas I used to get up at half six every morning."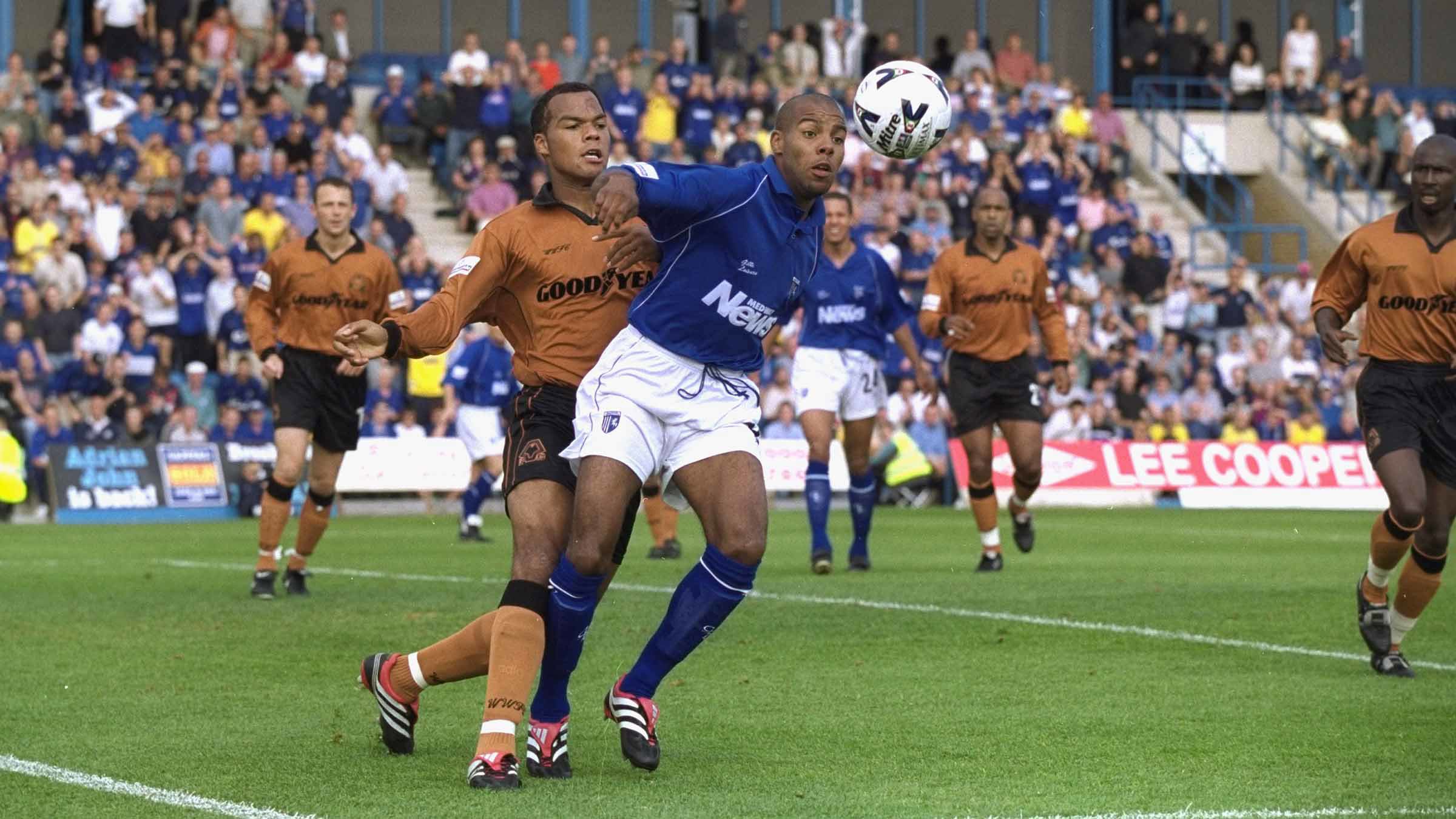 Digs with host families is a path well-trodden by budding footballers, but for Lescott and his Birmingham base, he was able to enjoy home comforts – meaning no excuses were at his disposal, should matters have not panned out as expected.
"I wasn't allowed to move and live in digs. I could have lived in Wolverhampton and been OK, but my mum told me I was travelling, so I got my bus pass. The only stipulation I had was if I was at Wolves for reserve games, at night she'd get me a taxi.
"The club had a taxi deal, but once you became a pro you couldn't use it. One night my mum had gone, presuming I was getting a taxi, but I was 17 so couldn't get the taxi and didn't have money, so I got the bus home after a first-team game.
"I didn't want to sit upstairs because I was in my suit, so I sat downstairs and I thought, 'I need to change this, I need to sort it out' and not long after that I passed my test."
Things were changing for Lescott by this point. Training and friendly matches had dangled the carrot, but rather than airing on the side of caution when it came to ambitions, the teenager had one focus.
However, being somewhat naïve with the publicity of his targets, Lescott had no option but to prove his words weren't cheap.
"Back then there was the Sports Argus, the pink paper on a Saturday, I did an interview when I was 16 at the start of the season. I'd just played against Liverpool in a pre-season friendly.
"We played the game, and they asked for my thoughts. I said I hoped to be around the first-team at Christmas, and thought nothing of it. I went back to the youth team and the lads were bantering me, but not joking, I didn't know what I'd said which was bad.
"I thought, 'Don't say it before it's happened, but I'm going to make it happen.'"
And his commitment was displayed during one of the most globally significant nights of his lifetime.
"It was Millennium year and everyone was talking about what they were doing and I said, 'I'm not going out' and people couldn't believe it. I went to my auntie's with my now wife and was in bed for half 12 because I knew we were running the next day.
"I was at the front of the running and the following week we played Norwich and I was on the bench. I was willing to sacrifice in order to get where I needed to go. I never brought up the interview, but it was a subconscious trigger."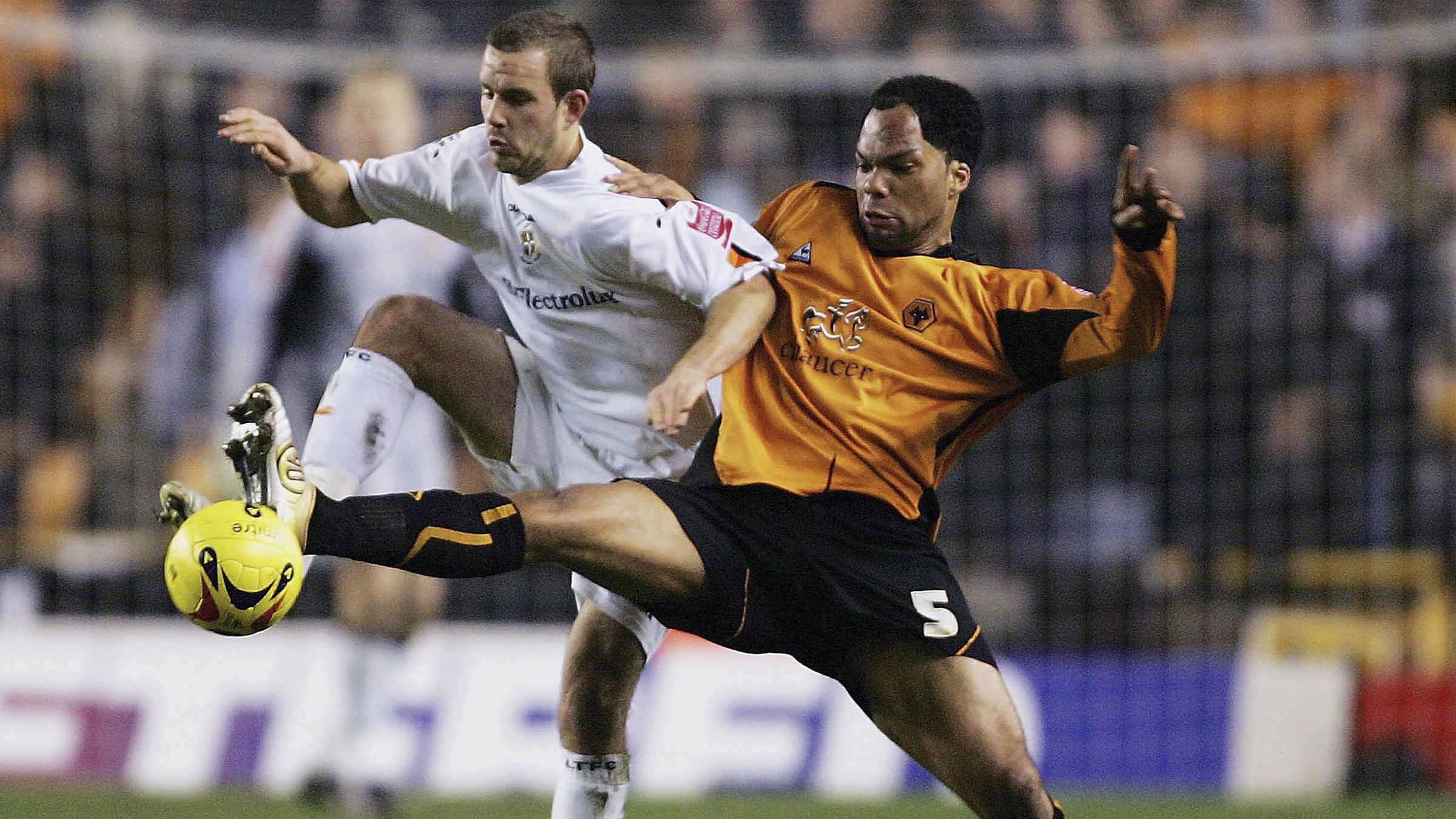 In an era of old-school tactics, Lescott was different. He boasted attributes beyond his years as a central defender, being good on the ball – tailor made for Wolves' modern-day defence.
However, back in 2000, Lescott rubbed shoulders with very different styles of defenders.
"In training, like every young pro, it was the most important session of my life. You don't go in with a training mentality, it's a game. I was trying my hardest and Kevin Muscat got the ball and, naturally I was quite strong, even then, so I brushed him off the ball and he stumbled and everyone started laughing.
"It happened again, and he thinks, 'Let me show him'. I'm just thinking about winning the ball and he came in again, so I did it again and this time pushed him on the floor, and everyone was shocked. He said, 'If you do that again, I'll f****** break your legs'. I realised early that was the mindset that professionals have."
Muscat's methods may be unavailable in any coaching manuals courtesy of the Football Association, but something stuck with Lescott.
"The first time I realised was my second season, when Fulham were unreal. After ten games they'd won nine or ten. Their goal average was two a game and we played them at Molineux. I was focused because it was a massive game. Saha, Boa Morte, people like that.
"0-0 and I got man of the match."
However, such is the nature of the ruthless professional game, a rude awakening was just around the corner.
"We played them three weeks later in the cup at Craven Cottage and I'm not thinking it's going to be the same, but thinking they'd up their level, and they ruined me.
"That was the first time I realised there was another level of players and I needed to adjust. I changed my diet and training programme because I'd never experienced a game where, no matter how hard I tried, it wasn't going to work.
"I was distraught in the dressing room, thinking how I'd never recover from it, and Colin Lee said in front of everyone, 'Do not get upset by that, it happens. You'll still be a good player; just continue to do what you're doing.'
"It helped at the time, but I knew there was more to it than the innocence of 'I love it, let's go and play'."
While open-minded enough to learn, Lescott was also true to himself. Over the course of his career, playing in the Champions League with Manchester City or at Euro 2012 for England, he never wavered from his principles – a ball-playing centre half.
"I always used to say I could play up front, but obviously I couldn't. Defending I used to enjoy, as much as strikers scoring goals. One versus one was the best thing, I used to love it because it was just me versus them, but also, there was bits of it I could do that not every centre half was doing at that time.
"That's probably why I got more recognition – there wasn't many defenders trying to play. I couldn't kick the ball that far, so passing was a lot easier for me, between the lines, keeping it down"
Kevin Muscat and Luis Boa Morte had, subconsciously, set Lescott on a path to the top, but it was a pair of serial winners who shaped the young defender into one mentally ready for the top flight.
The arrival of Premier League champions Paul Ince and Denis Irwin to Molineux in 2002 was a signal of intent. The pair were highly decorated in the English game but weren't coming to Wolves for a final swansong.
Their arrivals were intended to see Wolves promoted.
"They were probably the biggest influences," he admitted.
"'Buts' [Paul Butler] was great because he only encouraged me to do well, whereas 'Incey' and Denis, if I was poor, they'd tell me.
"There was patch the season before I left, in the January I was going through a tough time – I was playing badly. 'Incey' pulled me and said I was doing too much. He told me to simplify it and I needed it. From then I settled down and regained the kind of level consistency I had before.
"He cared enough to tell me but didn't care about the reaction I was going to give. The respect I had for 'Incey' was crazy, the game in Italy when he had the bandage, I remember having training that night and thinking about wearing a bandage in training to be like him, then years later we were teammates."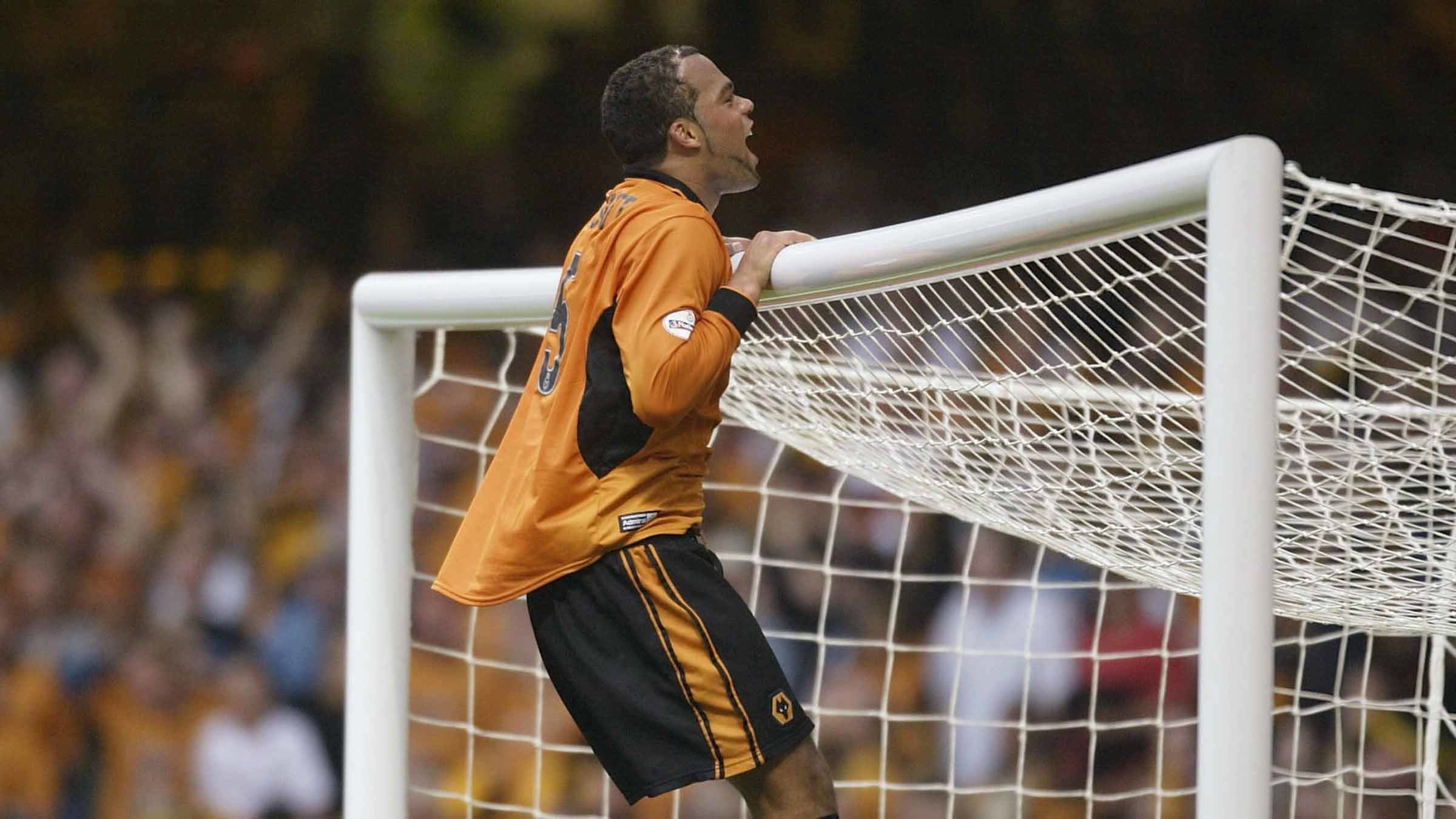 The desired promotion did arrive and Lescott could almost taste the Premier League – exactly what he'd been waiting for.
However, his dream was to be cruelly snatched away, once the severity of a training ground injury was finally revealed.
"I knew I was having an operation on my left knee after the Play-Offs and I slipped in training and it was ridiculously painful, I remember them icing it and I was crying. I was told to rest for week, so I didn't play the last game of the season, played the Play-Off games, then was told the operation wasn't what it was.
"I woke up from the operation in a wheelchair, with both knees having been operated on. I thought it was just my left knee, but they told me the right knee was going to be the issue throughout my career.
"I had an operation in July, and they said if I did the rehab I'd be back in November. The physio took it as I'd be back, so didn't do anything, then the last two weeks of October I was on the treadmill and in my first session back I did it again – the same injury."
The defender would be robbed of his dream, missing the entire Premier League campaign. Having gone under the knife for the same operation as Jamie Redknapp, Lescott had his entire knee ligaments removed – aged just 20.
However, any lingering fears Lescott wouldn't be able to regain his form, and even eclipse it, were quashed as he played every minute of his final 18 months in old gold.
Availability was a factor throughout the defender's career, particularly at Everton, who offered regular Premier League football in exchange for consistent performances and, eventually, a hefty transfer profit.  
The cross-over between the West Midlands and Merseyside was seamless for Lescott. He featured in 180 consecutive league games either side of the 2005 transfer
"I pride myself on that," he admitted.
"It means a lot to me because I know it's not easy to do, people aren't lucky enough to stay injury-free for that time, never mind be consistent enough to stay in the team with managers changing."
"I want to be a Wolves fan, Dad!"

Joleon Lescott talks about how his son decided to support Wolves and taking his boys to watch his former sides meet back in December.

Listen to the full #OldGoldClub episode 👉 https://t.co/f7BM2kveiv pic.twitter.com/xAze595Nsk

— Wolves (@Wolves) March 23, 2020
It was that consistency which attracted the attention of free-spending Manchester City in 2009 – a life-changing move which paid dividends.
Three years later Lescott was a Premier League winner following the most dramatic conclusion to a season in history, as City snatched their first Premier League title from the hands of arch rivals United, thanks to a Sergio Aguero goal which will be replayed for generations years into the future.
Lescott, who partnered Vincent Kompany on that historic afternoon in Manchester, said: "It can't be replicated for me, in any way."
"When it was 1-1, I thought, 'It's fine, we'll score, we've only got to get one'. Then they scored again and then it was real, and the stuff going through my mind, 'I can't go to the school, I can't go on holiday, I don't want anyone to see me, for the whole summer I'm going to have to stay in and hibernate.'
"It would have been the worst failure in history, then when we scored, wow. I watched the game for the first time last December, I can't watch it, it makes me feel sick.
"People tell me I was involved in the build-up – I won a header and then we scored, but all I remember is everyone running around. I ran to the physio, he's not that big and I must have crushed him.
"There was a scheduled party and it was all the staff; every member of staff was there partying together and it was mad."
Memories to cherish for a lifetime, made possible by that humble grounding at Wolves years earlier.
Joleon Lescott – a true old gold hero.

Long Reads