27th July 2020
Many Wolves supporters will have fond memories of Sylvan Ebanks-Blake twisting and turning against Charlton Athletic before firing an unstoppable bullet into the top corner from a tight angle.
But the striker admits he takes extra satisfaction from the first of his two goals, rather than the more famous second, which proceeded Karl Henry's far post finish to secure a last-gasp 3-2 win at the Valley back in March 2008.
In the latest episode of Wolves' new podcast series My Golden Game, Ebanks-Blake speaks to host Mikey Burrows about the most unforgettable fixture in his first season wearing gold and black, in which he scored Wolves' goal of the season, and helped him earn his first Championship Golden Boot award.
On why win at the Valley is his golden game
"I'm not the type of person for self-accolades. For me it's the team that comes first. But on the odd occasion, you have to relive some of the best personal moments that you have, and this is one of those occasions.
"It was my birthday weekend, so that's the priority! No, but it was an early evening kick-off, live on Sky, and it's just a game that really sticks out in my mind, and a lot of the fans remember it too. It's fun memories."
On the build-up to the match
"I'd not long joined the club, so it was a mixed team of experienced players and some good young players who were coming through from all different leagues throughout the country, but we had some real good characters.
"You could see what Mick was trying to do in terms of that young and hungry ethos that eventually got us promoted.
"If I cast my memory back personally to that time, I was in a zone. I was fearless about what I could bring to the team. I knew we had some really good players and a good management team behind us.
"I didn't feel the pressure personally there, others in the team may have viewed it differently, but for me was just about getting out there, another game to get three points and put a few goals in."
On the satisfaction in his first goal
"I've said this a lot of times, I say I prefer the first goal, but the first goal gives me more satisfaction because it's something that I worked on from a very young age on the training ground, day in, day out.
"To see it come off on the big stage, which is where you want to do it, gives me that personal satisfaction that practice makes perfect.
"Looking back at that goal, it really gave me a lot of satisfaction. It was left foot and it was what I proud myself on, one or two touches in and around the box, get my shots of quickly and give the keeper no chance – and that goal was that. A proper striker's goal."
🎈 A very special @Coindealcom #GoalOfTheDay.

📅 12 years ago today, Sylvan Ebanks-Blake celebrated his 22nd birthday by doing this...

Happy birthday, Sylvan!! 🎉

🐺🎁 pic.twitter.com/aNzKhgyayl

— Wolves (@Wolves) March 29, 2020
On his outrageous second goal
"It's not something I've ever tried before, it's not that I was inspired by someone else by watching it, it just happened in one instinctive motion.
"It's really hard to sort of describe; it's one of those freak out of body moments where it all happens in one smooth motion.
"To anyone watching from the outside, it looks articulated, planned and carefully crafted. But for me, it was just split-second decisions, it hits the back of the net and it's euphoria.
"When you look back at it years and years later, it still gives me goose bumps, and you say, 'Wow, that's crazy. I can't believe I'm the individual who did that.'
"Even years later, it was one of those goals that I think most strikers will get in their careers – some strikers may even get a few of them in their career – they get those special goals and they are sort of special out of body moments where you think, 'Wow, I was in some mood then to be able to pull that off.' It was a great move."
On snatching the last-minute victory
"We were conceding late goals and it seemed to be a bad habit, so fair play to Karl to be in that area at that point in the game.
"It was a difficult finish as well. I remember him missing a chance earlier on in the game which was much easier, and he should have scored, but fair play to him for having the energy in that game, the determination and then the finish because it was a tough finish.
"It was a fantastic cross as well from Kevin Kyle because he had to get it between defenders and the goalkeeper, within centimetres. He puts it on a button, but it's still a difficult finish. Afterwards, everyone was thinking, 'What was Karl doing there?'
"But fair play to Karl, because it was a difficult finish, and he won us a famous game in Wolves history."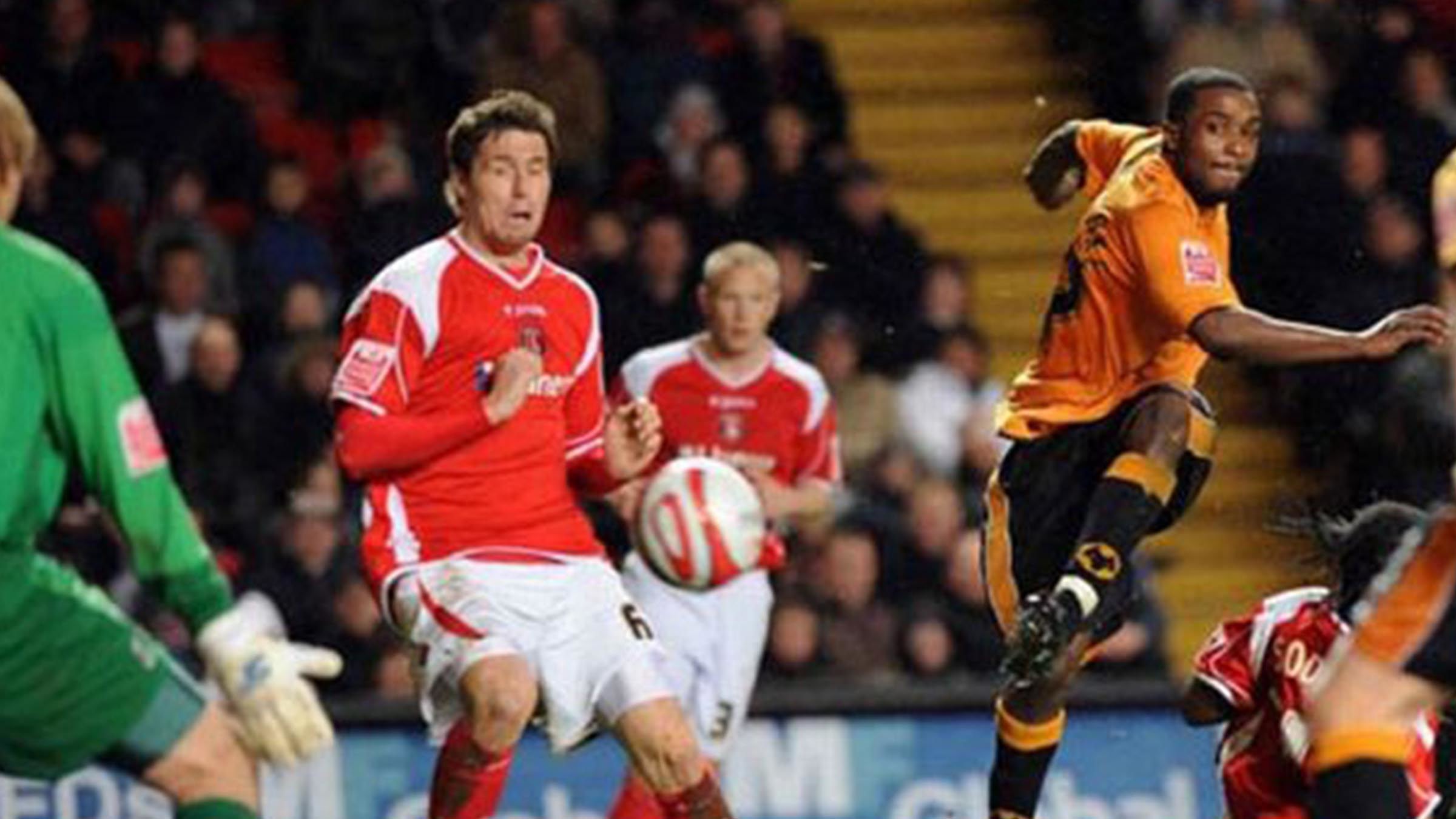 On the emotions after Henry's winner
"I was in the dugout which had erupted. We didn't run down the touchline, but we were in the dugout which just erupted.
"I was obviously buzzing just to win the game, it was my birthday weekend as well, a few of us were staying down, so it just added to the euphoria of the game, the occasion. It is a brilliant memory."
#OldGoldClub