8th June 2020
One of the heroes of Wolves' run to the 1972 UEFA Cup final, Jim McCalliog will forever be remembered for his goalscoring exploits in the latter stages of European competition – including his strike against Juventus, which is one of the 48 goals he scored among his 210 appearances in a stellar gold and black career.
THE MOVE
Believe it or not, I was all fixed up to go to Aston Villa and had actually been over and met with Doug Ellis and even watched Villa play on a Tuesday night. I could have gone to Villa, but what made me chose Wolves was that I'd played against them for Sheffield Wednesday, and although we'd beaten them quite comprehensively at Molineux, I thought Wolves had quite a lot of good players and you could tell they were a team on the up. I particularly liked Peter Knowles, Dave Wagstaffe, Mickey Bailey and Derek Dougan, and I thought that was the makings of a good team. I was delighted to go and talk to Bill McGarry and eventually do the deal.
EARLY CAREER
At that time of moving to Wolves, I became the club's most expensive ever signing ever and something like that fills you with confidence coming into a new club. The way I looked at it, it was none of my business how much Wolves paid for me, if McGarry and Wolves wanted to buy me and pay that kind of money – as that was the going rate at the time – I was more than happy. I was always going to just get my head down and try to enjoy my football at Wolves, which I did.
SCORING IN EUROPE
The Wolves side I was part of in the early 1970s had a lot to live up to because of the Wolves teams which had gone before. The teams of the 1950s and 60s were a fantastic team and the UEFA Cup run of 1972 was our way of trying to emulate what those great Wolves sides had done. To get that goal in Turin against Juventus, one of the biggest names in world football, and to come away with a draw meant we could take them back to Molineux where we fancied our chances against anybody. It was a volley and I hit it with my left foot so sweetly, and when you hit them you know if they're going in or not. As soon as I hit it, I was on my way to the side and to the crowd because I knew it was heading into the bottom corner. Scoring against a side like Juventus was fabulous.
BEST GAME
It's very difficult to pinpoint my greatest game, but it was possibly when we played Spurs in the League Cup just before Peter Knowles packed in. I scored a goal that night, but it was such a good game and there was so many good players on the field. I remember Dave Wagstaffe crossing the ball from the wing and I was running away from goal, toward the right-hand side, and I hooked it back with my right foot, over my shoulder, and the ball ended up going into the top corner. It was quite similar to van Basten's goal in the Euros. I've got a lovely photo after that game with Peter Knowles and both of us have got great grins on our faces.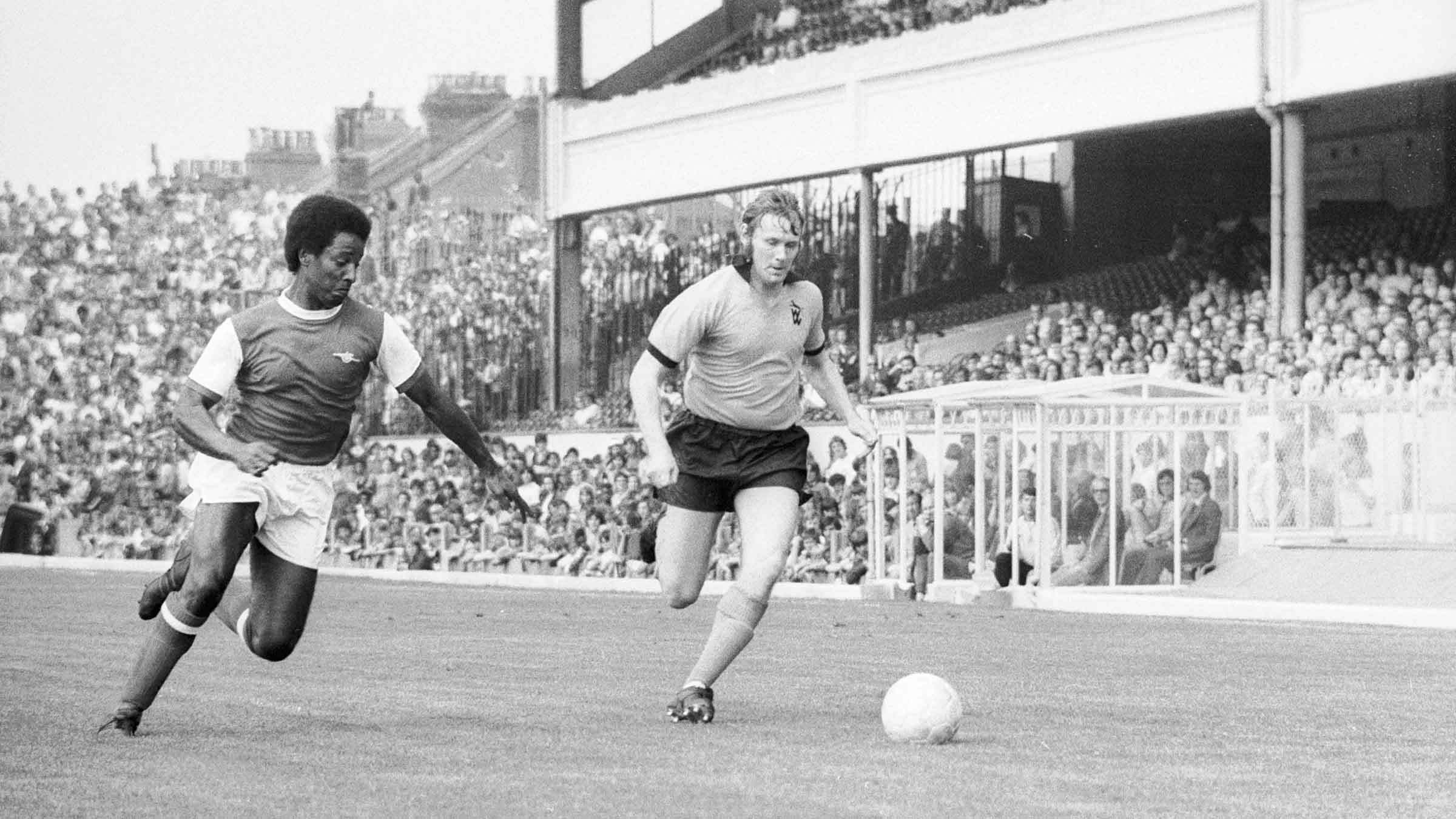 WORST GAME
I don't think there was a game where I was terribly down, but I had a good attitude towards football and would always go out to do my best. Not always do things go to plan, take the UEFA Cup final for instance. Even though I scored in that game, Tottenham filled up the midfield because they knew we were dangerous in midfield and we lost the first match 2-1 at Molineux. We then drew one-each at Spurs, losing the game on aggregate.
BEST PLAYER
Without a shadow of a doubt, Peter Knowles. Peter Knowles was absolute class and he could have played for England. My saddest day in football was the day Peter walked away from the game. I had only been at Wolves for a few months and had played about 10 games alongside Peter in midfield. He was great. He had all the ability in the world, everything you would have wanted from a player. We had a great midfield, with Peter, Mickey Bailey and myself. I was 22, Peter was 23 and I Mick was 25 and we could have played together for years. Peter was a big reason why I chose to come to Wolves, and it was such a sad time when he walked away, but credit to Peter as he never went back on his decision.
BEST TRAINER
Probably 'Squeak' [Derek Parkin]. Derek was such a great lad and he was tremendously fit. Any kind of physical exercise never daunted him; he could run for miles, he could do the short runs, he was just a very fit lad. One year, Derek got some kind of virus and it put him out of the team for a year and they couldn't work out what it was. I still don't know what it is today, but we were so shocked as players because Squeak was the fittest of us all, and whenever you did any sort of training, he was always up the front.
WORST TRAINER
I don't think there was anybody in the team who didn't give their best in training. It was always quite varied training and I don't think there was anybody that wanted to get away from it. Waggy would have a little moan every now and again, but that was before my time, and he didn't do that under Bill McGarry. We worked hard on set-pieces and scored a lot of goals through those. We trained hard, although Tuesdays were something else because we would be given the day off on a Wednesday, so Tuesday was a hard day of training, but you got used to it and would be ready for it.
ROOM MATE
I roomed with different players at different times, and we changed over quite regularly, but it didn't matter because of the comradery we had in the dressing room. We always had a good Christmas party, and each year all the players had to get up and sing a song by themselves, so that was good fun because some of us were awful! You'd have to just do it, and I remember Waggy getting up and singing the alphabet song. I didn't matter what you sang, there was just no getting away from it and was part of the fun at Christmas.
BIGGEST JOKER
It was great times and I had some fantastic team-mates, there was great banter from everyone and a fantastic atmosphere in the football club at the time. Derek Dougan and Danny Hegan were great fun, as were the younger lads coming through at the time, who had good sense of humour – Stevie Daley and guys like that. But we had a good dressing room and that makes the difference. If you're dressing room is not great and you have cliques in it, it makes everything so much tougher.
BEST MANAGER
Bill McGarry was manager for the entirety of my time at Wolves and he was a great football man, but he didn't have a great personality. Our relationship was brilliant really, because he signed me and when Mickey Bailey wasn't playing, I was the captain. However, I remember a match at Everton, and he read out the team before the game and I wasn't in it. It hit me really hard because I'd never been dropped before and when something like that happens, I felt he could have explained it to me, but he didn't explain his decision, so I fell out with him big style. I don't think I ever spoke to him again. It was a terrible shame because I had nothing more than admiration for what he was doing for Wolves football-wise.
THEN VERSUS NOW
It would be so interesting if the two teams played each other at their prime. We were a counter-attacking team as well and we play quite similar styles to each other. You can also look at how the players match up, because there's a lot of similarities with both teams. Traore and Waggy, Raul Jimenez and Derek Dougan, John Richards and Diogo Jota. There were young players coming through in our team, such as Alan Sunderland and Stevie Daley, but Wolves have also got great young players coming through now – I really like the look of Neto. But the difference for me comes in the defence, maybe the Wolves defence of today is a bit better than what our defence was. I believe it would be a tight game, but the game might come down to which of the defences perform better.

Wolves Scrapbooks