3rd May 2020
In a new feature on wolves.co.uk, first-team chef Sean Kyle will be sharing a range of different meals he cooks for the Wolves first-team for supporters to try during lockdown.
Kyle provides food for Nuno Espirito Santo's side every day during the season and is now sharing some of his recipes which always go down well.
With supporters in lockdown at home, why not give them a try? The first edition presents…
CHICKEN & MISO SOUP WITH SOBA NOODLES
This is an ideal meal for the players with chicken being a lean source of protein to help repair muscles and the soba noodles are a great source of fuel. The magic ingredient in the dish is miso which is rich in essential minerals and a great source of various vitamin B, C and Ks, as well as folic acid. Miso is a fermented food, so it provides the gut with beneficial bacteria that help us to stay healthy. Good gut health is essential to keeping athletes fit and healthy.
 INGREDIENTS
1 Chicken breast
50g Diced carrot
50g Diced onion
50g Diced leek
4 Pieces of stem broccoli
1 Piece of garlic
½tsp Miso paste
1 Chicken stock cube
Salt & pepper
15mls rapeseed oil
15g Soba noodles
Basil
INSTRUCTIONS
Fry off the diced chicken in the oil with a pinch of salt for two minutes.
Add the diced vegetables, garlic and continue to cook for a further three minutes.
Add the miso paste, stock cube and water, and bring to the boil.
Add the noodles and cook for six minutes.
Add the stem broccoli at the last four minutes of cooking to keep green and with a bite.
Add some fresh chopped basil to finish.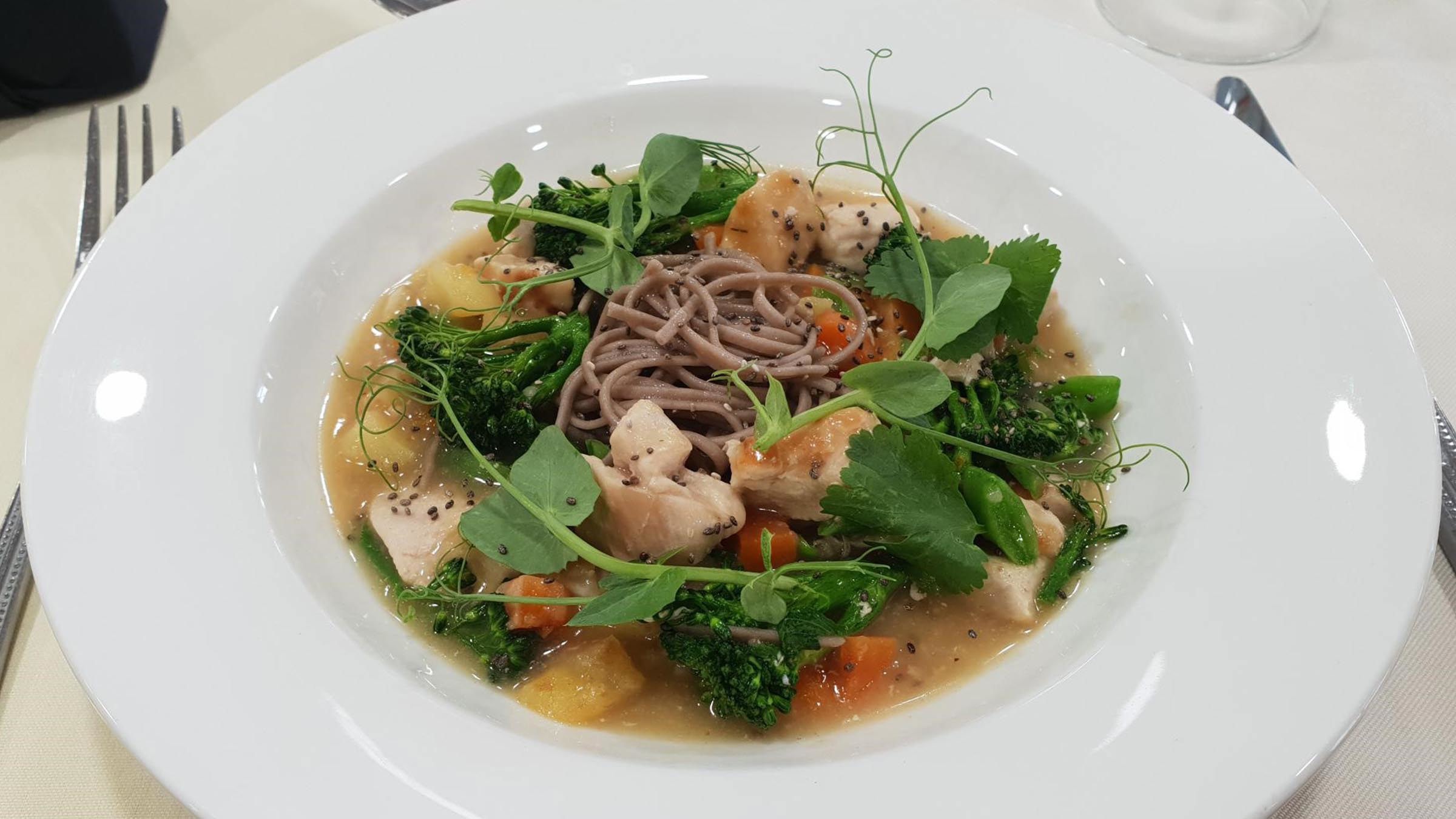 #ChefWatch