26th March 2020
An integral part of the Wolves team which secured consecutive promotions from the Fourth Division to Division Two in the late 80s, Andy Thompson will be fondly remembered for his 450 appearances in gold and black, which saw him lift the Sherpa Van Trophy at Wembley Stadium in 1988.
THE MOVE
I went into training one morning at Albion and was told the manager wanted to see me. I was walking down the corridor at The Hawthorns, the manager, Ron Saunders, was coming the other way and he just said 'Wolves have come in for you, I've accepted the bid, go down and talk to them'; that was it and he carried on walking. At the time, I was a bit surprised and shocked because I was playing regularly with the first-team and I was only on about £70 or £80 a week. It was a big shock to me because it came totally out of the blue, but it was something I had to think about because I was still only 19 and I wanted to play. I was taking a big drop down the divisions to come to Wolves, but I was a Wolverhampton lad and thought that it's got to be worth talking to them to find out what's going on. I didn't drive at the time and was told somebody's coming with you – it happened to be Bully, and fortunately enough he drove us both down, so it meant I didn't have to get the bus!
WOLVES DEBUT
It wasn't great! When we first came, the first game was watched was the Chorley – fortunately enough we couldn't play because you had to be signed over a week before you make your debut, so thankfully that meant we were never associated with that game. Me and Bully were watching the game thinking 'what have we done?' and it was a culture shock for us as well; coming from West Brom and then going to Burnden Park and watching Wolves lose to Chorley. I made my debut at Molineux against Wrexham and that didn't go down very well because we lost 3-0. After we arrived, we lost the first three games all 3-0, but after that things picked up and we went on an unbeaten run all the way to Southend. We ended up in the play-offs and losing the Aldershot.
BEST GOAL
A couple stick out in my mind but considering how tall I am, and I used to get stick for my height, I scored two headers in a week here at Molineux against Charlton and Bristol City in 1990. One was a Bully shot which came off the crossbar and I headed in the rebound and the other one was a lobbed header over the keeper. But my best was probably a free-kick away at Ipswich Town in an FA Cup replay in '94 in which me and Lee Mills both scored.
BEST GAME
For the occasion, I've got to say the Sherpa Van. Considering we were in the Fourth Division, how things had gone when I first came here, to go to the old Wembley and play in front of 84,000 people when you're a team down at the bottom is a great feeling. It was an absolutely unbelievable day because when we were walking out of the tunnel, we could just hear the roar of the Wolves fans. Hearing them as you were walking out just made the hairs stand up on the back of your neck. The atmosphere was outstanding as we outnumbered the Burnley fans, so all you could hear was the Wolves fans signing. It was great to give them some success at last after everything the club had gone through during the previous years, with the owners and the relegations. Winning the Sherpa Van just topped off a great season.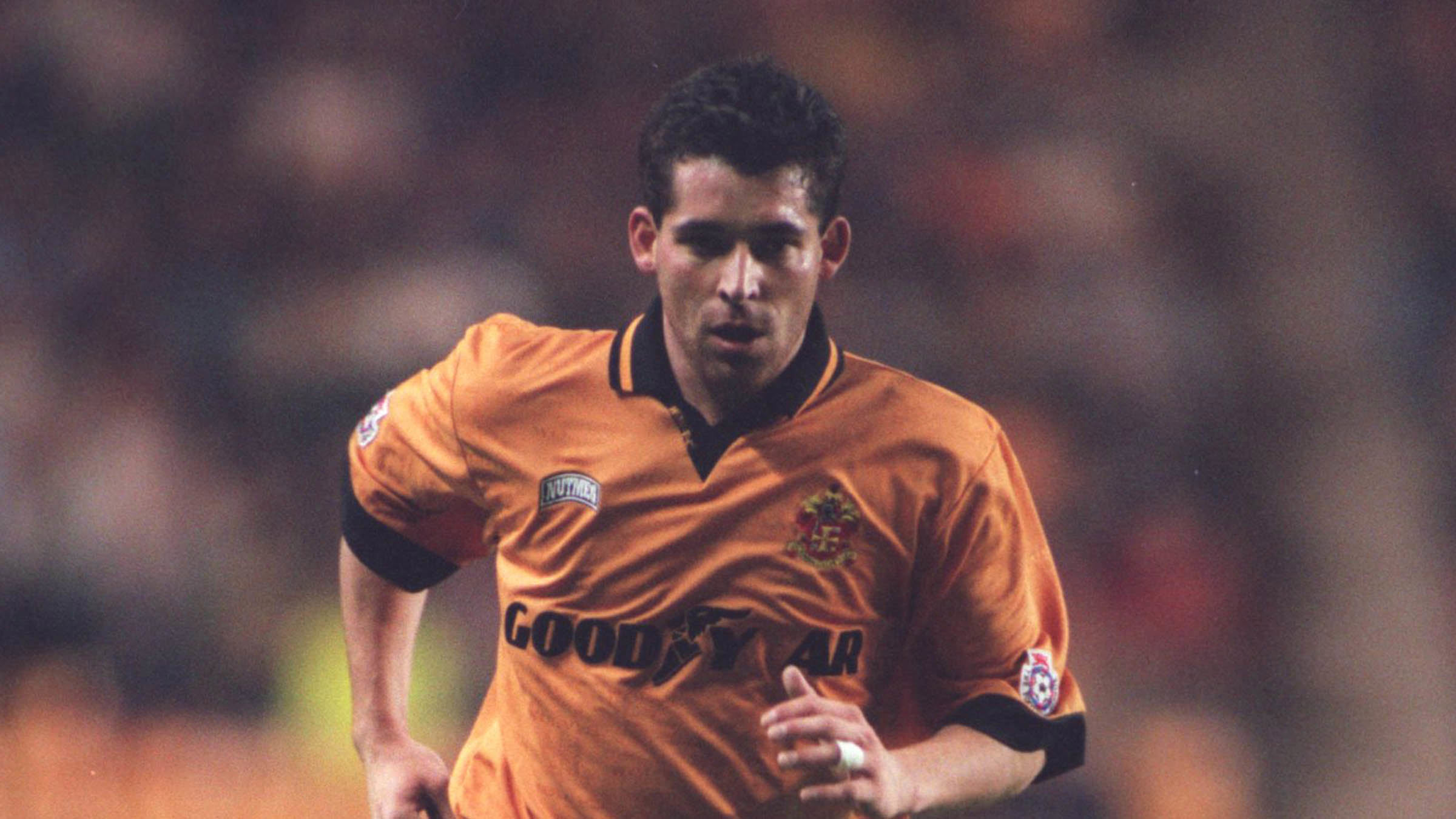 WORST GAME
There's too many to mention! I must say I wasn't happy when I came here for my debut because I don't think I finished the game after picking up a bang on the head, so that wasn't great. There was another game at Molineux where we lost to Barnsley 5-0 and although we probably didn't play that badly, we still ended up losing 5-0 because it seemed that every time they shot it went in.
BEST PLAYER
He's going to get a big head now, but it has to be Bully. For what he did and the job that he had to do, you can't look past him. He was brought to Wolves to do a job, he was brought here to score goals and he got a few for the club. There were some good players that I played with here, but for what he did and to get into an England squad when playing in the Fourth Division was an unbelievable achievement, so you can't go with anyone else.
BEST TRAINER
'Cooky' [Paul Cook] was a great trainer, he was a fit boy. Bully worked hard, he couldn't do the long-distance running and Robbie Dennison was decent in training. When I joined there were a lot of players all competing for their positions in the team. We used to do a 3,000 metre run on a Tuesday before having the Wednesday off and would run our legs off.
WORST TRAINER
Paul Blades. That's an easy one. He would just moan for fun, he hated long-distance running, he was good at the short and sharp stuff, but just didn't want to do anything in training. He would spend every training session just moaning and going on and on about things that he wanted to do and he didn't understand why he had to do certain things, however, he performed in the games. When John de Wolf came from Holland, Graham Taylor told us to do some running around the pitch, but he said 'me a footballer, not a runner', so he just went around the centre circle with all his bling on, refusing to run around the pitch.
BEST MANAGER
Graham Turner was absolutely brilliant early on, brought in some players who brought some success to the club, but for organisation and professionalism then Graham Taylor. He's the one that started putting everything in place for Wolves to become the team they are today, he set up the Academy and everything that was needed for that. But it's so difficult to separate the two of them.
ROOM MATE
Bully, for all 11 years I was at Wolves. He still can't count because every time I go out with him and do a do with him, he keeps saying we had seven great years together, and I always say to him 'you do realise I was here for 11?' I'm always reminding him, but I think it must be his old age getting to him! We're still great friends now and still keep in touch, but it's kind of one of those friendships that even when you don't see someone for a while, when you meet up it's like you've never been away.
THEN VERSUS NOW
I reckon we would take it on physicality and they have a bit more ability around the pitch but it would be a physical encounter. It started from the front with us, with Bully kicking hairs from anybody. I reckon it would be close, but they'd probably edge it with the extra quality and ability they have in the squad – but I'd like to see a Bully vs Boly battle.

Wolves Scrapbooks