17th March 2020
Wolverhampton through and through, Mel Eves was spotted locally by Wolves scouts and lived his boyhood dream. The local lad was a League Cup winner in the old gold and black, and top scored to help Wolves to promotion in 1982, all for his club.
WOLVES DEBUT
My Wolves debut was against Ipswich at Molineux in November 1977 and it went well. The way you found out was the team sheet was pinned up on the board after training on the Friday, so that was the first time I knew I was playing. To play up front alongside John Richards, who I'd watched from the terraces for many years as a fan, was a bit surreal. It would have been nice to score, but I did OK. Ipswich were a really good side at the time under Bobby Robson and we got a draw.
FIRST GOAL
It was against Chelsea at a Stamford Bridge. I've actually got a picture of the goal at home. Ray Wilkins, the Chelsea captain, just couldn't get to me in time and the ball went into the top corner, past England goalkeeper, Peter Bonetti. We drew 1-1 and that was the equaliser, so it got us a point at Stamford Bridge.
BEST GAME
After I scored my first Wolves goal, my first at Molineux was the following game. That was against Manchester United, we were drawing 1-1 and I got on the end of a ball from the left-hand side by Derek Parkin and headed it past Alex Stepney, and we won 2-1. It was the only game on Match of the Day that night. At the end of the season was I called up to Bobby Robson's England squad with John Richards and Steve Daley were on the tour to play against New Zealand and Singapore.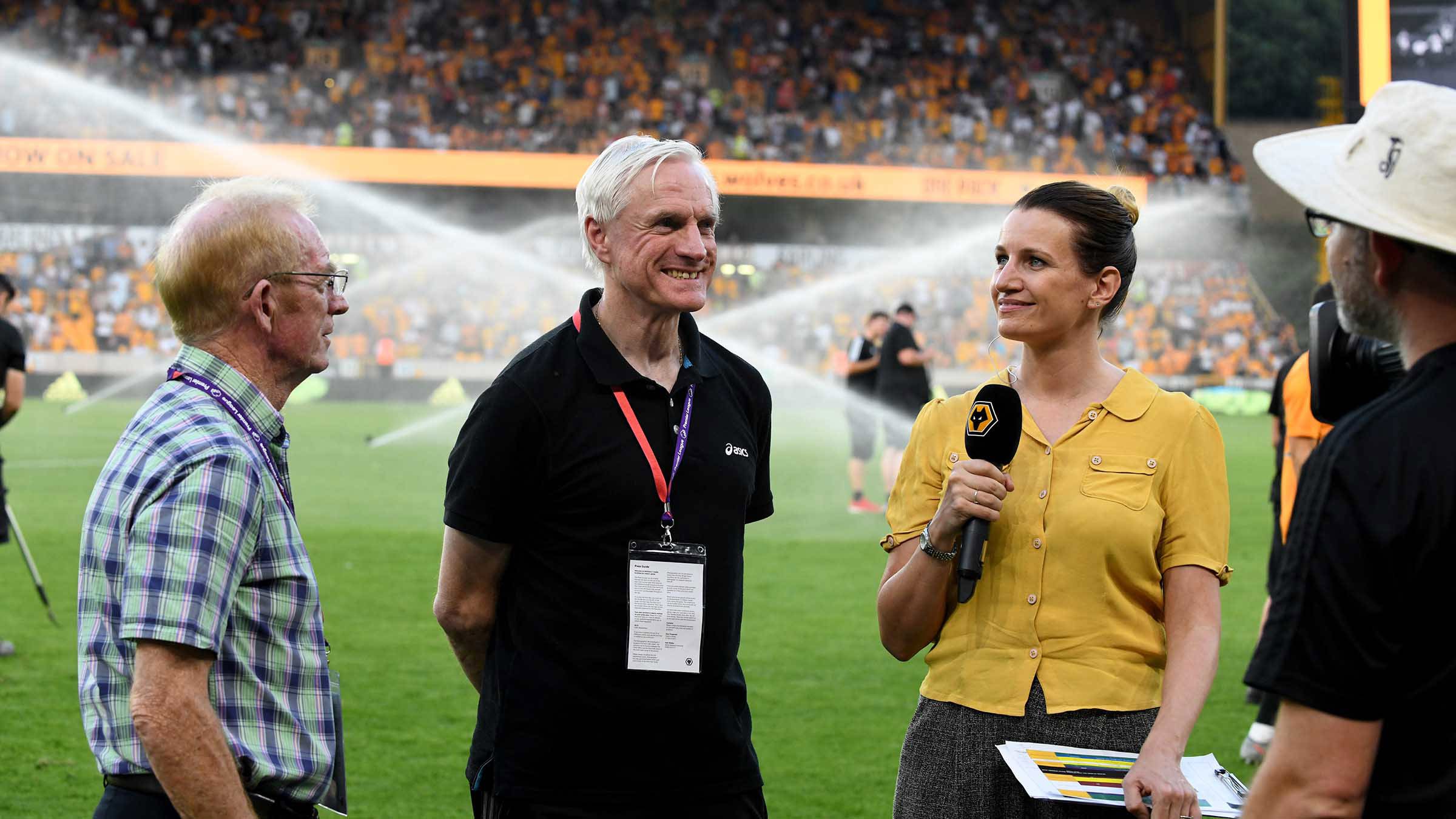 WORST GAME
It was probably the FA Cup semi-final replay when we drew 2-2 with Tottenham at Hillsborough and the replay was at Arsenal, which was like a home game for Tottenham. We were held up in traffic, got there late, had half an hour or so to get ready and didn't really perform on the night. That was the biggest anti-climax, to lose a semi-final is bad enough, to lose a semi-final replay is the closest you're going to get to Wembley without playing there.
BEST TRAINER
I always remember watching Derek Parkin, he'd practice with his right foot, but also his left foot because he'd play on the left, even though he was right footed. Geoff Palmer came into the team, so Derek moved to the left and played the majority of his games there. You'd see him forever practicing with his left foot, knocking balls into areas, like a golf shot with different distances and flights of the ball.
THE WORST
The last thing you want in your dressing room is people not dedicated and the lads wouldn't have put up with anyone not pulling their weight. That was the mutual respect that everybody had and that's why we did well for quite a few seasons.
ROOM MATE
The year we were promoted to the First Division I roomed with John Burridge. He was one of the funniest characters in football that you can imagine. He was just crazy, he was bordering on the men in white coats coming to take him away. However, he was ultra-dedicated, a fitness fanatic, but really funny at the same time. I then signed for Sheffield United after a spell with Manchester City and I roomed with John again.
HIS ROLE IN CURRENT TEAM
Jota would be the closest one to me, but he plays in a different way, but I'd play wide left more than up front. The easiest comparison is the captain and centre back Conor Coady, we had Emlyn Hughes, who was an England international. He'd achieved everything at Liverpool but still had a couple of years with us where he did very well. It's great to see somebody of Joao Moutinho's ability come to Wolves and hopefully he has a few more years left in him. He had quality midfielders when I played, Kenny Hibbitt and Willie Carr were two of the best to pull on a Wolves shirt. There are a lot of similarities.
THEN VERSUS NOW
This probably the closest group of players of achieving what we achieved. To finish seventh last season, get into Europe and play in the semi-final of the FA Cup was great. The team I played in finished sixth in the league, won the League Cup and a year later got to the semi-final replay of the FA Cup. We had some top players, it was a good team, and there a similarities between the groups.
BEST MANAGER
I had a lot of good managers, Sammy Chung gave me my debut, a lovely man, John Barnwell was inspirational, he was a great man-manager, along with his assistant Richie Barker, who was more of the strategist and coach, and then Graham Hawkins was great. He came in when we were relegated in 1982 and the club had new owners, but he had a great season and we went straight back up.

Wolves Scrapbooks