28th April 2022
The next instalment of One Pack Week content celebrates more work Wolves as a club have done to promote equality, diversity and inclusion over the past 12 months.
Part four take a look back on Jose Sa's surprise appearance to meet youngsters who'd been particularly affected by Covid-19 and a special award for captain Conor Coady for his work in increasing the inclusivity of men's football.
#Case study 7 | Sa attends Healthy Goals
Jose Sa has impressed on the pitch during his debut season at Wolves, but also off it, as he took his young family along to a Healthy Goals session through the Wolves Foundation. In March, the goalkeeper, with his partner Raquel and their daughter Maria, joined the initiative's event, which promoted healthy growth through education and activity sessions for pre-school children and their families. Not only did he attend however, Sa also got stuck, reading 'The Very Hungry Caterpillar' , before participants built their own caterpillars with fruit skewers. Healthy Goals promotes healthy growth through education and activity sessions at different venues including local community centres, strengthening families' hubs and nurseries in addition to Molineux Stadium. Parent education workshops are held on topics including tackling fussy eating, screen time, healthy eating cooking classes and oral health, as well as interactive stay and play sessions along with the distribution of information and other resources.
REACTION
"I had very good students, they helped me when I needed it because I'm trying to learn better English myself. Of course it's important because it's the health of the children and the parents have to be aware of this – I was happy to help. It's always good for them to have interaction with other people and they can learn other things and this is good. The kids were in front of me and I could read the story for them – I loved it."
Jose Sa, Wolves footballer
SOCIAL MEDIA
#HealthyGoals x @BBCMOTD 📺

Don't miss our special feature with @josesaoficial on Sunday's replay of Match of the Day at 7:30am on @BBCOne. 🎥

📖🐺 | @Wolves pic.twitter.com/U4ajj5wKcl

— Wolves Foundation (@wwfcfoundation) March 4, 2022
COVERAGE
#Case study 8 | Coady LGBT award
People and organisations from across the UK and worldwide who have gone above and beyond in advancing rights for LGBT+ people are celebrated at the annual British LGBT awards, and Wolves captain Conor Coady was awarded the inaugural Football Ally prize, which highlights high profile personalities in the sport who have helped make the men's game more inclusive. The skipper took the honour for his part in Stonewall's Rainbow Laces campaign, which included participating in a virtual event, courtesy of the FA, and a conversation with Stonewall FC captain Jay Lemonius and Sky Sports' Mark McAdam, where Coady said he hopes any fellow professional who may be struggling with their sexuality would feel comfortable talking to him. The captain also invited Stonewall FC to Compton Park where he took part in an in-depth conversation with players about being an LGBT+ football team, the discrimination they've faced in football and how to make the game more inclusive.
REACTION
"Despite being humbled to receive this award, I have to say that the support I have given to the LGBT+ community is not anything over and above what any ally should give and is only what I think anyone in my position should be able to offer. As I've said before, and I will say again, I am always there for any footballer who wants the support of a senior professional, and an ally, if they want to take the next step on their personal journey to come out as LGBT+. I want to reiterate that every single person, no matter their gender or sexuality, deserves to be themselves no matter what path in life they choose to take. I hope we can soon get to a day when a football player feels supported enough to be their true selves on the football field, but until that day, we all have some work to do."
Conor Coady, Wolves captain
SOCIAL MEDIA
Congratulations to centre-back Conor Coady on winning the @SwintonGroup ⚽ Football Ally ⚽ category at the #BritishLGBTAwards! pic.twitter.com/QXAKj9BUaE

— British LGBT Awards (@BritLGBTAwards) August 27, 2021
COVERAGE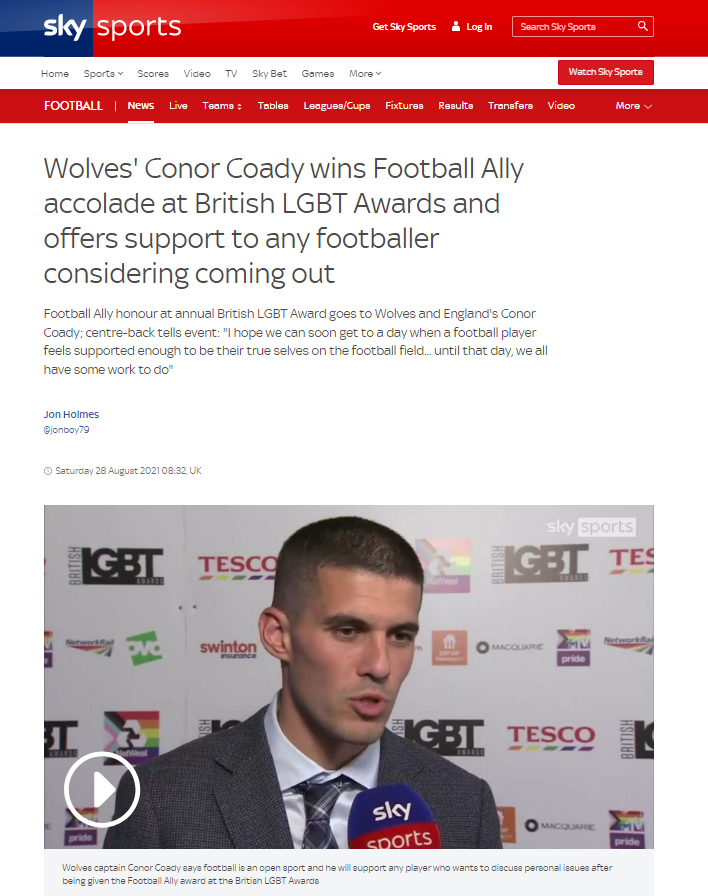 #OnePackWeek