29th April 2022
During One Pack Week we have celebrated the vital work Wolves as a club have done to promote equality, diversity and inclusion over the past 12 months, and we bring the week to a close today.
The final part takes a look back at two important initiatives which celebrate the cultural achievements of black people and women of an old gold persuasion, featuring some of the pioneer black players who have represented Wolves during the club's esteem history as well as delving into the personal stories and journeys of some of the current inspirational female staff.
#Case study 9 | International Women's Day
Throughout March, Wolves joined the world in celebrating the achievements of women with a host of activities taking place across the month. A light was shined on the ways Wolves have created a culture that is diverse, equitable and inclusive, and an environment where difference is valued and celebrated, with the flagship feature of profiling of some of the incredible female staff at Wolves who work in historically 'male-dominated' roles, as we explore their inspirational stories and the challenges they have faced in their career journeys. The three staff who shared their tales were performance head chef Melissa Forde, first-team doctor Kai Win and Academy sport scientist Jess Fay. Having joined the club in July 2021, Melissa spoke about how she provides first-team players with the highest level of nutrition possible to perform at their best on the pitch, while Kai talked about how she faces up to stereotypes by not worrying about what other people think, and Jess ended the month by explaining how she has not allowed her gender to being a barrier to reaching the stage she is in her career.
REACTION
"I didn't think that I wouldn't be made to feel welcome, but I was surprised at just how warm everybody was, because sport is quite a high-pressure environment and sometimes that is reflected in stress. But there's a really positive culture at the club here and the fact that everybody has the same ideology that if the team does well, we all do well, and we're all here for each other and we all support each other. I've seen how the team gels as football players, and you see how the sports science and medical teams all work together and all gel to get the best out of the players. Even with us as chefs, everybody comes up and has a chat and they're fans of us as much as we are fans of them. It's a really inviting, really happy and really warm place to work."
Melissa Forde, performance head chef
SOCIAL MEDIA
Our first-team doctor, Kai Win, is the next inspirational woman we're shining a spotlight on as part of our month of #InternationalWomensDay celebrations.

🎉🗣

— Wolves (@Wolves) March 17, 2022
COVERAGE
For an International Women's Day special, @GemFrith is reporting on @WolvesWomen's rise and meets our club nurse Michelle, to discuss her role and our 'Pause to Chat' menopause policy.

🐺🎥 pic.twitter.com/MQWRNaojfc

— Wolves (@Wolves) March 11, 2022
#Case study 10 | Black History Month
Black History Month is celebrated throughout October, and this year, the initiative looked at putting the spotlight on some of the key figures from a black and minority ethnic background whose legacy has gone unnoticed. There is not many other people who fit that description better than Don Gardner – the first black player to put on a gold and black shirt for Wolves in a competitive fixture. Most supporters may never have even heard Gardner's name before this year, as the Jamaican midfielder played just three matches in a short Wolves career which saw the apprentice given his chance on 31st March 1975 as he came off the bench in a 5-2 win over Luton Town at Molineux. Having taken his first steps in the top-flight, Gardner was then handed his first ever start just five days later, as Wolves travelled to Queens Park Rangers. Despite his short-lived career in England, Don Gardner will go down in the club's history books as the first in a great line of black players to have represented Wolves, leaving a legacy for all future generations to follow.
REACTION
"Being the first black player to represent Wolves really didn't mean much. Yes, there was some abuse and we were made aware that we were viewed very differently. I became friendly with Laurie Cunningham even before he joined Albion and later got to know Cyrille Regis and we were used to bananas being thrown on the pitch. But I just saw myself as another footballer who was trying to get into the first team and stay there. That was enough of a challenge and the other things didn't affect me. I was so determined to progress. Besides, the way to beat any resistance that there was because of my colour was just to play better."
Don Gardner, former Wolves midfielder
SOCIAL MEDIA
𝗖𝗼𝗻𝗴𝗿𝗮𝘁𝘂𝗹𝗮𝘁𝗶𝗼𝗻𝘀 to Prabhjot, Sehajveer and Afifah, our 𝟯 #BlackHistoryMonth poster competition winners! 🥳

𝘼𝙢𝙖𝙯𝙞𝙣𝙜 effort! A signed @Wolves shirt will be on its way to you! 🙌@SRTRC_England | @PLCommunities | #ProudToBe pic.twitter.com/yvrYjcsGSR

— Wolves Foundation (@wwfcfoundation) November 3, 2021
COVERAGE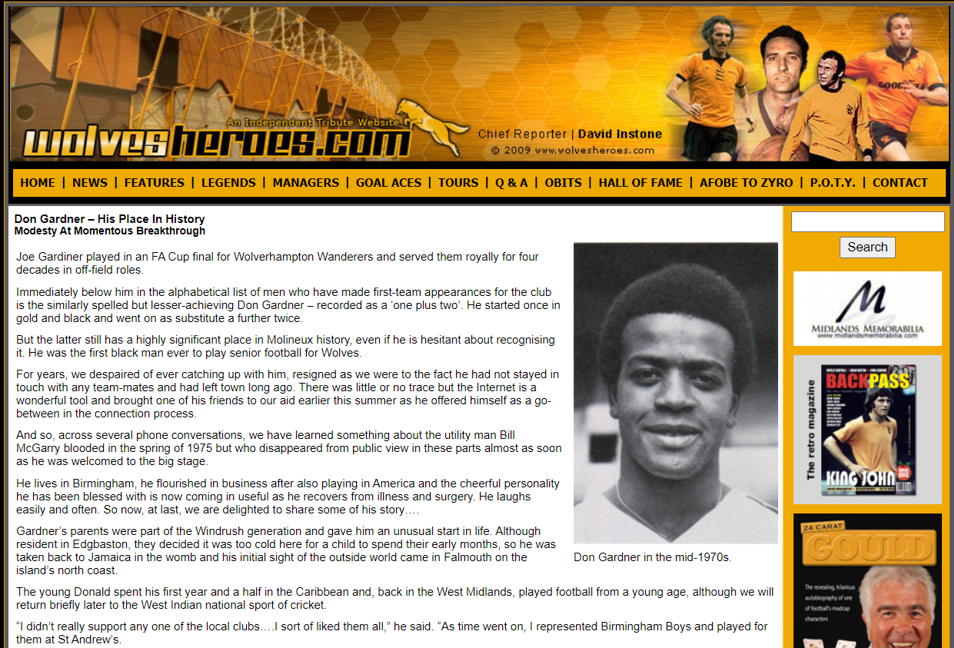 #OnePackWeek