26th April 2022
The second instalment of One Pack Week content celebrates more work Wolves as a club have done to promote equality, diversity and inclusion over the past 12 months.
Part two focuses on a heart-warming tale involving club captain Conor Coady and teenage Wolves Foundation participant Logan, proving that you should always meet your heroes, and Wolves' fresh commitment to tackling hate crime on social media through a new mission statement last May.
#Case study 3 | When Logan met Conor
Back in November, 13-year-old Logan Pope thought he was only popping to Molineux to do an interview about his participation in Wolves Foundation's Premier League Kicks programme, but little did he know he was about to have the shock of his life when discovered he was about to spend the day with club captain and England international defender Conor Coady. Logan has suffered for many years with severe bouts of anxiety, while he also found himself the subject of bullying in and out of school, but after winning the S-X Factor competition during lockdown where he named Coady as his inspiration, the skipper informed Foundation staff he wanted to meet up with Logan. So late last year, the pair engaged in an emotional meeting at Molineux, which was then followed by a walk pitchside – taking a diversion to meet several other members of the squad en-route – as well as a look inside Wolves' home dressing room and chat in the dugout, where Coady gave Logan some words of wisdom in how to deal with bullies.
REACTION
"Being bullied is not a nice experience. It makes me feel sad and a bit angry but I never say anything back – I just try and get on with the day and focus on my schoolwork because that is what we are all there for. Conor spoke to me and told me I should focus on myself and the people that are nice to me and the ones that want to bring me down – push them to the side. He helped me loads, and knowing the fact that my hero is on my side gives me that extra boost and tells me I am not alone, Conor is backing me up. I would never have believed something like this would happen to me – it's amazing. The best day of my life."
Logan Pope, Wolves Foundation's PL Kicks participant
SOCIAL MEDIA
Watch this and make your day better 💛@wwfcfoundation ambassador Conor Coady surprising Logan, a young victim of bullying, with a day he'll never forget at Molineux.#AntiBullyingWeek pic.twitter.com/Vib2Xd9fyC

— Wolves (@Wolves) November 18, 2021
COVERAGE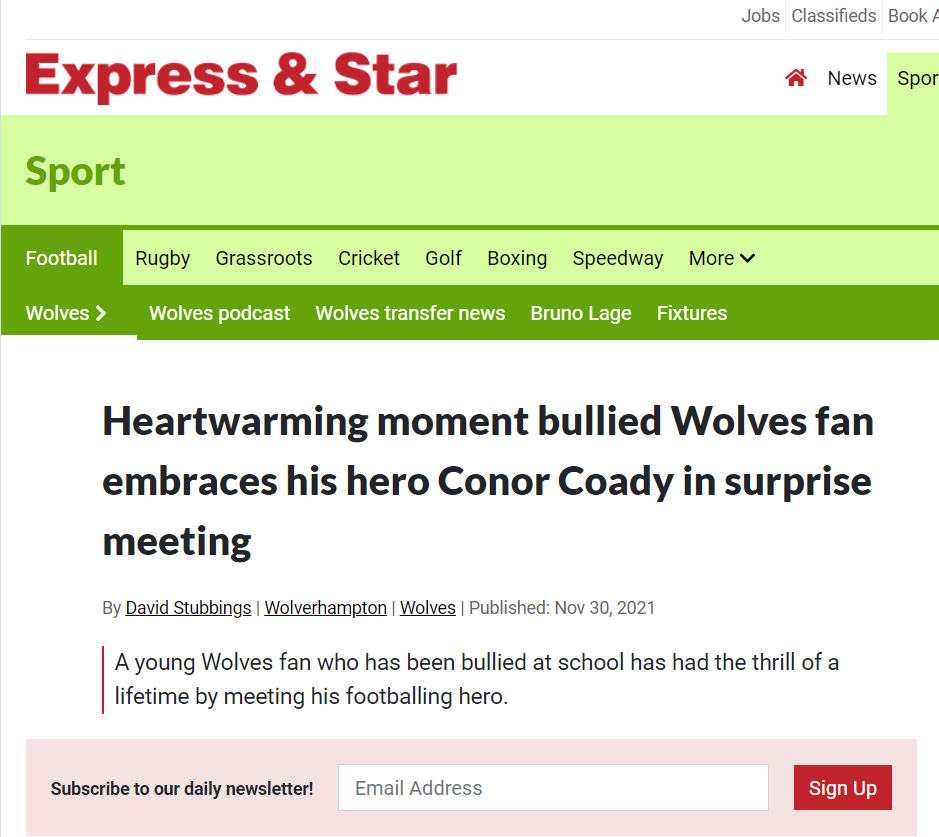 #Case study 4 | Social media values and tackling online hate
After Wolves joined the social media community in a black out of coverage in May, the club made a clear and powerful commitment to creating a social media environment that is free from hate, discrimination and abuse. Now published across club social media channels is a commitment to block and report those who bring hate to the channels, and those who dehumanise and target players, staff and supporters. The mission statement continues by saying that acts of hate crime will be reported to the police and that the club accounts will continue to promote equality and be an inclusive place for everyone. The new pledge, which arrived in May, came after an overwhelming majority of supporters said that they wanted Wolves to tackle discrimination and challenge any individuals who are identified as representing the club in a negative way.
REACTION
"At Wolves, we have been clear for a long time that there can be no place in football, or society, for racism, hatred or any form of discrimination. Now, thanks to the most recent equal opportunities survey, it is clear to us that the overwhelming majority of supporters share the same values and are supportive of the club increasing its proactive approach and visibility in this area. After the recent success of One Pack Week, and the clear sign of unity across the football world during the social media boycott, at Wolves we felt it was important to make a stand and be proactive in trying to make our social media channels an environment free from hate or abuse. We believe that in sport, as in the wider society, we must create a social media environment where hateful and discriminatory actions are as unacceptable online as they would be in the street, and we know that we have our fans' support in trying to make that a reality."
Zoe Brough, Wolves HR director
SOCIAL MEDIA
It is time to make a change.#StopOnlineAbuse pic.twitter.com/K8h5y5D5rx

— Wolves (@Wolves) April 30, 2021
COVERAGE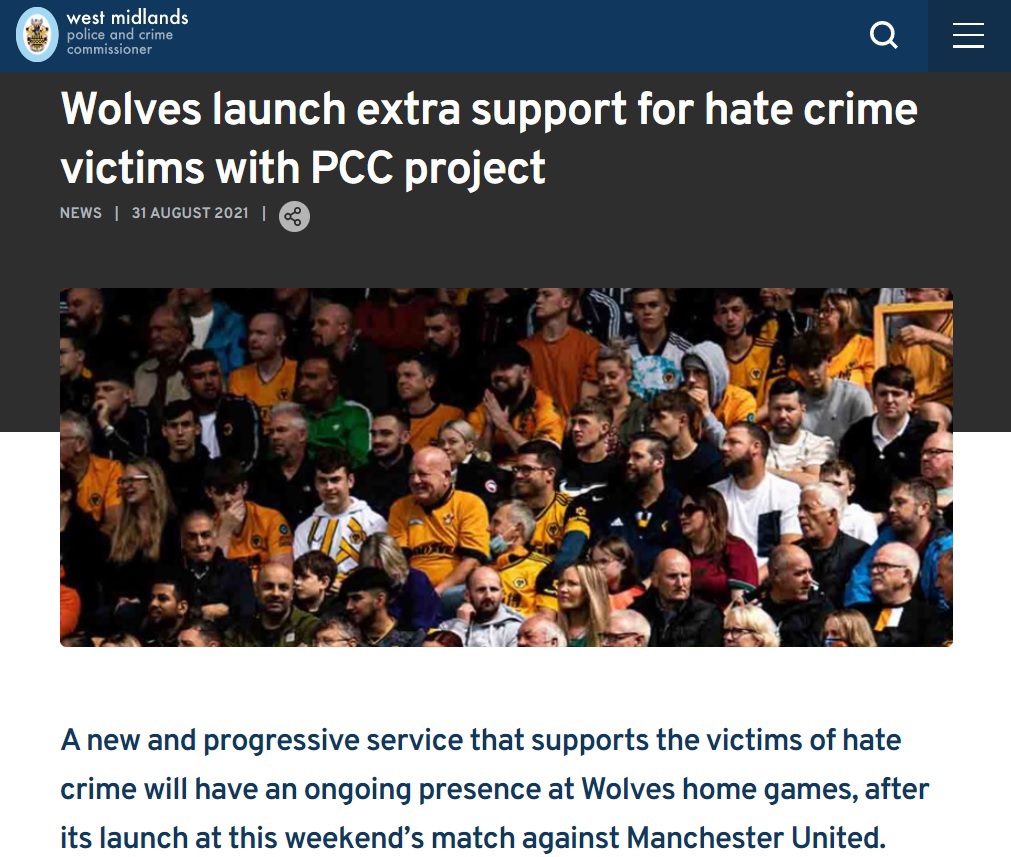 #OnePackWeek