27th April 2022
The latest instalment of One Pack Week content continues to celebrate the work Wolves as a club have done to promote equality, diversity and inclusion over the past 12 months.
Part three looks back at the commitment Wolves made to further strengthening women's football at the club by merging with the Academy set-up and hiring its first full-time member of staff, as well as the work the club does to make all supporters feel at home when they come to Molineux.
#Case study 5 | Women's and girls' football merges with Wolves Academy
It's been a very successful year for Wolves' women's first-team on the pitch, with Dan McNamara's side following up their 'upward movement' into the third tier of football by claiming the FAWNL Northern Premier Division title. But off the pitch, the season started with some very exciting developments, as the female provision at the club was linked with the males, by merging together into one Academy set-up. Jenna Burke-Martin, former Wolves Women assistant manager, is leading women's and girls' football at Wolves, and has spent the last year working alongside the Academy management team of Jon Hunter-Barrett and Laura Nicholls in sharing the existing resources, knowledge and infrastructure in what is an exciting new era of women's football at the club, with all of Wolves' female age groups – from under-10s to the first-team – now making use of the Academy's facilities at Compton Park as well as its coaching, sport science, analysis and medical provision.
REACTION
"Moving from being under the Foundation umbrella and into the Academy is a statement of intent towards women's football from within the whole club. We have our 'One Pack' ethos here, but the Academy showing they want the women and girls to be part of their set-up is a massive compliment for us, but it's also the way it should be. It will be dual beneficial, as the coaches in the women's section will get more support from the Academy, but we can also add to the support which is already in place in the Academy set-up, but in terms of what the Academy offers our women and girls, it is much bigger than anything we've had."
Jenna Burke-Martin, Wolves head of women's and girls' football
SOCIAL MEDIA
To celebrate International Women's Day, we highlight @WolvesWomen goalkeeper and Foundation Schools Educator, @shanturner9. 🧤

We're proud to call Shan part of the Wolves family. 💛

🎥 #IWD2022 | #BreakTheBias pic.twitter.com/T1XnZUzgMf

— Wolves Foundation (@wwfcfoundation) March 8, 2022
COVERAGE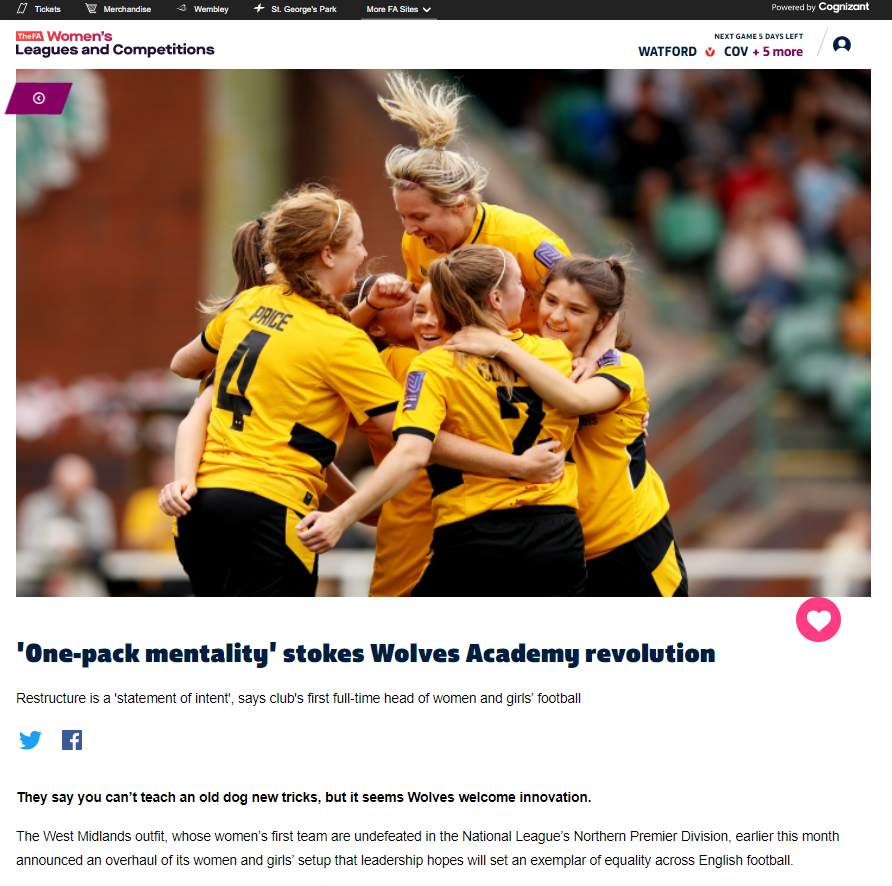 #Case study 6 | Supporting supporters with dementia
Wolves are proud to be one pack, and with disability affecting more than 18 per cent of the population, it's important all supporters have an outstanding, enjoyable and inclusive matchday experience. During an average home game, Wolves have un the region of 400 disabled supporters across all four stands, with requirements for those with hearing loss, visual impairment, sensory needs and wheelchair use. One of those is 95-year-old widow Cath Owen, who is staying young at heart thanks to the support of the club. Cath has dementia, but still attends Molineux on matchdays with the club ensuring the lifelong fan can feel independent and comfortable thanks to a personalised pack, including a specially created map to help participants make their way to their seats, stickers on seats so they are easy to find, a reminiscence activity as well as a wristband in case they need extra assistance.
REACTION
"Cath is just a fantastic person and she loves coming here because Wolves is her life. She struggled a little bit during the pandemic and there was a decline there because she couldn't come to the games because they were behind closed doors, but we put a plan together so she would know we were there. At Molineux, we have a sea of golden seats, so I helped her to find her seat by putting a sticker on her seat. It soon came to light that dementia affects more than just the memory, so I developed a pack to help season ticket holders and members with dementia who come to the stadium to help them with their matchday experience. Football is a connective that brings people together and if we can think of little projects like this just to keep people having their independence, they can come here each week and be part of the community and part of the pack we aspire to be."
Laura Wright, Wolves disability access officer
SOCIAL MEDIA
"I love the Wolves, I love the people." 💛

Meet 95 year-old Catherine, who is still able to enjoy her treasured trips to Molineux, despite suffering with dementia. #OnePack@PLCommunities | @PremierLeague pic.twitter.com/8AA33Bow5f

— Wolves (@Wolves) December 7, 2021
COVERAGE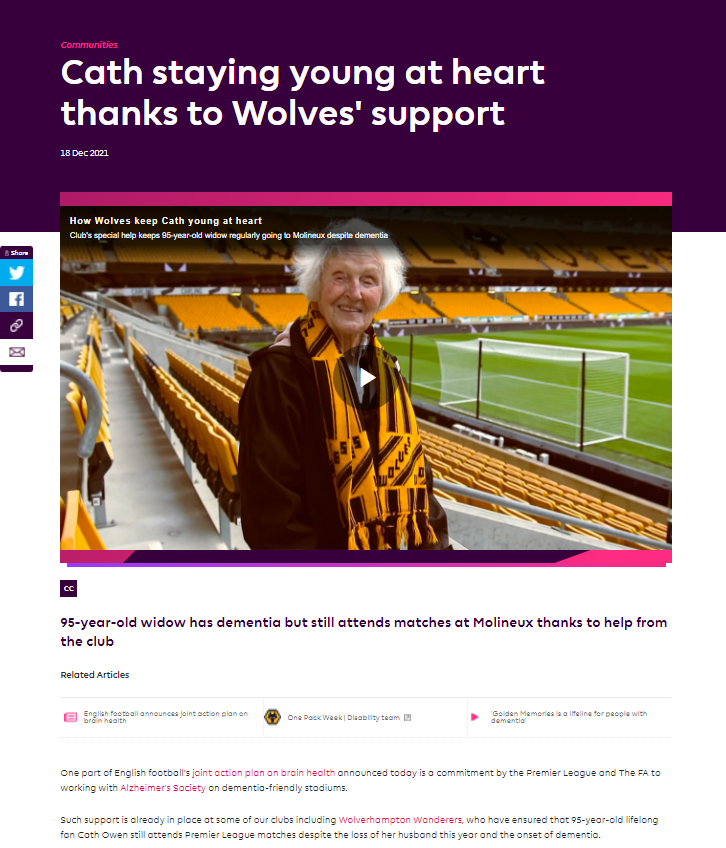 #OnePackWeek