25th April 2022
Monday presents day one of One Pack Week, and wolves.co.uk highlights two examples of Wolves promoting equality, diversity and inclusion over the past 12 months.
In the first instalment of a five-part series which will run between Monday and Friday, wolves.co.uk reflects on the signing of the Muslim charter and an insightful conversation between Wolves duo Conor Coady and Ali Miller on the topic of the LGBTQ+ community within football.
#Case study 1 | Supporting the Muslim community
Back in September, Wolves reiterated their strong commitment towards equality and diversity by signing the Muslim athletes' charter, which encourages Muslim involvement in sport. By signing the Nujum pledge, Wolves showed willingness to listen, learn and adopt good practice, to help Muslim players and fans feel comfortable, loved and supported at Molineux. Rayan Ait-Nouri and Romain Saiss are amongst the around 250 Muslim players competing in the top for levels of English football. The charter is based around 10 points, including non-consumption of alcohol, particularly during celebrations, and the availability of Halal food both at home and on the road. Fasting at Ramadam, which runs until Sunday 1st May, is permitted and Muslim players have the opportunity to express their views without judgement and withdraw from non-Muslim religious celebrations.
REACTION
"Nujum are important partners and I am delighted Wolves has signed up to the charter. With every EDI initiative we launch, we aim to educate and advocate and these objectives fit well with Nujum's objectives. We welcome the opportunity to gain a greater understanding of the needs of Muslim players, staff and fans alike."
Human resources director, Zoe Brough
SOCIAL MEDIA
Wishing a blessed month for you and your loved ones.#RamadanKareem pic.twitter.com/sqHBpcDB6G

— Wolves (@Wolves) April 2, 2022
COVERAGE
#Case study 2 | Healthy conversations on LGBT and football
Wolves joined other Premier League clubs in celebrating Stonewall's Rainbow Laces campaign in December and did so with an extremely powerful conversation between a first-team player from both the men's and women's first-teams. Conor Coady and Ali Miller sat down to discuss the LGBTQ+ community within football, the differences between the men's and women's game and how to be an ally in the community. As a gay women, Miller shared her experiences and explained how everybody can do more to make football a more accepting and supportive environment with Coady, who was named 'Football Ally of the Year' at the British LGBT Awards. Miller also raised the issues surrounding the trans community and their place in sport, during a fascination conversation, which is available below.
REACTION
"It's about being that support, but also not pressuring anyone. You're still friends, there's still a natural bond with that person hopefully, so it's about how you talk to them – the communication you use is really important. It's about being that support, but also the presence when you do see some kind of abuse, whether that's in the changing room. Personally, I'm part of the LGBT community, but I'm not trans, so for me, I'm still any ally for a large portion of the community and I still have to be an active ally for those who identify differently to me. My experience may be very different to other people so it's being respectful and normal."
Ali Miller, Wolves footballer
SOCIAL MEDIA
"It's about being that support but also being that presence when you do see some kind of abuse."

Men's defender Conor Coady and women's forward Ali Miller sat down for an important conversation about the LGBT community in football.

🏳️‍🌈🎥 pic.twitter.com/DaT0S7hRjh

— Wolves (@Wolves) December 1, 2021
COVERAGE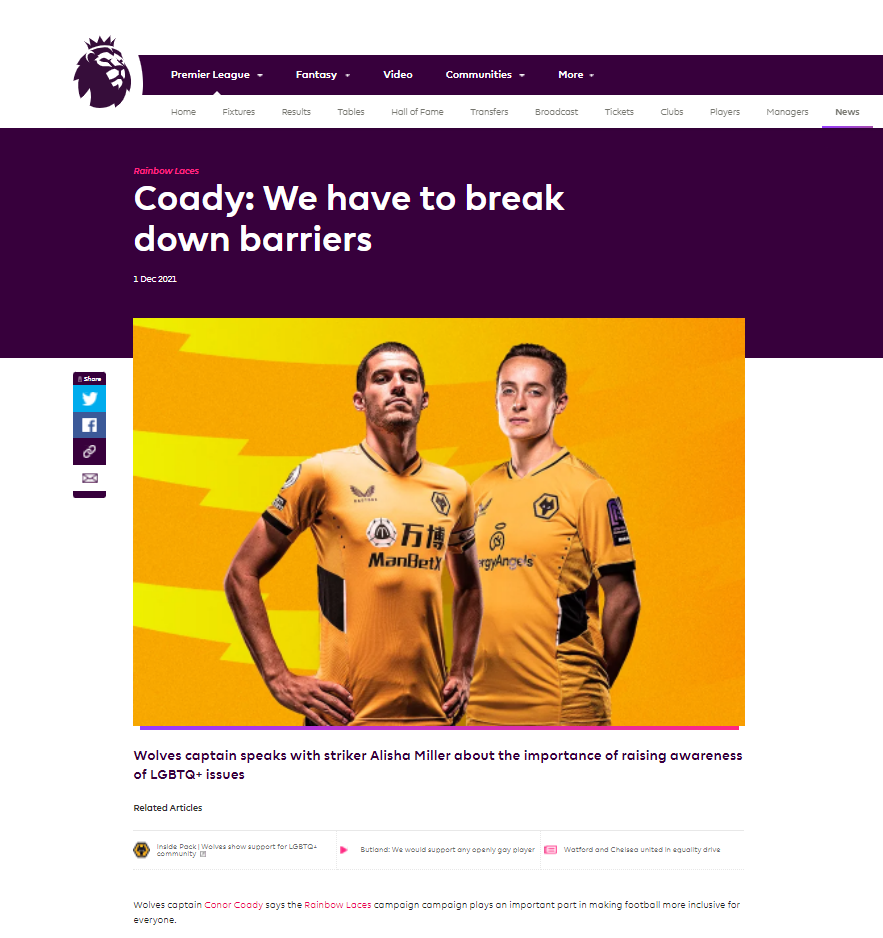 #OnePackWeek