31st March 2022
As part of Wolves' International Women's Day celebrations, wolves.co.uk have been featuring the personal stories and journeys of some of the club's inspirations female staff throughout March and exploring the challenges they have faced while working in roles which have historically been seen as 'male-dominated'.
Today we feature Jess Fay, Academy sport scientist, as she shares her story of making sure the future stars of the club are as fit, strong and agile as they can be as they look to achieve their aspirations of becoming professional footballers.
Jess joined the Academy more than four years ago to work with the under-13s and his since progressed up through the age groups to now support the under-18 squad which went all the way to the FA Youth Cup semi-finals earlier this month – the first time Wolves have reached that stage of the prestigious competition in almost 20 years.
Career journey
"I always liked football when I was younger and I played as I was growing up, but I was into all kinds of sports. I was a sporty kid, but football was always my main sport. I played for a Sunday League team and I'd get involved in football as much as possible. When I was looking at what I wanted to do as a career, I knew I wanted to work in sport.
"I went to a few university open days and I looked at sport science and the careers which can come from that degree as a great option for me and I thought this is exactly what I want to do because I just always loved sport. I loved being part of a team, I was always exercising and going to the gym and just loved playing sport. I knew that was something I wanted to do every day – and being outside is nice as well. I had an interest of working with players, helping them to get better and seeing them improve, so all of that is what turned me to a career in sport science.
"I went to university in Birmingham and did an undergraduate degree in sport science. During my time there, I took part in internships at Birmingham City and Warwickshire County Cricket Club. I'm from Leicester originally – that's where I grew up and all my family are from, so I was closer to home when I completed my masters at Derby University. The masters there was linked with Leicester City, so I went in and did an internship with them, got a lot of hands-on experience, and once I completed that, I applied for jobs and was lucky enough to come to Wolves."
Joining Wolves
"I've been working at Wolves for about four years and it's a really nice place to work. Everyone is really friendly and really open. We're quite a close-knit group of staff, not just in the under-18s but the sport science department across the Academy, which makes it easier for all of us as we can open conversations and we're all looking to support each other. The coaches are always really on board with what we do. But that was also the case at where I've worked in the past, so that was good at setting me up to working here. It's a really nice environment to work in and everyone is so happy to help each other out to get to where we want to be.
"When I got this job at Wolves, I moved across the midlands from Leicester and started with the under-13s and under-14s group, I then worked up through under-15s and 16s, to where I am now with the under-18 group. My day-to-day job currently involves me working with the under-18 players, so I will take charge of their gym sessions, helping them get stronger, quicker, more agile, and they will have sessions where they can achieve that.
"I will lead the warm-ups on the pitch and make sure they're prepared as well as they can be for the sessions. I also have to be constant contact with the coaches to make sure we're getting the sport science side of it out, so maybe their sessions will be speed focused or agility focused, alongside the specific elements that they're trying to work on as well within their sessions and marrying the two together.
"I also focus on hydration for the guys and make sure they're taking in enough fluids, that they're sleeping well, and work closely with the nutritionists. Everything I do is about supporting the guys, especially on matchdays, and making sure all their provisions, such as supplements, are taken care of and that they're activations are getting them ready for the game."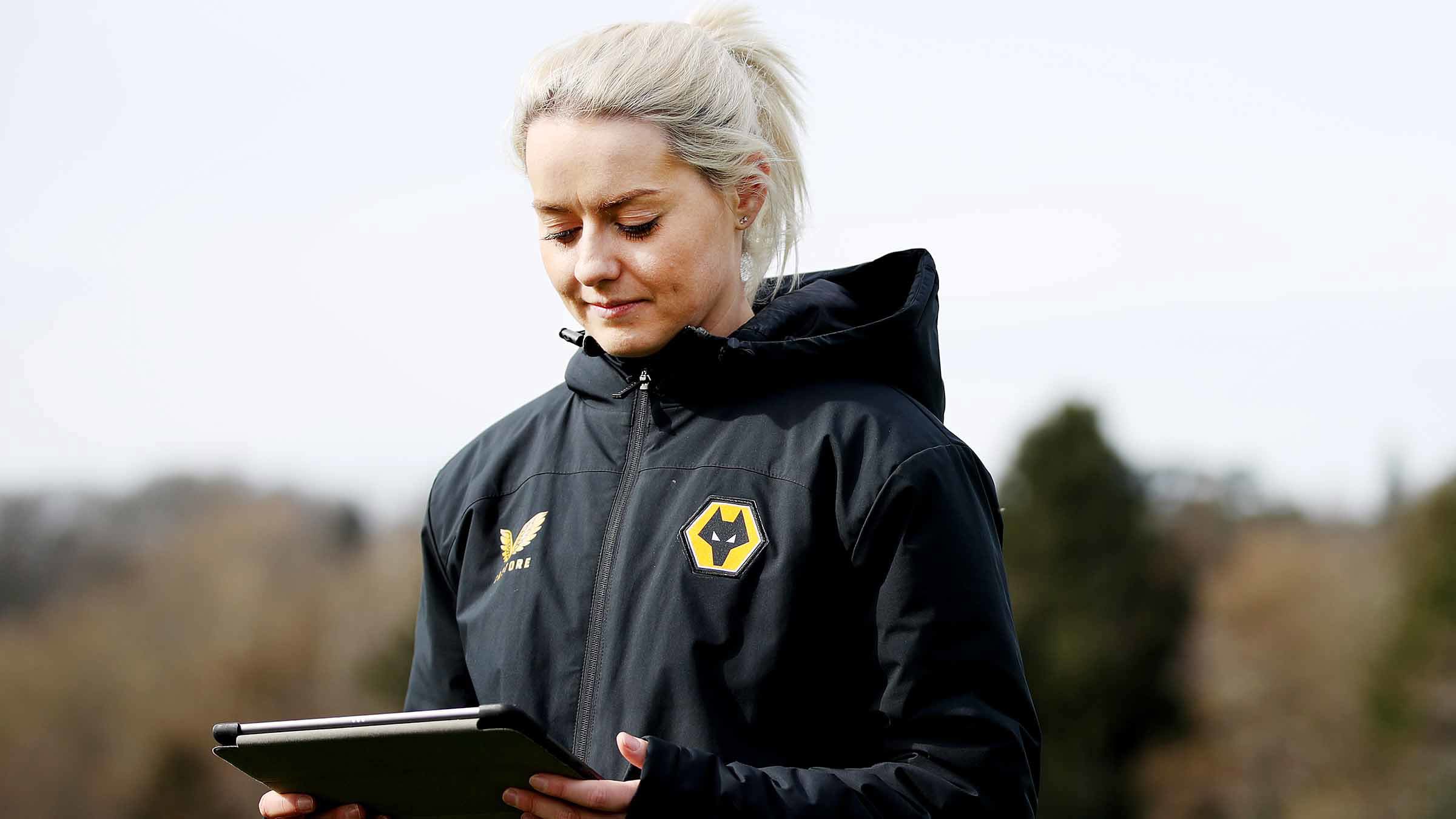 Moving up the age groups
"There are quite a few differences in my job when I first came to Wolves and worked with 13-year-olds compared to what I do now. One of the biggest is the personalities of the players. When they are little, everyone is energetic and enthusiastic, but with the older teenagers, you have to give them some of that enthusiasm because they might be coming in tired because they've got quite a lot of other commitments going on in their lives, so you might have to drive them a little bit more.
"You've also got a more varied range of people in the under-18s, as they might be coming in from different countries and different parts of the world, so you have to think more about what's going on in their lives.
"Physicality-wise, when players are younger, they go through growth and maturation so exercise has to be tailored more through those early stages, but with the 18s, they've gone through their growth spurts, they're putting on more muscle and sessions have to be tailored to the end stages of that growth.
"You always have to tailor sessions to the biological state of the players you have and where they are in their development. Plus, when they're older, they have more performance-based goals as they're looking to win more because they're pushing for a place in the under-23s and the first-team, rather than when they are young and just playing football for fun and looking to build their skill set."
Breaking the bias
"I wouldn't say I've experienced anything specifically different to the male sports scientists during my career, but that is because I always try to think of it as this is where I want to go, so I'll focus on me being the best that I can be. Obviously, I'm always conscious of male bias because it is what it is – there's a lot of males doing the same role as me. But I try not to think of it as a negative and stop me from doing it.
"I look at what I can do to reach the levels I want to get to and try my best to get to that end goal. If I'm good at what I'm doing, hopefully I will be seen as just that, rather than being seen as 'a girl'. Fortunately, I've never had anything happen to me to think that. I'm sure it may have happened to other people in other roles, but luckily that's not the case for me. Here at Wolves, everyone is really accommodating to what we all have to say. If there are coaches or players that want advice on a certain topic, I don't think they'll feel any different in asking me about it rather than a male colleague – well I hope they don't, anyway!
"Working with teenage boys, you might think there would be cases of sexism, but I've fortunately never experienced anything like that. Teenage boys are teenage boys – they're moody with anyone, they're not moody with me or act differently with me because I'm a girl. They would've been the way they are with anyone, so I feel you've just got to manage them as well as you can. If they've having a bad day or if they're having a good day, you've got to read the room and see what the atmosphere is to make sure you can get the best out of them. Thankfully I've not experienced anything specifically with sexism because of my gender, but maybe 20 years ago, if a female would have been in my position, who knows if that would've been the case – but we can't know for sure."
Aiming through the glass ceiling
"Similarly to the players, my personal aims are to keep moving up the age groups and progressing at the club. If the opportunity arises for a job with the first-team, that would be amazing and something I would really enjoy. Having worked my way up through the club and working with professional athletes, it's been great to see them doing so well. I've seen our current group of under-18s progress up the age groups and go on to work with the first-team, so it'd be something I would love to do.
"But I can't control that, all I can do is keep working hard to get better in my job to try and go as high as I can. I personally don't see my gender as being a barrier to what I want to achieve. There are many female staff working in first-team environments now at football clubs and gender should never be a factor in whether someone can do a job or not. Maybe it is something other people think, but I would like to hope not and even if it is, you can't change people's opinions, so I believe that it won't be something that stops me. Well, it won't stop me trying to do it anyway."