8th March 2022
As part of Wolves' International Women's Day celebrations, wolves.co.uk will be featuring the personal stories and journeys of some of the club's inspirations female staff throughout the month and exploring the challenges they have faced while working in roles which have historically been seen as 'male-dominated'.
The first profile feature this March sees Melissa Forde, performance head chef, share her story of running the catering operation at Compton Park as she makes sure the first-team players have access to the highest level of nutrition possible to perform at their best on the pitch.
Melissa works for Levy UK, the exclusive food and hospitality provider for Wolves, and joined the staff at Compton in July 2021, having progressed through the ranks during her previous roles in the hotel and entertainment industry in Birmingham and Warwickshire.
Career journey
"When I left school, I knew I wanted to pursue a career in catering because I was really good at it! I've always had a keen interest. My mum would always cook, and I would watch what she was doing and get involved. When I was little, I used to torment my mother at seven o'clock on a Sunday morning when I would decide I was going to bake something – although I didn't know how to use the scales at all, and I was scared to light the stove, but I could light the oven so I would bake stuff.
"She would come down to a cake where the middle had sunk down, but I'd given it a good go. She's probably still traumatised to this day from it! I originally was hoping to join the military and then my plan was to study medicine, but I decided on catering and wanted to give it a good go. I did and have been quite successful. I progressed through the ranks at a fair pace, became a sous chef at the age of 21. I think that was because I realised that, in some ways, the quickest way to progress was keeping quiet – 'yes, chef', work hard, do what has been asked of you and take in the teachings of the chefs that were around me.
"I did have a lot of good and strong chefs teaching me when I was younger. Charles Anderson was the executive chef at the Burlington at the time I was there, and he was very encouraging and very supportive. Then I had a very good sous chef in Mark Constable, who took me under his wing. He taught me how to cook all the complex dishes, prepare cuts of meat, how to prepare & cook high quality food well.
"As well as learning from those mentors, a good portion of my learning has been self-taught. With the rise of social media, YouTube, and how food has become more prominent in life, there's things that you watch, and you read and learn different techniques. There came a time where I had to force my own progression in food.
"My first major head chef role was at the Birmingham Hippodrome, a large theatre where I had to cater for multiple likes of people, and I was promoted into the exec chef role there. It was a multi-faceted operation, where we had 90 cover restaurants with one rosette, a dining room for the cast and crew and hospitality catering up to 1,000 people. It taught me a lot about managing a team, which is not something you're usually taught as a chef. You're always taught how to run a kitchen, run a section and how to prepare food so it was a great opportunity for me.
"It was great at the Hippodrome, and very different as I was tasked with theming food to shows, popups and large events where we had to cater for 400 people in a warehouse and there's no kitchen. I was pregnant during the pandemic and was made redundant because all theatres closed and so did the catering."
Putting on a façade
"The Hippodrome was a great opportunity for me. It allowed me to be me. I went from very busy hotels and some of that very old-fashioned 'cheffy' culture, which is thankfully changing as I'm quite a calm person. I don't feel I ever found myself working in a kitchen amongst sexist chefs. I would get the odd comment 'It's a little girl, trying to play chef', kind of thing and that would stick with me and make me stand my ground and assert myself more, project my authority by leading in a certain way. But it wasn't necessarily me.
"It was almost like a façade that I had to put on to fit the cut of the cloth, and I found that kind of exhausting. Being a woman in a male-dominated role, you do have to assert yourself very well and stand strong. However, I've always been respectful and always like to treat people how I would want to be treated, so I'd never try to bring somebody down.
"When I progressed into a sous chef position, I could nurture the junior chefs underneath me, so I would use that platform to help younger chefs to develop, grow and be taught in a supportive way. I thought it was right to lead through constructive criticism as opposed to the usual chef rant. Everything I would say, would always been constructive. I always tried to be a difference, and at the time it wasn't the thing, but now, you see more and more chefs realising that the old ways are damaging, and we need to be better. But being in the head chef role at the Hippodrome allowed me to be the manager that I always wanted for the people that worked underneath me."
Facing up to issues
"I feel I've always proved myself, so if anyone ever did have a doubt that I couldn't or wouldn't be able to do my job because of certain reasons, such as my gender. Since having children is where I think I've had to prove a point, that having a child doesn't mean that I'm any less capable of doing my job. I remember returning to work after my pregnancy and at one point, one of the chef's was giving special instructions to cut a bread roll open and I thought to myself, 'I've had a baby, not a lobotomy!' Granted, returning to work after 11 to 12 months out of the kitchen, you're probably slower than what you might have been, pace-wise, but I never lost my touch, and I never lost my skill.
"One of the struggles I had was getting flexible working. My husband and I both worked shifts and he had set shifts patterns, but I didn't, so they flexed my shifts around his, so I could still work the hours I was contracted, but it also gave me time with my husband and children as a family together. I'm thankful that I had that, because my head chef at the time didn't want to offer me an option, but I was fortunate that the food and beverage manager did. He understood the importance of making sure I had a home balance as well and devised a working pattern for me that gave me the flexibility to work all shifts and to be able to accommodate my childcare.
"This is where everything kind of changed there for me. I then had to work in the casual restaurant as my work pattern "didn't fit" It was like one of those places where you were banished to; but I took charge of it and I saw it as a challenge to make it wonderful, so I did. I changed the food, I trained the chefs, I set standards and specifications, and I made it my own. It was a struggle at times and although it was a huge task to improve it, I made it work for me and I made it the best that it could be.
"I'll always try to make the best of a bad situation and if it's tough, I'll always find a way. I accept challenges head on, I'll figure it out and make it work for me. I'm happy that they didn't see the value in me, because it got me to where I am now. It made me make the moves which have allowed me to progress in my career, through my skill, work ethic and determination. I'm in a better place now than I was. I've probably had positive influences on other people's careers since then, so I'm happy."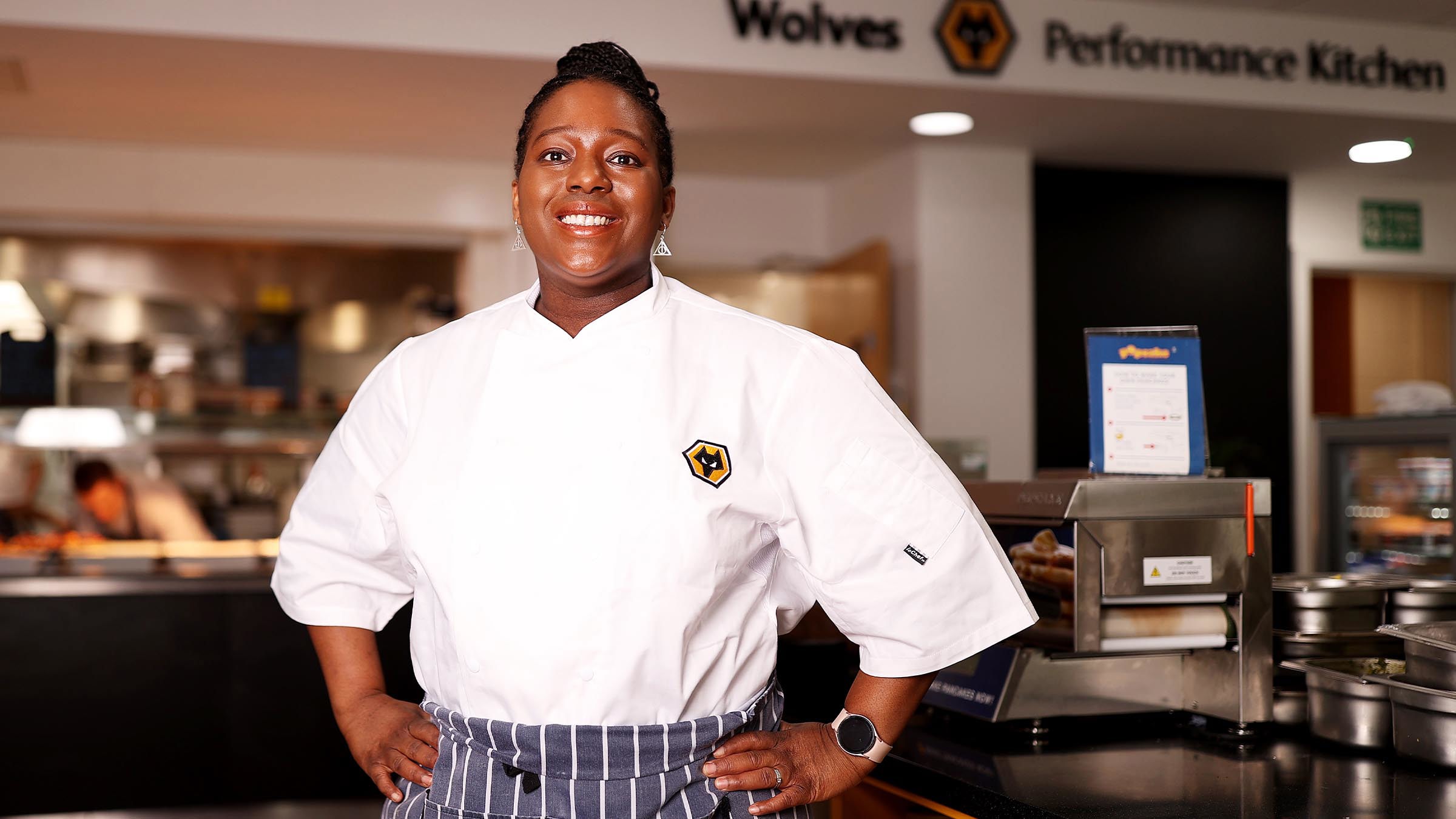 Joining Wolves
"In all honesty, when I first saw the job, I was wondering if I would get it. You sometimes put doubt in your mind as you question if it is a job which is typically for a man, if having children is going to impact my chances. It's a bit silly really, but sometimes these things do cross your mind, but I went for it anyway, I gave it my all, and I got the job.
"You can second guess yourself and before I started here, I thought sports was very male-dominated, although more and more women are working in football and having more prominent positions as well. I don't know why I questioned it. I put my best foot forward and thought what's stopping me.
"I've proved to myself in my previous roles that I'm more than capable of managing a large operation and have the relevant experience to do well and I'm really enjoying it. There's a lovely culture here. Everyone is warm and welcoming. The players are really down to earth and friendly, and you always feel happy to come to work. I feel I've fitted in very nicely into a team that was already established."
Pack mentality
"I didn't think that I wouldn't be made to feel welcome, but I was surprised at just how warm everybody was, because sport is quite a high-pressure environment and sometimes that is reflected in stress.
"But there's a really positive culture at the club here and the fact that everybody has the same ideology that if the team does well, we all do well, and we're all here for each other and we all support each other. I've seen how the team gels as football players, and you see how the sports science and medical teams all work together and all gel to get the best out of the players. Even with us as chefs, everybody comes up and has a chat and they're fans of us as much as we are fans of them. It's a really inviting, really happy and really warm place to work.
"From the outside, people only see the players and the manager. They don't really see the people behind all of that; But when you do, you see how good the environment of a football club can be. It's nice to be part of something so special and support the team to achieve their goals."
Media praise from Lage
"It gives us all a huge lift. We aim to accommodate everyone and to make sure that everybody has what they need, not only nutritionally, but also if they need to fill the gap. To feel appreciated, it makes a huge difference. It makes you want to push and work even harder. You strive for more to make sure the people that appreciate you are looked after.
"I think it was Bruno's first day here and he came in and told us that we were amazing. It was a great compliment to get, we were grinning like Cheshire cats. It feels really good to know you're making a difference. He said in a newspaper article that he spends a lot of time here at the training ground, but he's happy to do that because we make great food and make sure he's looked after, especially with his pancakes every day at four o'clock.
"We're here to provide a service and we feel appreciated in doing so. We love catering for everyone, they love everything that we do, and we're always happy to try new things for them. If they've got a favourite that they haven't had for a while, we'll try to work that into the menu and we'll make sure that it happens. If a player picks up an injury and are a bit down, at least they know they'll get meals that can help towards their recovery. We want to make sure nobody has any worries when it comes to food and nutrition."
Positive changes
"As a team everything is working well. Every member brings something to our department. Scott on the live station is everyone's favourite person. He's warm, he's welcoming and he talks to people. He finds out what they like from home so we can have a go at trying to replicate that here. Lewis is hard working and keen to learn. His enthusiasm and ability to absorb the lessons and skills he is taught will take him far.
"We've got two really strong sous chefs in Stuart, who's from a Michelin star background and he really likes to push the boundaries and create something you wouldn't expect to tick all of the nutritionally sound boxes, and Ashleigh, is very creative and dextrous, his presentation of food is always vibrant and inviting. Sarah and Josh are the solid team behind the academy looking after our footballers of the future.
"We are all supported by a great team of porters and front of house staff that no kitchen could function without. I like to support everything they bring to the table and help them embrace that in their own development.
"I've worked and had my time to shine, but my main goal is not just to run this operation, but make sure I give them encouragement to support them in their development going forward. Richard Branson said, 'Train people well enough so they can leave, treat them well enough so they don't want to.' That's something I've adapted in myself, as I want them to feel their opinions are valid, and I don't want them to think they have no input and aren't supported.
"As society changes and new generations go into management, that will support change further. I think that is great for the next generation to come through and do these things. I don't know how many other women run catering operations at training grounds across the country, but it's good to see that football embraces different people on and off the pitch. Your outside life, having children, having a family, doesn't make you unable to do the job it gives you something to work for."