21st October 2021
To celebrate their new partnership with Wolves, Royal Caribbean have welcomed hundreds of season ticket holders aboard their October cruises around the UK.
The club's new official training wear partner gave away 1,000 stateroom cabins with a 65 per cent discount to Wolves season ticket holders and on Wednesday the final cruise set sail from Southampton.
While onboard, Royal Caribbean's Quantam-class ship, The Anthem of the Seas, Wolves supporters are enjoying a wide array of offerings and activities, as they sail to Belfast via Liverpool over the next week. 
A wide selection of luxury cuisine options from around the world are being enjoyed, while the Ripcord by iFLY, an indoor skydiving simulator, provides a unique experience, and the North Star®, holder of the Guinness World Record for the tallest viewing deck on a cruise ship, offers stunning views.
As well as season ticket holders, Royal Caribbean have also kindly welcomed a Wolves team onboard, consisting of Wolves TV host Gemma Frith and old gold legends Steve Bull and Andy Thompson, who took part in a Q&A with supporters onboard.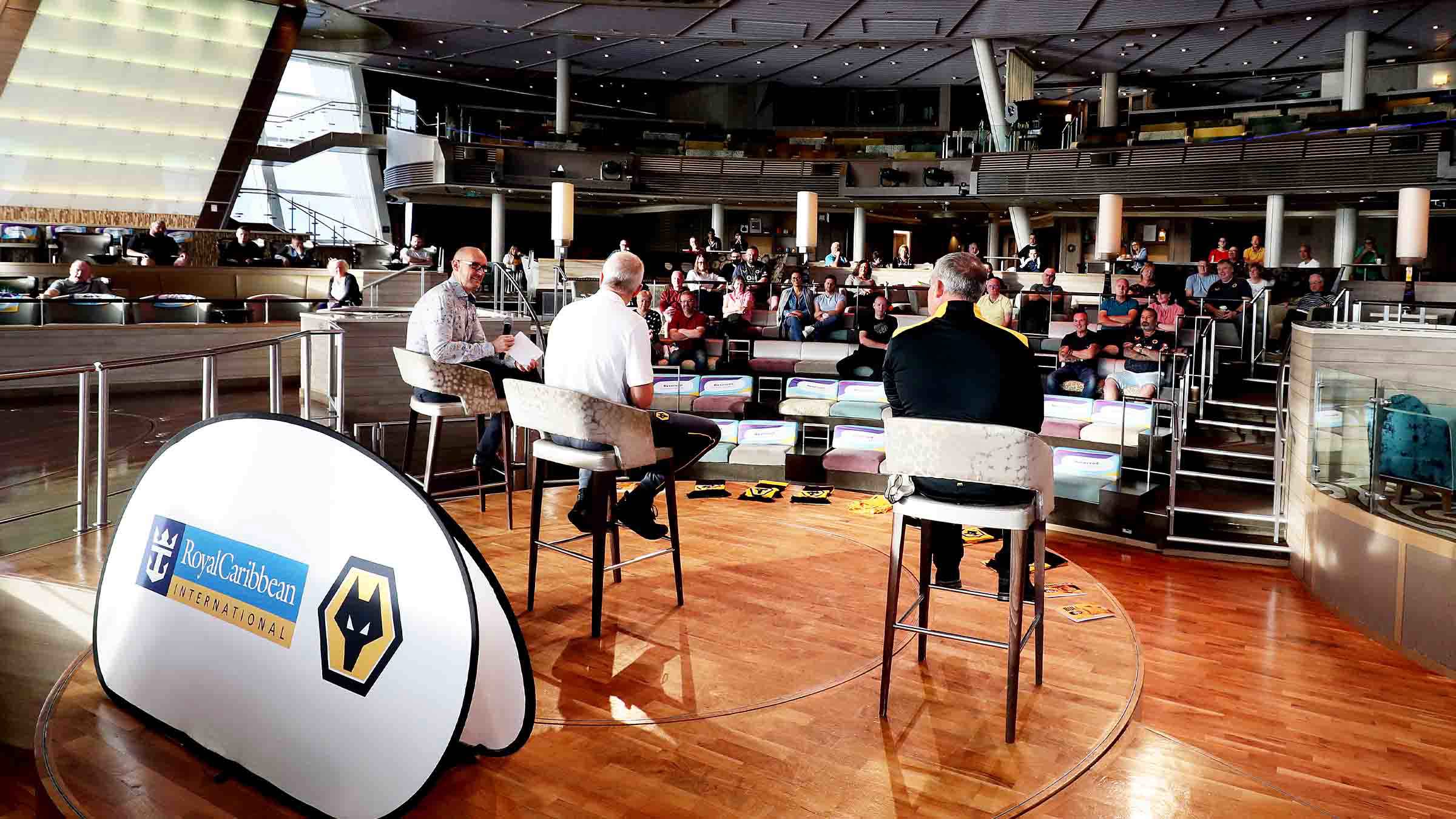 Wolves are also providing soccer clinics for children during the week, allowing them to experience expertise coaching from Wolves Women head coach Dan McNamara, while international projects manager Joe Hunt is also leading coaching sessions onboard.
Any Wolves supporters joining the journey, keep an eye out for the Wolves team onboard to put yourself in with a chance of winning old gold gifts and prizes.
Speaking at the start of the cruise, Bull said: "Thommo and I are very grateful to Royal Caribbean for welcoming us on their cruise this week – the facilities are unbelievable. It's easy to forget you're on a ship, there's so much entertainment on board, and we can't wait to have the full experience over the next few days.
"We've already come across lots of Wolves fans, which helps us both feel at home, and everyone's in good spirits after the win on Saturday. I'm sure we'll get to know everyone a little bit better over the next few days and have a good time on board.
"From what we've seen so far, I've got nothing but praise for Royal Caribbean – the staff have been extremely welcoming and the facilities look fantastic. They're providing us with a great opportunity to see some of this country's beauty spots, from the comfort of their incredible ship, and we can't wait so see more."