27th January 2020
Inside Pack takes a look at the latest headlines away from the football pitch at Molineux and Compton.
The second edition looks at the Shanghai Megastore, preparations for the Espanyol trip, Phil Hayward's departure from the club and Worldwide Wolves' recent milestone.
SHANGHAI MEGASTORE FLOURISHING
Wolves' Shanghai Megastore was opened on the Bund in July 2019.
Since opening, the Shanghai Megastore and WWFC Tmall store (online) have increased Wolves interest in Shanghai.
The WWFC Collection fashion range is now being sold in 12 high-end boutique stores in 10 cities.
Li Yong studied and worked in the European fashion industry, before moving to ELLE China. In 2018 Yong joined Fosun as the executive director of Fosun Sports Fashion and has led the Wolves Shanghai Megastore and WWFC Collection projects since January 2019.
Yong said: "During my trip to Wolverhampton in December 2018, I discovered the city, Molineux and the Wolves Museum. It was an inspirational trip and I was very impressed by the rich heritage of the club. I was sure we could develop more than just club merchandise, it could be a fashion collection with a unique style – gold and black colour combinations and slogans from the past 100 years. My team and I started developing the collection in January 2019 and created over 300 original designs in six months for the Megastore in Shanghai.
"The Wolves Megastore has become a hip location for Chinese fans and we've even had fans from Wolverhampton visit our store in Shanghai. As well as the Megastore, the WWFC Collection is in high-end boutique store, including Harvey Nichols in Hong Kong. The WWFC Tmall store has over 120,000 followers, the number one store for all football clubs, even bigger than Manchester City, Tottenham Hotspur and FC Munich, and WWFC as a football brand has been presented in Paris and Shanghai Fashion Weeks.
"For the future, we are planning to open a second Megastore in China in 2020 and will enter more selected stores. We will explore other Asian markets, for example South Korea, and do more collaborations with international brands, after the collaboration with Koche Paris."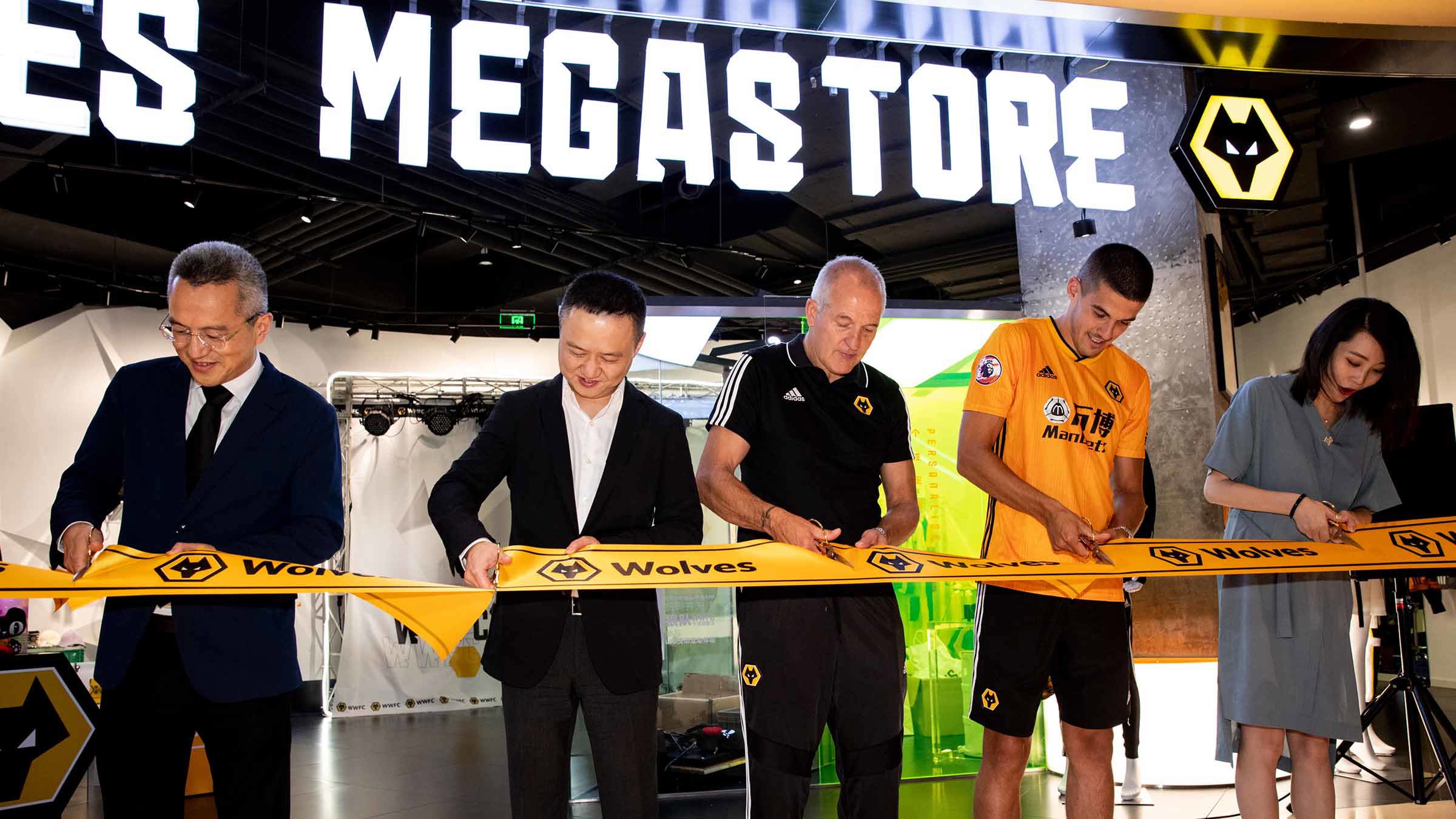 ESPANYOL PREPARATIONS BEGIN
Wolves representatives visited Espanyol to begin planning for the next phase of the Europa League.
Wolves travel to the RCDE Stadium on Thursday 27th February, after hosting Espanyol at Molineux the previous week.
Ticket information will be announced on the back of the recce.
Steve Sutton, head of operations at Wolves, was part of the research party in Espanyol and outlined the areas of focus on the trip.
He said: "A delegation went to Espanyol. Myself as head of operations and safety officer, Matt Wild our head of football administration, two representatives from West Midlands Police and a representative from the FA. We met with key representatives from Espanyol to discuss all arrangements, including the ticket allocation. We were then joined by the local police to discuss crowd safety and security measures for the fixture.
"During our two hours at the stadium we had limited time to see everything, but we were as thorough as we were allowed to be visiting the away sector, players, media and corporate facilities. The stadium is large, modern, in good condition and is quite impressive. It's not far from the city centre, it took us 20 minutes in rush hour traffic to arrive from the area of the Nou Camp.
"We made arrangements for the ticket collection point, which will be announced soon, along with ticket allocation information."
MEDICAL DEPARTMENT DEPARTURE
Wolves head of medical Phil Hayward has left the club following 11-and-a-half years of service, to take on a similar role overseas.
Hayward joined Wolves Academy in 2008 and stepped up to first-team physiotherapist three years later.
Doctor Matt Perry will oversee the department until a permanent appointment is made, which is not expected until the summer of 2020.
Dr Perry has been Wolves' doctor since 2002 and was also the Premier League's first ever medical advisor between 2014 and 2018.
Following Hayward's departure, sporting director Kevin Thelwell said: "Phil has given an incredible level of service to Wolves over his 11-and-a-half years at the club, including some notable achievements, not least leading the team as they attained the Premier League all-time record for low injury rates in the 2018/19 season. Phil has put together an exceptional medical and sports science team at Compton over the years, and the expertise now contained within the department will give us a real platform for sustained success moving forwards."
On Dr Perry, Thelwell added: "Matt is the perfect person to provide us with the continuity we need in the medical and sport science team, whilst we undertake a thorough process to find the right candidate to succeed Phil. The results of the hard work by our medical and sports science team over the last few years have been outstanding, and with Matt continuing to work closely with fitness coaches Antonio Dias and Joao Lapa, I expect this to continue."
WORLDWIDE WOLVES HIT 150
Worldwide Wolves hit 150 supporter clubs, leading the way in the West Midlands.
European clubs: 75, North & South American clubs: 36, Asian clubs: 17, Middle East & African clubs: 17 and New Zealand & Australian clubs: 8.
Wolves fans out in force during Texas and Miami Premier League events in USA.
Worldwide Wolves Lounge at capacity for most recent Molineux fixture.
Alan Perrins, head of Worldwide Wolves, joined the club in the summer of 2018 and has seen the club's interest soar across the globe since. He said: "We're at a much more advanced stage than I thought we would be. We were aiming for 100 supporter clubs, but we recently hit a huge milestone of 150. We're the fastest growing club in the Premier League, doing it quietly, one brick at a time. We are in regular contact with all our groups and if we can go the extra mile we will, and we do.
"We recently took Steve Bull to London, one of our oldest supporter groups - they've been together since the 1960s. Steve also joined fans for a fabulous event in Dublin with Irish Wolves, who were supporter club of the year last year. We have clubs from Ireland, Scotland and Scandinavia getting up at 4am to catch flights to Molineux every week, it's incredible and I have massive respect for them. We welcome clubs from around the world to the Worldwide Wolves lounge every week – we've had Western Australia, Bermuda, Texas, New York, Singapore and many, many others. Last May we had a play on pitch event which was incredibly successful.  We are planning something very similar this year and look forward to welcoming clubs from far and wide again. 
"It's not just about growing the number of clubs, it is about working with each club to help them grow. Success breeds success, the more Wolves do well on the pitch, the more it grows off the pitch."
Anyone interested in joining a club or setting up a supporter club should visit: worldwide.wolves.co.uk.