27th November 2019
The Inside Pack is a new feature taking a look at stories away from the football pitch at Molineux and Compton, whilst introducing different members of the team that play an intrinsic role in ensuring progress at Wolves.
The first edition provides insight into the club's approach to Black Friday, the Molineux Sleepout, the under-23s playing at Molineux and 2019's junior Christmas parties.
BLACK FRIDAY
A different Black Friday offer every day this week.
15% off home kits and free printing this Thursday (online only).
20% off EVERYTHING in store and online from Friday through Sunday with a free Wolves mug when you spend £50 or more. (Subject to availability and whilst stocks last. (Exclusions may apply)
For all offers this week, visit: https://shop.wolves.co.uk/
Wolves head of retail and licensing, Vinny Clark, joined the club in the summer, having previously worked for Fanatics, the global leader in licensed sports merchandise who provide retail, ecommerce, production and distribution support a wide range of sporting brands.
On the lengthy and strategic planning process for Black Friday, he said: "Looking back at previous revenues for this period, we've never built such a strategic event, which is focused around the fans value, rather than our revenues. This week is going to be massive, much bigger than anything we've done before. It should be our biggest week of the year.
"With varying products being discounted throughout the week, the customer can decide where the best value is for them. Everybody has different shopping habits – people are buying for their children, for their partners, for themselves, so we've made sure there's something for everyone.
"Black Friday and Cyber Weekend have become the biggest retail and ecommerce events of the year in the US and Europe – people wait for it now. My experience at Fanatics clearly shows that sports fans use this period to find great value whilst still being able to show their support for the club and we're certain this week's offers will get a great reception. It used to be the case whereby you'd see what old stock was in the warehouse and make it discounted, whereas now it's much more strategic, offering desirable products at great value. We've been extremely proactive this year, planning months in advance, thinking about our product offering."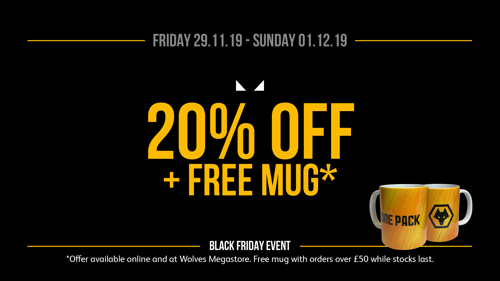 MOLINEUX SLEEPOUT
206 participants and 50 volunteers helped on the evening.
An anticipated £40,000 raised Wolves Foundation and the Good Shepherd.
Kevin Thelwell, Karl Henry, Matt Murray, Carl Ikeme and SX amongst those in attendance.
Donate before 6th December: https://www.justgiving.com/campaign/MolineuxSleepout2019.
Head of the Foundation, Will Clowes, explained: "It was our first attempt at a sleepout. We had a real mix of participants and fundraisers from those that are Wolves fans intrigued by the novelty of sleeping in the North Bank, to fundraisers who have a direct or indirect relationship with the Good Shepherd. They may know someone who is benefitting from their services, have volunteered in the past or been impacted by the effect of homelessness and rough sleeping.
"We had people who'd lost family members of suicide through being homeless and wanted to give something back. It was a very emotional and impactful evening. It gave everybody who participated an opportunity to be quite reflective on personal circumstances and life, and the challenges of sleeping rough.
"It was a massive team effort. We had a lot of staff supporting the Foundation, either participating or volunteering their time or assistance, extending to the stewarding team who volunteered for free, and partners. There was also a lot of support from the operations department. We couldn't have done it to the level of success achieved without all of their help."
UNDER-23s HOST PSG AT MOLINEUX
Wolves Academy hosted PSG at Molineux in Premier League International Cup.
5,448 supporters turned out to watch the 1-1 draw.
Next round against Athletic Club at Telford on 27th November.
Head of Academy, Scott Sellars, said: "Wednesday night showed how quickly we've moved forward as an Academy. To be playing one of Europe's biggest clubs, at Molineux, in front of 5,500 people was incredible. It also shows the positive attitude of the football club, in terms of how we deal with things, we look at things in a positive way and aim to do them to the best of our ability. We were very forward-thinking and openminded, the staff really embraced it and tried to make it a real event.
"When we got 3,000 fans against Manchester United last season, it showed nights like Wednesday were achievable, and the staff really pulled together again – everybody at the football club, whether that be promoting the event, distributing tickets to school kids or extending the capacity. It would have been easy to say: 'We can't do that', but everybody had the mindset of 'We can do it, we will do it and we'll set a standard that people hopefully see as outstanding'.
"It was fantastic that the fans turned out. This football club is famous for setting the standard of European nights in the 1950s, so for people to show interest for an under-23 game and want to come out on a cold night to support the team shows what we're about as a football club. This is why we wanted to progress up the leagues, to enjoy nights like last Wednesday."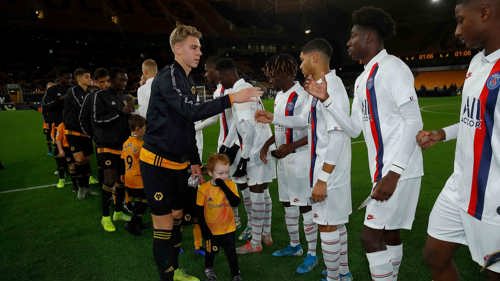 JUNIOR CHRISTMAS MOVIE NIGHTS
Watch Elf on Monday 9th December and Frozen 2 on Tuesday 10th December
Tickets priced at £10 with a drink and popcorn included for all
Christmas gift given to every child in attendance
Special guests in attendance 5-6pm
To purchase: https://tickets.wolves.co.uk/en-GB/categories/events
Kerri Davies, membership and mascot manager, added: "We've never taken our Christmas event off-site before, so we thought it was a good opportunity to do that and support our local company, the Lighthouse. This is our first ever movie night and we've picked a Christmas classic in Elf and a modern-day option with Disney's Frozen 2, which is new this year, so there's a choice.
"As always, there will be special guests between 5-6pm, then we'll all watch the movie together, with popcorn and pop given to all children and parents, and all juniors in attendance will receive a Christmas gift. Our Christmas events are always great fun and, as the movie nights are replacing the Christmas party at Molineux this year, it's the best opportunity to celebrate the festive period with your extended Wolves family.
"Also, if you're struggling to think of a gift for a special Wolves fan in your life this Christmas, why not gift them a Wolves Membership? My Wolves memberships are £30 and come with a lovely gift box and earns 100 loyalty points to help toward match tickets, while #WolfPack (£17.50) and Young Wolves (£15) memberships are also the perfect Christmas gift."