4th November 2019
Following the success of the inaugural ePremier League, Wolves supporters are once again being offered an exciting opportunity to represent the club in this season's competition.
Registration is now open for UK-based players of EA Sports' FIFA 20, aged 16 and above, to take part in the second edition of the online tournament. A hugely successful debut ePL season featured FIFA players from across the UK competing on PlayStation4 and Xbox One.
To register for the ePremier League, click here.
After registration closes, the competition will get underway from Monday 2nd December 2019 where players will battle it out in online qualifiers for the chance to each the live Wolves club playoffs.
The best 16 players on both PS4 and Xbox will compete online in February when competitors will be whittled down until the best player on each console will go forwards to the live ePL Finals in March 2020.
Last season, the finals were broadcast live on Sky Sports, the Premier League's Facebook Watch channel and the EA Sports FIFA Twitch channel, receiving almost 14 million views.
"Our inaugural ePremier League season had a great response from fans and clubs," said Richard Masters, Premier League Interim Chief Executive.
"The tournament brought together experienced EA Sports FIFA pros and first-time competitors and gave them the unique opportunity to compete and win for their favourite clubs.
"We are very pleased to be working with our clubs again to build on the momentum from our first ePL season and look forward to welcoming even more fans and FIFA players to the tournament."
Entrants are now being invited to compete in both the PS4 and Xbox One versions of the game, with two competitors – one per platform – representing each Premier League club in the live final, which will also form part of the EA Sports FIFA 20 Global Series.
Wolves supporters can register their interest in representing the club in this year's ePremier League here.
ePL tournament key dates:
4th November – Registration opens
2nd to 22nd December – Online qualification
February 2020 – Wolves' club playoffs
27th and 28th March – ePremier League Finals
How the ePL will unfold: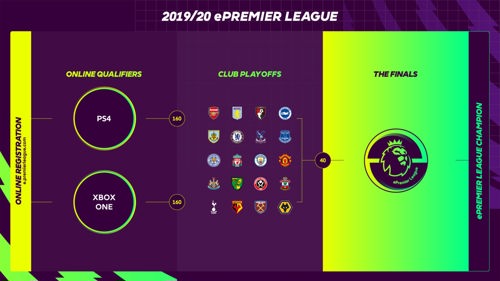 #WolveseSports