2nd September 2019
A commemorative blue plaque has been installed on the family home of Baroness Rachael Heyhoe Flint in honour of her achievements both in establishing the game of women's cricket and her philanthropy in the Wolverhampton community.
Former England women's cricket captain Rachael, who was a proud lifelong supporter and vice president of Wolves, sadly passed away two-and-a-half-years ago, but her legacy still lives on in the both the city and at the football club she loved dearly.
Organised by her son Ben Flint, who was supported by head of Wolverhampton Wanderers Foundation Will Clowes and the Wolverhampton History and Heritage Society, the blue plaque was unveiled on Friday afternoon at a small ceremony by the Mayor of Wolverhampton Claire Darke.
After revealing the plaque, the mayor said: "Rachael was a great role model, not just for women, but all members of the Wolverhampton community. She was well connected with many different groups within the city, high profile groups such as Wolverhampton Wanderers and Wolverhampton Cricket Club, but also with groups that people would never have been aware of.
"Rachael was really proud of Wolverhampton, and that's these blue plaques should celebrate, the pride that people have in this city. We currently have over 100 blue plaques in Wolverhampton that celebrate not only people, but places, events and buildings which are so important to our city."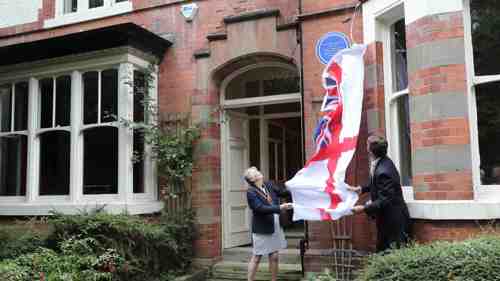 Rachael, a strong supporter of the work of Wolverhampton Wanderers Foundation when it was under its former guise of Wolves Community Trust, was renowned for being a pioneer of women's cricket and England captain, but has also been recognised for her philanthropy work, as well as being a former England hockey goalkeeper.
Mr Flint, who has spent the last two years arranging for the blue plaque to celebrate the historic achievements of Rachael, admits the unveiling is an amazing honour for his mother, saying: "She is a pioneer for women and shows what can be achieved if you use a bit of sheer determination and a cheeky sense of humour, which is how she smashed through the glass ceilings that she did. She was a leader of women, whether that was in sport or just as a strong lady in the community.
"You see the words on the plaque: 'The pioneer of women's cricket, England cricket captain, England hockey goalkeeper, philanthropist…' we needed a bigger plaque because there were so many other things and we wanted to put more things on there about Wolverhampton and how much she gave to the local community and, of course, Wolverhampton Wanderers.
"I'm absolutely thrilled to unveil this plaque, all the family are, and it's a lovely symbol on the house she loved dearly and made so many wonderful achievements during her final 46 years.
"I remember when I was much younger, people would come to me and say 'wow, you must be so amazed of your mum because she's done so much, she was a celebrity and she's on TV', and I said 'yeah, but at the end of the day, she's just mum'. That quick retort was something I would use many times because to me that's what she was; my mum."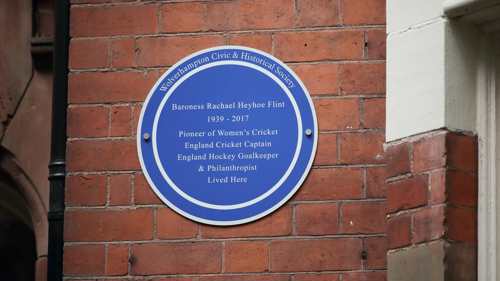 Representing Wolves at the ceremony was club director John Gough, who was immensely proud to be at such a special event to honour his close friend.
"Rachael meant a lot to me personally," Mr Gough said. "She was instrumental in myself being appointed to the board of Wolves in 2006. She introduced me to Sir Jack and – alongside her husband Derek – was a great supporter and friend.
"Rachael was a wonderful person, who had Wolves running through her DNA. I remember the big debate when she was selected for the House and Lords and whether she was going to be Baroness Heyhoe Flint of Wolverhampton, of Wolves, or of Molineux.
"She did so much for Wolverhampton, she lifted the profile of the city and was a proud citizen. Wolverhampton has been a poorer city without her.
"But I feel very proud and privileged to be here today to be a part of the unveiling of this blue plaque, which I'm sure will enhance the building, while allowing her name to live on in bricks and mortar of her own home."