5th April 2019
As Wolves head to Wembley Stadium on Sunday for an FA Cup clash with Watford, supporters attending the match are set to be part of a special semi-final mosaic.
Every fan sitting in Wolves' designated East side of Wembley will find a coloured bag when they reach their seat which, when lifted by all 33,000 supporters, will come together to make up the huge mosaic.
The image of the mosaic is below:

For the mosaic to work properly, you will need to hold up your coloured bag high up in front of you, with the plain side facing the pitch. Please hold up as the teams walk out. 
Please don't take anyone else's coloured bag as these are specially laid out to make sure the mosaic works.
See the diagram below showing how to hold the bag: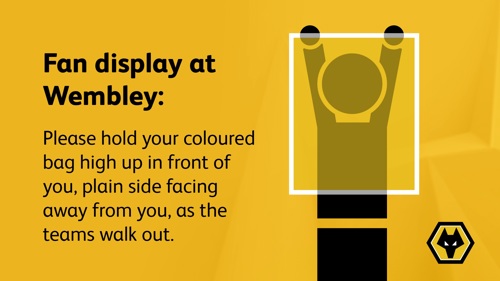 #WolvesAtWembley