13th February 2019
Wolves supporters are being invited to 'Live The Dream' at Molineux and take part in a truly memorable 90 minute match on the hallowed turf.
The club has teamed up with Football Aid to provide fans with the unique opportunity to create their own piece of history by playing football on the Molineux pitch, while raising valuable funds for Wolves Foundation at the same time.
Football Aid have been organising charity games for more than 17 years and are regarded as the original and best in delivering the ultimate pitch day experience.
The game at Molineux offers fans the unrivalled opportunity to experience a matchday in the same way the likes of Rui Patrício, Matt Doherty, Ruben Neves, Raúl Jiménez and the rest of the squad do every other week.
As a player, you'll get the chance to pull on an exclusive personalised replica shirt in the official changing rooms, experience the thrill of walking down the tunnel to the sound of a cheering crowd and step out onto the turf, proudly sporting your official playing kit and represent Wolves.
To add to that, the matches at Molineux have also been supported by a host of fantastic club legends in recent years, with the likes of Matt Murray, Jody Craddock, Seyi Olofinjana, Tony Daley, Lee Naylor, Willie Carr, Adam Proudlock, Robbie Dennison and Rob Edwards all lending their extra special support by playing alongside or managing the fans on their big day.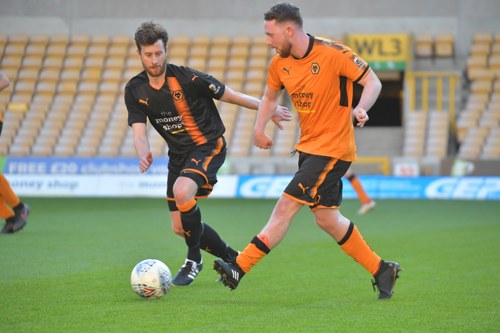 Wolves fan Matt Barker took part in a previous year and told Football Aid about his experience after the game: "Thank you for last night's game at Molineux, as ever a super experience.
"Last night was five years in a row for me and after the first one I said that would be it, I wanted the experience and I got it but it's so addictive.
"Even my children want me to play every year, so they can attend too. Wolves is my club, my second home really, so playing at Molineux fulfils every fan's dreams."
Positions are available for bidding from just £165 by clicking here, you'll then have two options: Opt 1: Bid to Play - Enter your Maximum Bid and if you're the highest bidder when the position closes you'll win a place on the pitch, or Opt 2: Buy Now - Close the auction early and secure your place with a one off payment.
Please note, positions close at regular intervals throughout the bidding period, with the first of the positions closing on Tuesday 19th February and final positions closing on Friday 15th March.
For more information, call Football Aid on 0131 220 5999, e-mail info@footballaid.com, visit www.facebook.com/footballaid, or tweet to @FootballAid.
Since forming in 2001 Football Aid have allowed over 18,000 football fans the chance to Live the Dream in over 700 matches all over the UK, Europe and USA, while pledging over £2.4M for charity.
The unique concept was the brainchild of businessman and Football Aid Founder Craig Paterson and funds raised from this year's event will benefit the work of a charitable project nominated by the Wolves Foundation, as well as projects nominated by Football Aid's parent charity Field of Dreams.