8th December 2018
Wolves have given an amateur Polish football team – who recently had their facilities destroyed by thieves – an early Christmas present.
Wilki (Wolves) Różana, a club which were inspired by and named after Wolverhampton Wanderers, suffered major heartache when yobs ransacked their changing rooms and raided their stock of equipment, leaving them with nothing – not even any footballs.
After Wolves and official club partner CoinDeal heard about the news, they decided to act and quickly got to work in helping the team back out onto the pitch.
During a visit to the UK, CoinDeal, who were founded by three Poles; Adam Bicz, Kajetan Maćkowiak and Filip Dzierżak, received several kits from Wolves which they donated to the team in need.
Wilki Różana were also given the backing of Wolves midfielder Rúben Neves, who sent the Polish club and a good luck message, wishing the players success for the future.
When Wolves' gifts of goodwill arrived in Poland, the Różana players could not hide their satisfaction, immediately putting on their new kits for a kickabout.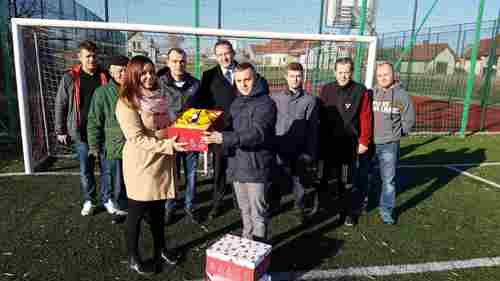 Mr Maćkowiak said: "Coindeal has been involved in cooperation with Premier League team Wolverhampton Wanderers for several months.
"We operate on the global scale, but we are happy that we can also support local sports initiatives such as Wilki Różana."
As a token of their generosity, CoinDeal also received a present from the team – a specially dedicated blue Różana shirt.