3rd August 2017
Fans asked to arrive early ahead of sell-out match
Please find below a range of information relating to Saturday's opening game of the Sky Bet Championship season against Middlesbrough.  We look forward to seeing you there!
TICKETS/SMART CARDS
The game is a complete sellout with Middlesbrough fans in the lower tier of the Steve Bull Stand.  Please do not travel to Molineux without a ticket. Season Ticket Holders should retain their Smart Cards to use from last season UNLESS they have moved age categories or seats.  These supporters should have now received a new Smart Card, anyone with any questions about their season ticket should contact 0871 222 1877 or email ticketoffice@wolves.co.uk
PARKING
Please note that in a new development this season the club car parks will be closed approximately 15 minutes before the end of the game.  This to allow pedestrians to make a safe exit from the stadium surrounds.  Car Parks will be opened to allow motorists to leave once pedestrians have dispersed, which could take anything up to half an hour.  We thank supporters in advance for their patience and understanding in this matter.
ARRIVE EARLY!
Please arrive early due to the sellout crowd to avoid any congestion and be in place well in time for kick off.  There is a tribute to Carl Ikeme involving all supporters in the Sir Jack Hayward Stand planned for just before the game so supporters in that stand in particular are urged to arrive in plenty of time. If you're in the Sir Jack Hayward Stand hold your cards up when the players huddle in front of you and if you're in the Stan Cullis lower look out for the crowd surfer banner going over head.
CARL IKEME & CURE LEUKAEMIA
That tribute to Carl is part of a day of activities where fans are encouraged to show support for Carl as he begins his battle against acute leukaemia.  That pre-match tribute will be carried out as members of Carl's family come out with the teams.    There is a big Get Well Card for fans to sign in Wolfie's Den and Cure Leukeamia will be collecting in and around the stadium before the game and after full time.  Ten per cent of the ticket sales are being donated to the Birmingham-based charity to boost their battle against leukaemia. Two further fundraising initiatives will be announced before the weekend, one involving Cure Leukaemia, and another our back of shirt sponsors Paycare.
STEVE DALEY & JODY CRADDOCK
We are delighted that former player and living legend (so he tells us) Steve Daley has agreed to be our on-pitch host for this season, working with our long-serving host Jason Forrest.  Steve will be in and around Molineux interviewing supporters and other special guests before matches and at half time with footage being shown on the new big screens. One of our former players or managers will also be our matchday host in WV1, starting on Saturday with former skipper Jody Craddock.   That player will be interviewed pitchside by Steve at half time, with Jody being joined on Saturday by his youngest son Toby, who has beaten leukaemia. 
PROGRAMMES
Staying on the subject of Jody, we are delighted that he agreed to a commission to pen all of our matchday programme covers this season. These comic-strip style covers will feature a Wolves hero of yesteryear. Although there is a special cover to kick off the start of the new season, and the new covers, with Carl Ikeme featuring.  We have ordered extra programmes for the day with 10% of all sales being donated to Cure Leukaemia.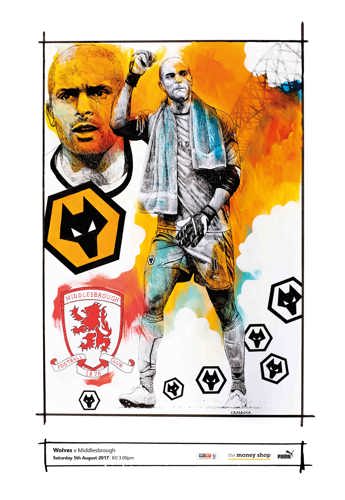 A KIT OF ALL RIGHT!
The team's new third kit, due to be worn on several occasions this season,  will be officially revealed at half time.  There's only a limited run of 2,000 shirts and they'll be available in the Megastore after the game.  The store will stay open until 7pm and then if there are any more available they will go on sale online on Monday.
FREE SCARVES!
Season ticket holders are reminded they can collect their FREE scarf ahead of the game up until 2.40pm this Saturday. Bring your vouchers and exchange for a scarf at the Megastore, Ticket Office, Wolfie's Den and from the fan volunteers located around the Stadium. Please bring your scarf to every game and hold them aloft when the players leave the tunnel to create a wall of colour around Molineux.
CARLING FANS ZONE
This is the first game that the Carling Fans Zone will be open in the Quadrant. Fans in the lower Stan Cullis Stand can visit the quadrant concourse where we'll have a live singer at 2pm and 2.30pm. We've also got a number of #SelfieStations in concourses and fans are invited to take a picture in front of the boards and tweet to @Carling and @Wolves or email to fans@wolves.co.uk. We'll pick the best one received before 5pm on Tuesday 8th August and thanks to Carling one lucky winner will receive 4 VIP tickets to the Moto GP at Silverstone on 26th August.
Head to Head stats for Wolves v Middlesbrough, for the latest betting odds visit https://www.21bet.co.uk/sportsbook/SOCCER/EN_D1/411205/