24th July 2017
Former Wolves Vice-President Baroness Rachael Heyhoe Flint was remembered yesterday with a minute's applause prior to the start of the Women's World Cup Final at Lord's.
And Rachael's legacy continues to live on in many different ways since her passing in January of this year.
The Lady Taverners, of which Rachael was President from 2000 to 2011, last week handed pupils at Reynalds Cross School in Solihull the keys to a new wheelchair accessible minibus in Rachael's memory.
During Rachael's time as President, over 150 minibuses were donated to schools and organisations throughout the UK.
The new 16 seat wheelchair accessible minibus, given in honour of the late cricketing great, will allow Reynalds School to transport pupils to and from the local community where they can enjoy sporting activities (including competitions), attend college and career related events and residential visits. The new vehicle will ensure that students with profound and multiple learning difficulties will have the same access to these local facilities as their peers.
Reynalds Cross School is an all age special school catering for over 100 young people aged 2-19 with a wide range of learning difficulties and additional complex and medical needs. The curriculum and life skills the school offers the pupils helps them develop their communication and personal skills so they are able to build friendships, follow routines and instructions, and learn the necessary interpersonal skills to develop friendships.
Rachael's son Ben Flint was present at the handover ceremony along with Lord's Taverners supporter and Warwickshire Cricket Ashley Giles. Ben said: "It's fantastic to be at Reynalds School and bring happiness to the staff and pupils of the school with the donation of this new minibus.
"The Taverners is a cause very close to our family's hearts and it would have meant a lot to Mum to see the positive impact the charity is having.
"The donation of this minibus in memory of Mum is a fitting tribute and we're proud to support the staff and parents at Reynalds School. "
Ashley added: "I am immensely humbled to be here to unveil the new minibus to all those connected with Reynalds Cross School. Rachael campaigned tirelessly to give sporting chances to those in need and today's minibus presentation is a fitting tribute to an icon of the sport, in her home city."
Since 1976, the Lord's Taverners has placed over 1,100 accessible minibuses across schools in the UK. The iconic Lord's Taverners minibuses provide disadvantaged and disabled young people with the chance to engage with their local community by getting more access to the facilities on offer and build important life skills in the process.
Reynalds Cross School Deputy Headteacher, Richard Sutton, added: "We at Reynalds Cross School are hugely grateful to the Lord's Taverners and their supporters for their generosity in donating our new minibus. We strive to be at the heart of our local community through the work we do at the school and this will enable us to ensure that all of our students can participate in activities such as sports and academic visits with their peers, and that we can continue to meet the needs and aspirations of those that attend now the school. A huge thank you to everyone who has made this possible."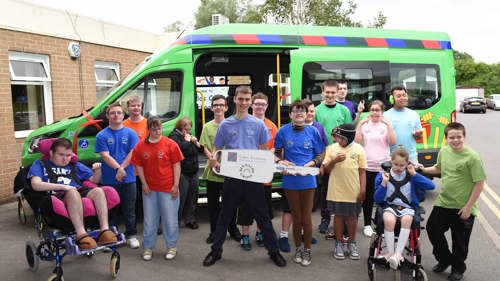 Carole Garner, Chairman of the Lady Taverners, said: "Today is very special because not only is this minibus being presented in the 30th year of the Lady Taverners but it is being donated in memory of a very special Lady Taverners in Baroness Rachael Heyhoe Flint. It's been great to visit Reynalds Cross School and see the impact the school has on young people with disabilities in the area and we hope the school enjoys their new minibus!"
 The Lord's Taverners will donate over £4 million this year to help to give disadvantaged and disabled young people a 'sporting chance' enabling over 200,000 young people with disabilities to enjoy new places and experiences every year. The minibus scheme is just one of many initiatives the Lord's Taverners offers. To find out more about the charity, go to www.lordstaverners.org.