2nd February 2021
Wolves 2 (Mabete 36, Kandola 87) Blackburn 3 (Baker 8, 14, Wood 88)
An under-par performance saw Wolves under-18s fall to a late defeat at the hands of Blackburn Rovers in Steve Davis' side's first U18 Premier League North match of 2021.
It was not the best of starts to the new year from a young Wolves team who were playing their first match since mid-December after their game against Burnley last weekend was called off due to the weather.
Blackburn, who were already playing their fourth game of 2021, capitalised on their opponent's rustiness with two early goals from striker Alexander Baker.
But Wolves grew into the game throughout the latter stages of the first-half and hit back through a first goal of the season for schoolboy Filozofe Mabete. After Harry Birtwistle had won his side a free-kick on the edge of the box, 16-year-old defender Mabete got on the end of Aaron Keto-Diyawa's well-worked set-piece to power home at the far post.
With neither team able to get a foothold in the second period, it looked as though Blackburn were going to hang on to the three points, but Wolves found a way back into the tie with just minutes left on the clock.
Another free-kick led to another goal for the under-18s, as captain Ollie Tipton's delivery found the head of fellow centre-back Kam Kandola who made no mistake to get his side back on level terms.
But it was late heartbreak for the old gold, as just seconds after making the scoreline 2-2, a long-ball up the pitch from Blackburn was not dealt with at the back by the hosts, which allowed Harrison Wood to strike past Palmi Arinbjornsson, and although the Wolves goalkeeper got a hand to the ball, he couldn't keep it out.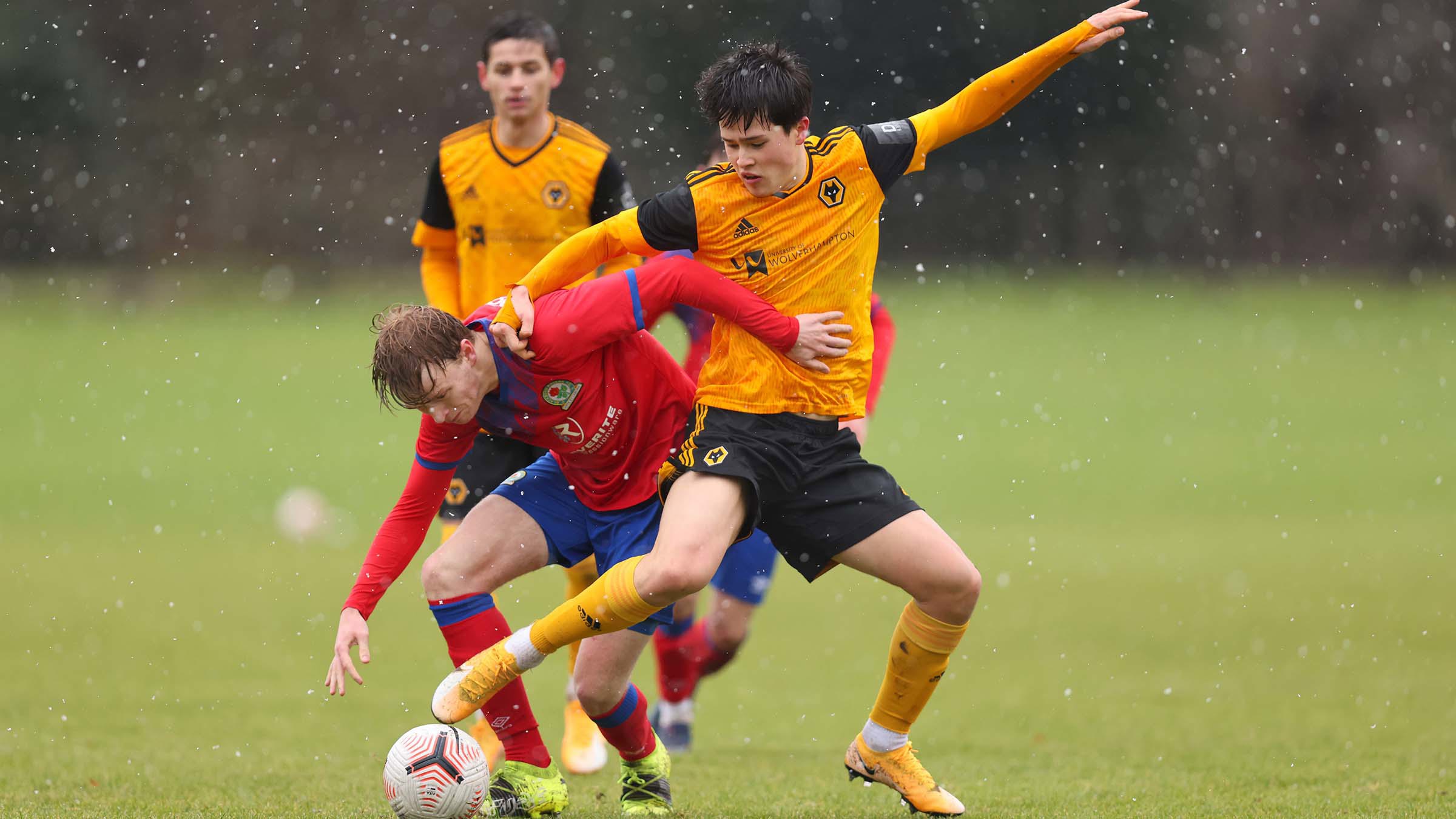 REACTION
On a difficult start being costly
"They're a very difficult team, the pitch as starting to deteriorate with the amount of rain and snow we had, but it didn't stick, so that was more helpful. It was a windy day, a tough day, and they adapted to the conditions better than we did.
"They were on the front foot early in the game, put it down the sides and got in behind us quite a lot and caused us problems, and just generally started the game much better than we did. The reason for that might have been that we just weren't prepared or ready.
"We emphasis the importance of starting the game well in the warm up, making sure they're ready for that first sprint, that first header, and whatever the opposition throw at you, you're ready for, but we just weren't on it in the first 20 to 25 minutes.
"We went two goals down, got a couple of injuries, with 'Hoddy' [Jack Hodnett] going down and Ty [Barnett] coming on, but it didn't disrupt us too much."
On getting back into the match
"We changed the system and had a couple of little chances and managed to get back in the game from a Harry run, he got fouled but carried on and we brought it back for a free-kick. It was a great delivery and one we'd worked on during training on Friday, into the area and straight to Fil [Mabete] who we had coming in round the back and he put it in.
"It got us back in the game at 2-1, and we probably didn't deserve it on the run of play, but we would take it, because the level we performed in the first-half was well below our normal standards.
"The second-half was much more even, although there was a lot of mistakes by both teams, no-one really got control of the game and they were trying to hold on at 2-1 and try to slow the game down. They were very professional in how they managed it and made it hard for us to get any foothold in the match.
"We kept going, huffed and puffed our way back into it with another free-kick. I thought, 'Fair play to them', because they haven't played particularly well and they could've come away with a point which would've been a good result for the way we played, but their concentration straight after the goal wasn't right.
"A straight 60-yard pass, which I think Aaron [Keto-Diyawa] in a few games time would've judged better, but he misjudged it and their lad took it in his stride and finished it well."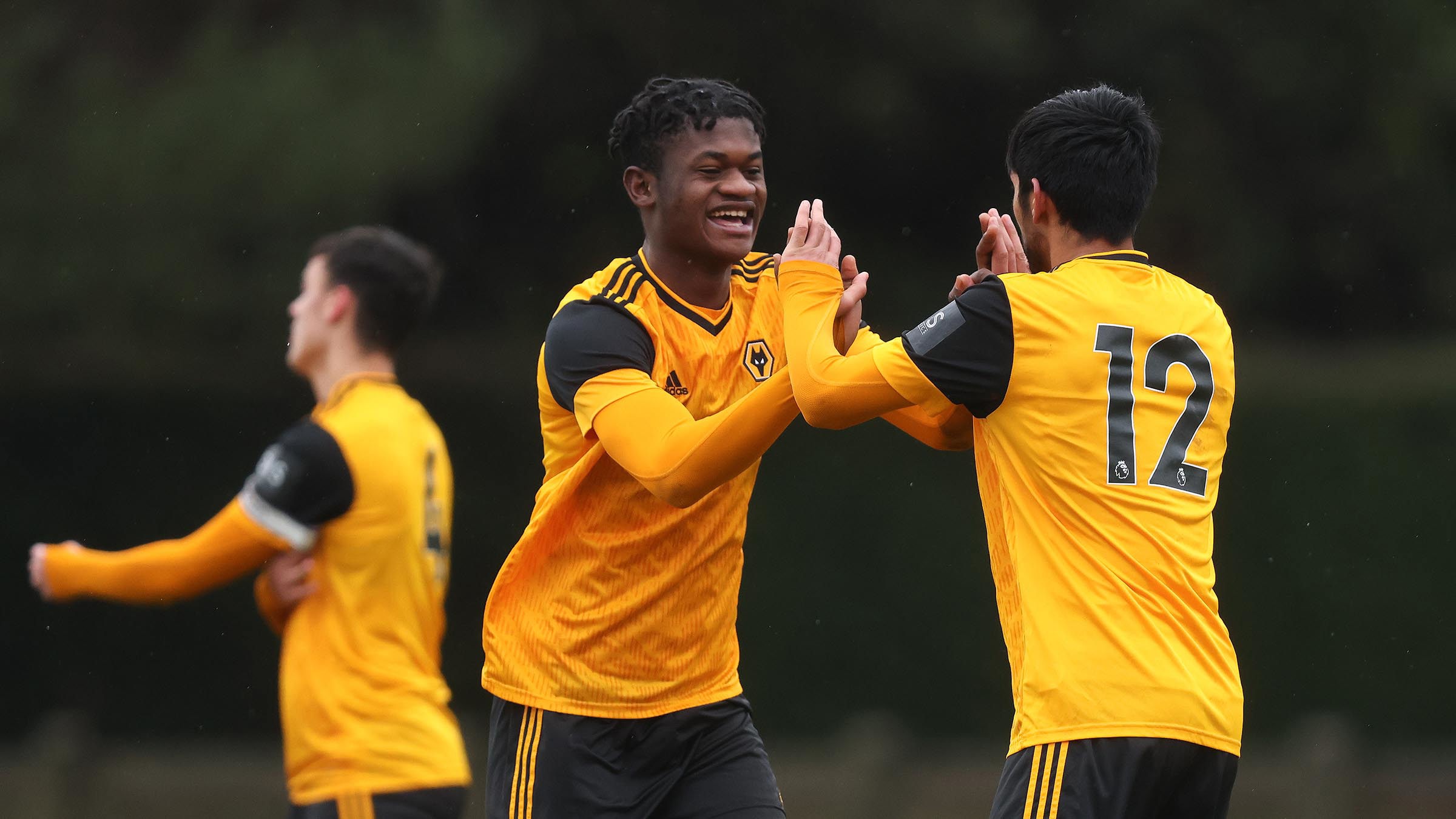 On needing to regain match sharpness
"We all know we can play better. Last year, we didn't have many games where we didn't perform well, so although there was a lot of effort and a lot of endeavour, we need more game time because a lot of the lads fell short of match sharpness.
"We haven't played for six weeks, so it's almost like we've had a mini pre-season and this felt like the first friendly game of the season where there were a lot of mistakes, people were all over the place, mis-judgment, and particularly at this age, when they're going through growth spurts, you get a lot of inconsistency.
"Blackburn were playing their fourth game of the year, so they had a bit of an advantage as they'd had time to get rid of their rustiness, get a bit more sharpness and organised than we have. But hopefully we've got that out the way now and can be a bit better this weekend against Burnley."
COMING UP
Davis' side will be aiming to get back to winning ways in the U18 Premier League North this weekend and are due to face Burnley at Compton Park on Saturday (6th February). The match had started to be played between the two sides last month but was called off after just 23 minutes being played due to heavy snowfall.
On what to expect from Burnley
"We're already working on a few things ahead of the game, and we'll continue that this week with a hard day of training in place today.
"Burnley beat Manchester United on Saturday, so we know how tough of an opponent they will be. They're very strong, organised and competitive – very similar to what we faced against Blackburn.
"Their clubs are based around hard work, endeavour, attitude and commitment, as is ours, but they do it in a different way, put you under pressure, put the ball in the box a lot, get behind you and make you have to make decisions.
"It was a tough game when we played them at their place, a scrappy game where we had to be competitive, and I'm sure it will be exactly the same this weekend."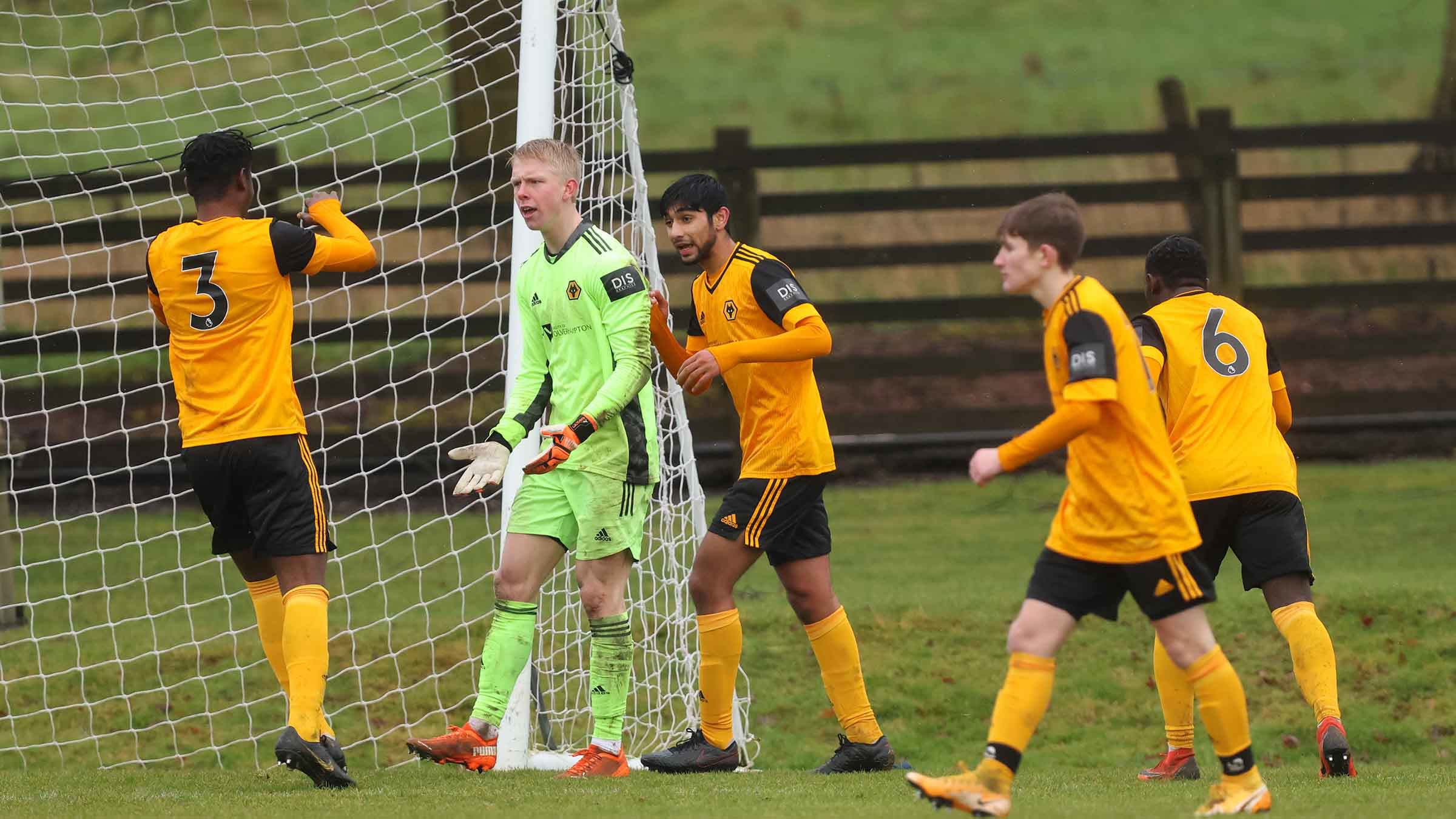 NEXT FIVE
06/02 Burnley (H) 
13/02 Stoke City (H)
17/02 Aston Villa (A) U17PLC
20/02 Derby County (A)
24/02 Manchester City (H)
TEAMS
Wolves: Arinbjornsson, Birtwistle, Mabete, Tipton, Hubner (Farmer 62), Keto-Diyawa, Ojinnaka, Hodnett (Barnett 35), Bugarin (Kandola 45), McLeod, Harkin.
Unused subs: O'Shaughnessy, Francis-Burrell.
Blackburn: Goddard, Haddow, Pratt, Wyatt (Montgomery 65), Gent, Pleavin (Famiwuya 65), Wood (Chmiel 78), Weston, Fyles, Baker, Wharton.
Unused sub: Blease.

#WolvesAcademy