29th January 2021
Steve Davis is hoping the bad weather holds off this weekend so his Wolves under-18 side can get their first completed match of 2021 after last week's league fixture with Burnley was called off with the game at the 23-minute mark.
Heavy snow at Lilleshall meant the match with the Clarets could not be concluded on the day, and with the young Wolves side set to return to the National Sports Centre on Saturday lunchtime to face Blackburn Rovers, Davis and his squad are eager for last week's outcome to not repeat itself once again.
On weather suspending play against Burnley
"It was the right thing to do in the circumstances because it was quite thick at the time and the snow was coming down quickly.
"There was no visibility, you couldn't really see and the players on both teams were struggling. The ball was beginning to pick up snow and wouldn't travel properly, so we stopped it.
"We gave it a few minutes and came back out, and the snowfall had slowed down a bit, but it was still in the air and you knew it was going to start again, so we had to make a decision.
"We could've waited there all day for it to clear, because eventually later on in the afternoon it was sunny and fine to play, but how long do you hang around for that situation?
"The players had only played 23 minutes and then they were stood around for 30 or 40 minutes, and we tried to resume but the conditions were too difficult."
Unfortunately today's under-18s match with @ClaretsAcademy has been suspended due to adverse weather.

Play was halted at 0-0 after 23 minutes, but despite efforts to clear the pitch we were unable to resume.

❄️ pic.twitter.com/UZu6jCz8AN

— Wolves Academy (@WolvesAcademy) January 23, 2021
On prioritising safety
"Burnley had travelled and they wanted to game to be finished, but we had to prioritise the safety of the players, that's what was paramount to me.
"We'd already lost 'Tinks' [Tyler Roberts, pictured below] during the game, he's out now after flying into a tackle with their goalkeeper and got himself injured, so I was just worried that something else like that was going to happen and someone was going to get seriously hurt.
"I said to the doc that from a safety aspect, we're better calling it off now and we can rearrange it. At the end of the day, it's an under-18s game, they're still children, and you've got to think of their safety over anything else."
On being 'desperate' to get games on
"The only thing was that we hadn't played for so long, our last game was the 19th December, so we'll be getting on for six weeks this weekend when we haven't played a game.
"We haven't been able to play any friendlies, but it's the same for everyone and we're all in the same position where players haven't played for ages and they're chomping at the bit to get games on, but there's going to be some cobwebs to shake off.
"The lads are so desperate to play, and it was a shame that last week saw the weather put pay to everything, but even this weekend doesn't look great forecast-wise with snow coming in tonight, so I can't see tomorrow being any different, but we have to plan for the game as if it's going to be on."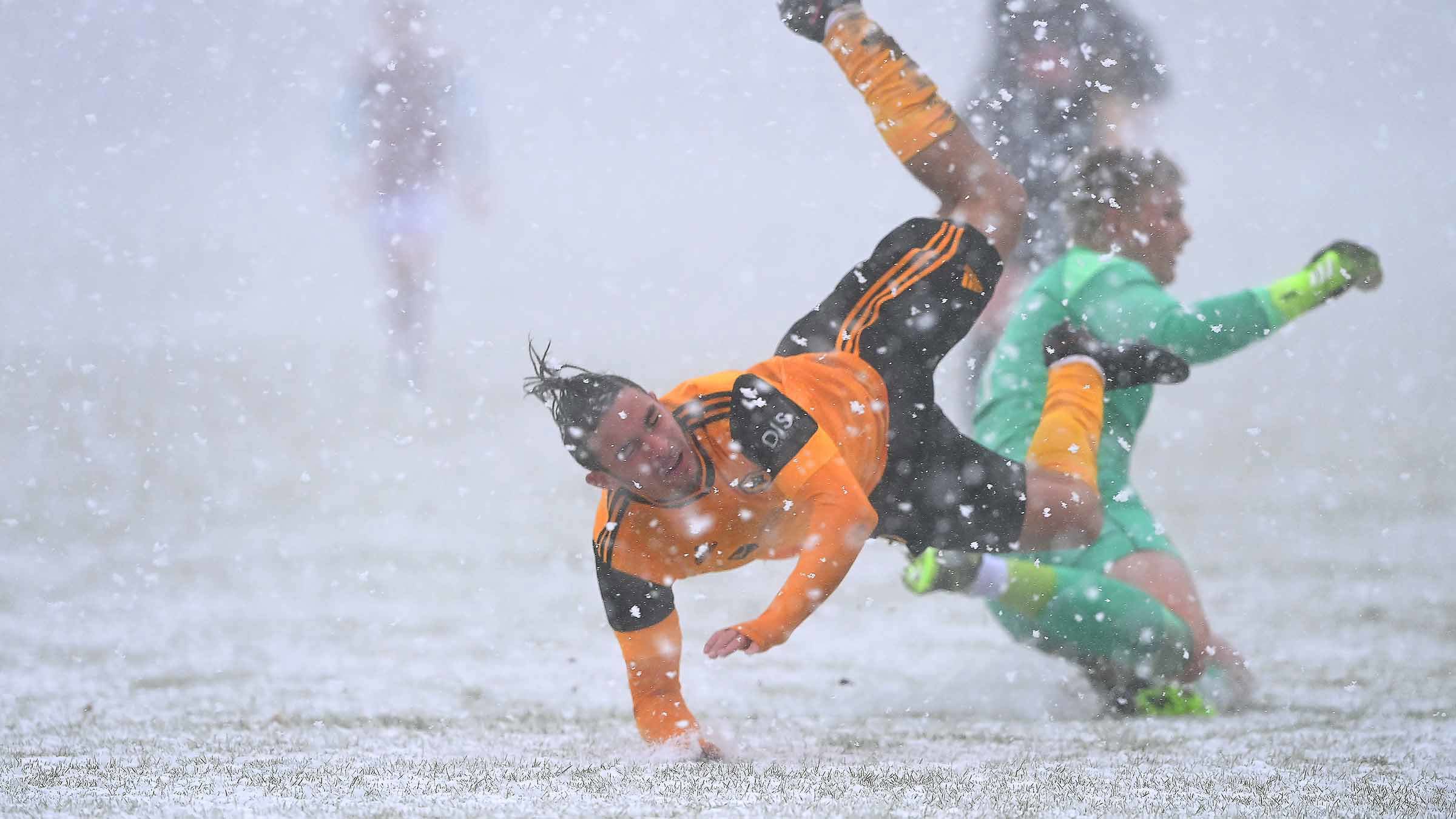 On facing Blackburn this weekend
"It'll be a tough game. They've given Man City and a couple of the bigger clubs with the better players in our division a really good run for their money. They've got some good players, they're normally physically strong and athletic, and when we faced them away from home, we weren't that great on the day, if I remember correctly.
"We had to change our shape after about 10 or 15 minutes because we were struggling to contain them and they were getting through us quite easy. But we changed it and the players adapted well to that system, and we got back on top of the game, came back and won it 3-2, due to two penalties that we had.
"It was a good test, a tough game, and I don't think tomorrow will be any different. The only difference will be that we haven't played a game in such a long time, that I'm not sure how the players will react and how they will be for the game.
"But Blackburn always pose problems, Mike [Sheron] always has them very organised and at it, so they're always competitive, and it will be another tough game."

#WolvesAcademy