25th November 2020
The first Black Country derby of the 2020/21 season takes place at Compton Park this evening as Wolves take on West Bromwich Albion in the Under-17 Premier League Cup.
Steve Davis' side took a point from their opening fixture in their first fixture of the competition's group stages – which is new for this season due to combining the U18 and U16 PL Cups – following a 1-1 draw away at Derby County.
Captain Ollie Tipton's penalty gave his team a first-half lead in the contest at Derby's training ground, but the young side were pegged back late on with another penalty, ending the tie as a stalemate.
In a competition which has been designed to give some of the younger members of the under-18 squads game time, the second match of Group B – ahead of the third of three group games against Aston Villa coming up in January – sees Wolves host their Black Country neighbours at the Sir Jack Hayward Training Ground sponsored by Fosun International from 7pm.
Head coach Davis is expecting a difficult game against Albion, who fell to defeat against Villa in their opening match of the competition last month, with Wolves opting to use a much younger squad than most.
On a competition for development
"We've got a lot of games coming up; Middlesbrough, Everton and Man United before the FA Youth Cup, so this will be an opportunity for some of our first-year scholars and schoolboys who haven't had as much game-time.
"We see this a great platform to help develop our younger ones. The first-years don't get many opportunities, although our under-18s is predominantly first-years this year, but it also gives us an opportunity to get schoolboys involved.
"These schoolboys will be looking for scholarships with us next year, so the Under-17 Premier League Cup gives them the opportunity to perform well and prove to us that they can play at a good, competitive level."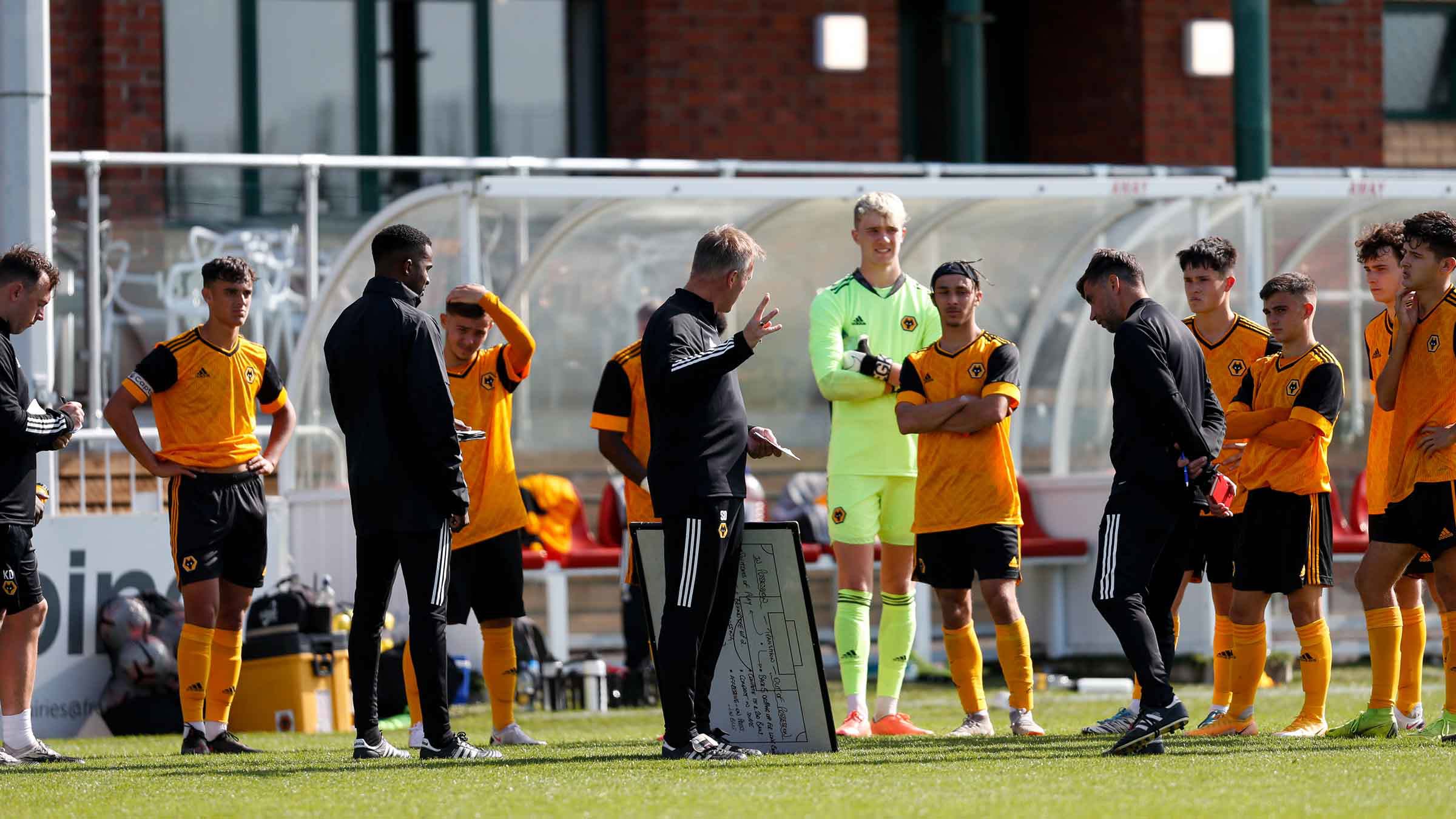 On utilising a younger squad
"The rules say you can play an under-18s keeper and three under-18s outfield players if you should want, but we didn't do that against Derby and we're not going to do that tonight.
"We could've put three 18s out there which would've significantly improved our team, but it's more about aiding development and these are good competitive games for the younger players.
"Erik [Bugarin] is our only under-18 that will play tonight, but that is because he's not had a lot of games recently, following an operation he had on an injury and having to undertake an isolation period, so he needs games.
"Other than him, we're going to go young. Mason Rees, an under-15 who has been around the squad this season, will get a chance, while Temple Ojinnaka would've played tonight, but just this morning he received a phone call from his school to say that he has to self-isolate because of a classmate has tested positive for Covid, so that has forced us into making a big change to the team.
"We'll see a lot of our first-years play, as well as the under-15s and under-16s we think highly of who need games and need challenging in these sorts of competitions to aid their development."
On the challenge Albion will pose
"It's been very difficult to prepare for this game. Due to the Covid protocols, we've not been able to watch their under-17 fixtures, and have only seen their under-18s and which under-17 players have been playing in those games and just assume they'll be playing tonight.
"We've been looking at the system they play, the type of players they have, but we're not sure who's going to play. This means we will have to adapt our system on the night depending on who they're playing and the way they're playing, allowing us to get control in the game.
"It should be a good game for both teams, and the whole group stages of the competition have been great with the derby games against West Brom and Villa, but they will all give us an equal challenge in a different type of way."
U17 PL Cup Group B fixtures/results
Matchday 1 | Tuesday 27th October
Derby County 1-1 Wolves
West Bromwich Albion 1-4 Aston Villa
Matchday 2 | Wednesday 25th November
Aston Villa vs Derby County
Wolves vs West Bromwich Albion
Matchday 3 | Wednesday 20th January
Derby County vs West Bromwich Albion
Wolves vs Aston Villa

#WolvesAcademy