23rd October 2020
Darren Ryan is expecting Wolves under-18s to face an exciting, fast-paced and energetic challenge from Leeds United, similar to what was witnessed from the club's first-team on Monday night, when the two teams meet on Saturday afternoon.
The Academy's elite player development coach, who led the team to a 3-0 win over Derby County last weekend alongside head coach Steve Davis, explained how this weekend's opposition have a footballing philosophy being passed down from the first-team and throughout all the age categories – similar to what Wolves have at Compton Park, with the under-23s, under-18s and the younger Academy teams mirroring the identity of Nuno Espirito Santo's senior side.
On breaking Derby's undefeated record
"It was a very good performance overall, especially after the first 10 or 15 minutes, where we had a look at the shape we were playing, a 3-5-2, and Steve and I decided we would change to a 3-4-3 because they were causing a bit of trouble to our deep lying midfielder, with their wide players coming inside.
"Putting two midfielders would give us a big more protection and it worked, and I think we dominated the game from then on. 3-0 was a pleasing result, but the overall performance was very good.
"We had a lot of possession, controlling the game and good play in the final third, so it was an all-round pleasing performance against a good Derby team who hadn't been beat all season."
⚽️ Tipton, Hodnett, Harkin

A convincing win from our under-18s against @dcfcacademy.

🎥👏 pic.twitter.com/i2KyUggbIb

— Wolves Academy (@WolvesAcademy) October 20, 2020
On playing at home for the first time this season
"The lads were very much looking forwards to getting on the pitch at Compton because it is a fantastic pitch.
"They've embraced every challenge this season and playing away for their first four matches, but I think it was nice for them to finally have a home game.
"But for us, the important thing to take from the game is trying to maintain the level of performance they've had all season, with the exception being the Stoke game where the performance was good up until the final third, and eventually it was a disappointing result.
"The lads have been fantastic this season; in training and in all but one of their games, but off the back of a really good performance against Derby, we've got to take that into the Leeds game which we know is going to be really tough."
On the challenge of Leeds
"The way they play is very similar to what we saw with the first-team on Monday night; they're really energetic, their transitions are very good, they use the ball well and are really aggressive when they have to win the ball back.
"We've done our analysis, we've watched the games, sent clips to the lads and have prepared the lads this week for a very aggressive press and transition, and we know we're going to have to move the ball quickly.
"Our philosophy in possession never changes but we know where the space is going to be against them, and the lads have trained really well this week, so I'm looking forward to what is going to be a very energetic game.
"They're very similar to the first-team and how the under-23s play, and you see they have a football philosophy that runs right down into their Academy, so it should be a really interesting game."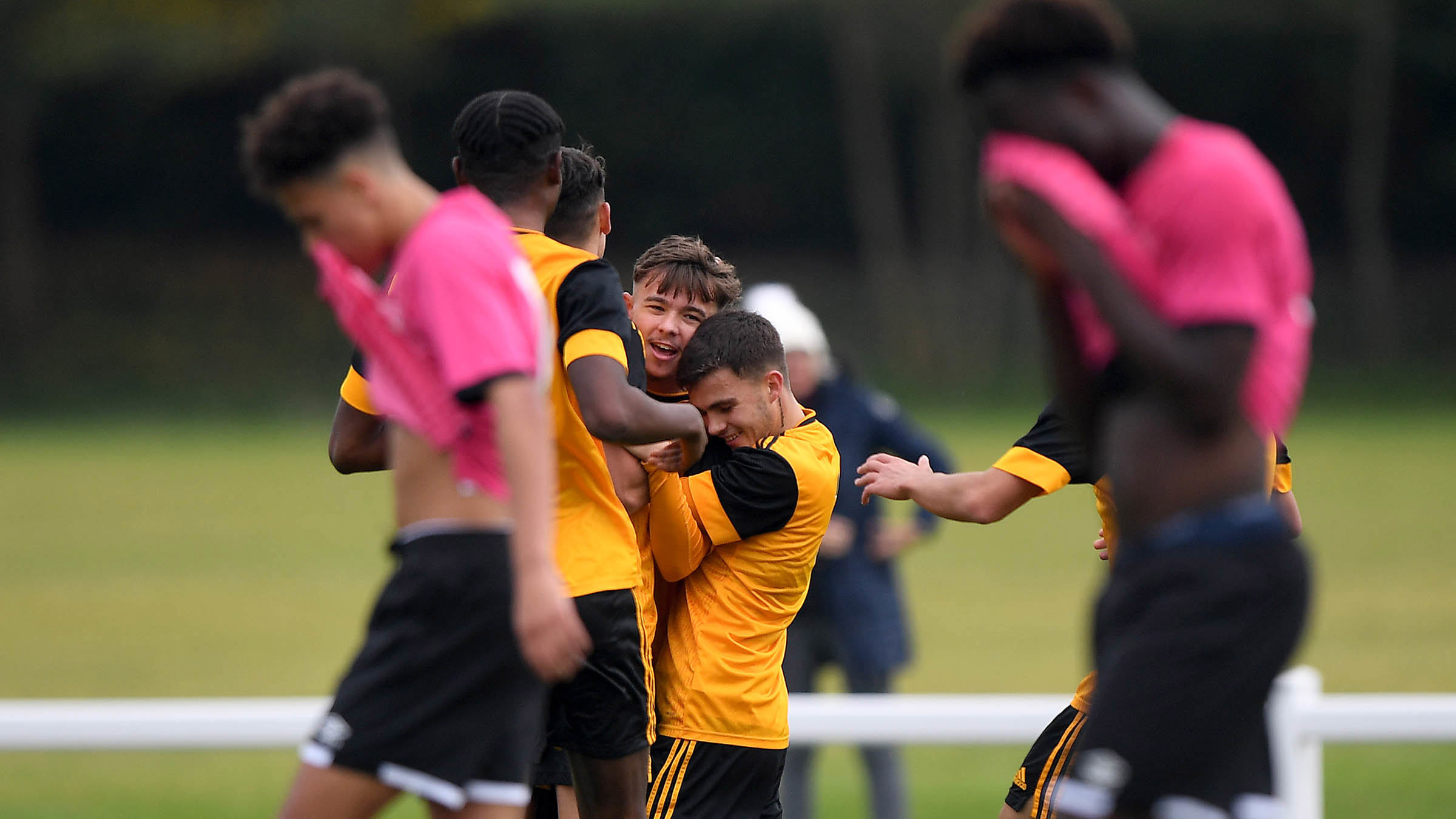 On a playing philosophy running through clubs
"Many of the teams we've played this season play very similarly to their first-teams, which is exactly what we do at Wolves, we mirror what the manager and his staff do at senior level throughout the Academy.
"It gives you a consistency, so if under-18 players have to go up to under-23s or if 23s go into the first-team, they all know the system.
"We've had this philosophy throughout the club for the past few years, but we're a very young team this year – we have three under-16s and an under-15 in the under-18s group, but because of the philosophy that runs right through our football club and Academy, they know the principles inside and out for when they've had to step up.
"Even though they are stepping up to an older age group, they know the philosophy of how the club wants to play, making that transition easier. You can see how it's helped our own football club with four or five under-23s going up regularly to train with the first-team, and they know exactly what they need to do because the style of play and roles on the pitch runs throughout the Academy.
"It's been really good how we've embraced that as a club and as an Academy, but I think a lot of clubs are all thinking along those same lines now."

#WolvesAcademy