27th August 2020
Head coach Steve Davis has been pleased with the response from his under-18 players after they returned to training earlier this month having spent months apart due to the Covid-19 pandemic.
Although the 18s' own pre-season preparation has been disrupted with his young players going up to represent the under-23s as well as a loan group made up of those who were away from the Academy last season, Davis is looking forward to having a set of hard-working and dedicated youngsters to coach during the upcoming campaign.
On coping without football during lockdown
"It was a tough few months, especially as some of our players moved up to the under-23 group in lockdown and we had new scholars start early to get them used to the group, but, fortunately, many of them have been here as under-16s so knew the group prior to lockdown.
"This made the transition quite smooth, but during the months apart we focused on giving the staff different things to do. We wanted to keep the players and staff involved and occupied, and we gave challenges to the players to keep them stimulated, fit and strong.
"We also did a lot of analysis and kept their brains ticking over, so not to allow them to switch off from football completely.
"A lot of them came back after lockdown and had grown in that time, so it was good for some of them to have that period where they were given time to grow and reflect."
Our lads have been getting quite a bit of game time with the under-23s and the loan group. It's not about making up the numbers as they've performed really well when they've played.
On returning to training after five months away
"They were all eager to come back to training and their work ethic has been excellent. I can't fault the way they've approached the training.
"With the Covid rules and regulations, that's been challenging because they tend to forget when they're young that they're not invulnerable and they're less aware of what's going on. But we've been reinforcing that as staff, so they are fully aware that this pandemic is still around and they need to continue to adhere to the rules.
"We've had similar sorts of precautions as the first-team, in terms of social distancing and the way we approach the training, with the first few weeks being a lot of group training before any inter-contact. It has been unusual to be able to have contact in training, but then having to remain two metres apart when you come off the pitch.
"We've had to get used to changing in a big marquee down at Lilleshall, come straight in, train, no showers, no food, then straight off home. However, the under-18s are back training at Compton today, so that will be different again."
On easing in the first-year scholars
"A lot of our first-year scholars have been playing as part of the loan group and under-23s in their recent matches. 'Tippo' [Ollie Tipton, pictured below] played 45 minutes against Shrewsbury last night and has stepped up very well, as has Tyler [Roberts], but they've all come back and accelerated at different rates.
"Some have come back in really good shape and have pushed on, while others will take a bit longer to adjust, but I've been really pleased with them.
"Our lads have been getting quite a bit of game time with the under-23s and the loan group, some even had 75 minutes yesterday for the 23s against Crewe, while Tippo and Kam [Kandola] came on.
"It's not just about filling gaps or making up the numbers either, as they've performed really well when they've played. It's made it challenging for us and our programme, but we've brought in some under-15s and under-16s to increase our numbers.
"But they're all heading in the right direction and there seems to be a very good work ethic within this group. There's a different dynamic, but I think they'll show great attitude, work-rate and willingness to improve."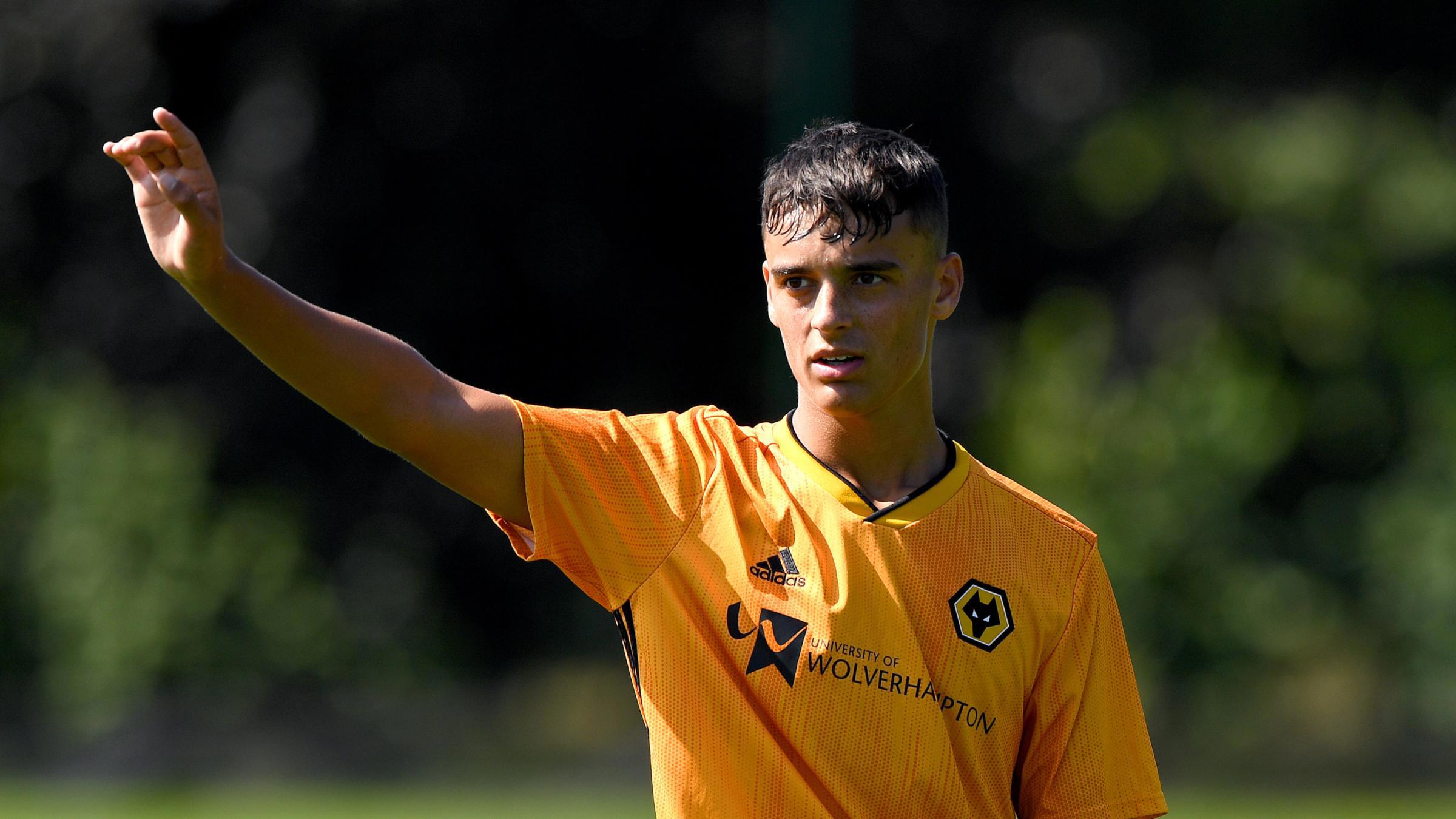 On having an interrupted match schedule
"We were due to play West Brom on Tuesday, which would've been a very young team having lost so many players to the other two teams, but the weather was horrific and would've been quite dangerous to be out there.
"We play Leicester on Saturday and then Crewe, Birmingham and we may play the West Brom game as an under-17 game the week before the start of the season. It's probably not as many games as I would've liked, but the lads have been getting game time with the other groups.
"But those games have challenged and pushed them a lot more than maybe the games that we had would've done, so it's been good preparation."

#WolvesAcademy