20th August 2020
From making his first-team debut for Wolves in October, to moving on loan to Championship side Cardiff City, Dion Sanderson has had quite the breakthrough season – one, he claims, he will never forget.
Where it all began
Life with Wolves started for Sanderson at the age of 10 when he was spotted at a local sports club and he has remained in the ranks since. Life in the Academy has posed its challenges to the youngster, but he insists he couldn't have hoped for anything more.
"I was scouted from Wednesfield Social Club when I was just 10 years old by Bob Bennett and I've been a Wolves player ever since. I didn't know he was coming to look at me or anything, I was just happy playing football.
"Spending over 10 years at Wolves Academy has had its ups and downs and there were times when it was challenging but it's been the most wonderful experience and I wouldn't have changed any of it. Playing for Wolves means so much to me and my family."
Making his debut
The 20-year-old's first taste of life in the first-team came during Wolves' pre-season tour of China in July 2019. Preparations for the season saw Nuno's side win the Premier League Asia Trophy and the defender played his part as Manchester City were defeated in the final.
They were preparation, he says, that amounted to his first ever inclusion in Nuno Espirto Santo's senior team. Ten years after embarking on his journey with Wolves, an opportunity presented itself in the form of the Carabao Cup clash with neighbours Aston Villa.
"I just remember really wanting to win," said Sanderson, laughing at his own eagerness to get stuck in. "Not many players can say they made their debut in a derby match. I only found out I was starting in the pre-match talk before the game, so I didn't really have time to get nervous.
"Those first few touches on the pitch were everything to me. After that, I don't really remember it. I was just so focussed on the game and it is without doubt one of my proudest moments so far."
Back to the Academy
However, Sanderson didn't relinquish his responsibilities with the Wolves Academy and continued to perform well for the under-23s, captaining his side against the Premier League 2 league leaders Chelsea in a 1-1 draw.
The proud moments continued for Sanderson within the Academy, as he netted a long-range stunner in Premier League 2 Division 1 against Everton back in December 2019.
Dion Sanderson strikes it from distance!

🐺🎥 pic.twitter.com/zESYjx5dcl

— Wolves Academy (@WolvesAcademy) December 19, 2019
A new beginning
Performances like those earned the 20-year-old a loan move to Neil Harris' Cardiff City for the second half of the 2019/20 season. It was a transfer which excited the Bluebirds' manager, who said: "I wanted to bring in some youthfulness and some energy and we managed to do that with Dion."
🖊️ @SandowRs joins the #Bluebirds on loan from @Wolves!

Welcome to the Welsh capital, Dion! 💙

👉 https://t.co/de1cf6Tvyc#CityAsOne pic.twitter.com/WYdA18C10v

— Cardiff City FC (@CardiffCityFC) January 31, 2020
It was a move to a new area for Sanderson, who admits he had never been to Wales before, and one of apprehension too. The Wolverhampton-born lad had never ventured far away from the midlands and admitted to having some nerves about making the move.
"I had no idea Cardiff were interested until there was two hours left of the transfer window. I remember getting back to Wolves and they told me it was Cardiff and I remember thinking: 'I've never been to Wales before,' jokes Sanderson, laughing at his own naivety. "I got lost on the way and ended up in the middle of nowhere. I had to phone the kitman to come and get me.
"I ended up getting there at one in the morning and had training the next day. I didn't sleep anyway; I was so excited to start playing. I realised, though, what an opportunity it was to go on loan and gain valuable experience."
Biding his time
Upon joining the Bluebirds, they sat in 13th place of England's second tier and were 10 points off the Play-Offs. It was a late promotion push that, at first, Sanderson had to enjoy from the side-lines. Biding his time at his new club, the defender was shelved for City's first five matches, only making an appearance on the bench once.
It was a strange time for Sanderson who had been used to playing every week in the Wolves Academy.
"Some days I was on the bench and others I wasn't in the team at all, but that only made me train harder and made me want to prove myself more.
"It was tough not playing; every player goes through those stages in their career and it's about staying mentally strong and always being ready."
Patience is a virtue
A disappointing 2-0 defeat at Stoke City, however, was the turning point in Sanderson's Cardiff career. For the following game, Sanderson was named in Harris' starting 11 under the lights at the Cardiff City Stadium. At right back, he managed 81 minutes in a narrow 1-0 defeat to high flyers Nottingham Forest.
Disappointing result as the boys put in a shift but happy to have made my league debut, ⚽️ fans was class tonight💙 time to recover and focus on the game Saturday @CardiffCityFC

— Dion Sanderson (@SandowRs) February 25, 2020
In spite of the defeat, Sanderson had experienced a first taste of what it was like to compete in the Championship and was all the better for it.
"Despite the result, I learned a lot from that first game. I thought I was 100 percent fit and ready to go and I got cramp and ended up coming off after 80 minutes," continued Sanderson, clearly no stranger to joking at his own misfortunes.
"It was a cruel lesson to learn but after that, I knew what it was going to take to perform consistently at this level. The intensity and physicality of the league requires you to be at your absolute best which is why I think I have been able to learn so much."
His debut left an impression on Harris too, who said: "I thought he was excellent. He played with real character and heart. He played like a player who had played 100 Championship games."
A day to remember
After starting the next three fixtures, Sanderson recorded his first assist for the club. During a 2-0 win away to Barnsley at Oakwell, the full-back demonstrated incredible vision to find striker Callum Paterson with a 65-yard defence-splitting pass to secure his first victory for the club.
Sanderson went on to describe the elation he felt after recording his first goal contribution in the game that secured the club's first three points in four games.
"That was my first taste of victory, playing competitively at professional level, and it just made me hungry for more. I've been feeding off of that feeling ever since.
"As soon as I hit the through ball, I was just praying Paterson hit the back of the net and as soon as he did I couldn't contain my happiness. There's no feeling like it."
Race for promotion
Sanderson continued to perform at Championship level and managed to put together a run of nine straight appearances for the side – a run which has seen some much-improved results. The defender featured in huge wins against promotion rivals Leeds United, Preston North End and Bristol City, picking up four clean sheets and two assists along the way.
It was a run which saw Cardiff storm into the Play-Offs, only to lose out over two legs to Fulham, who'd go on to earn promotion.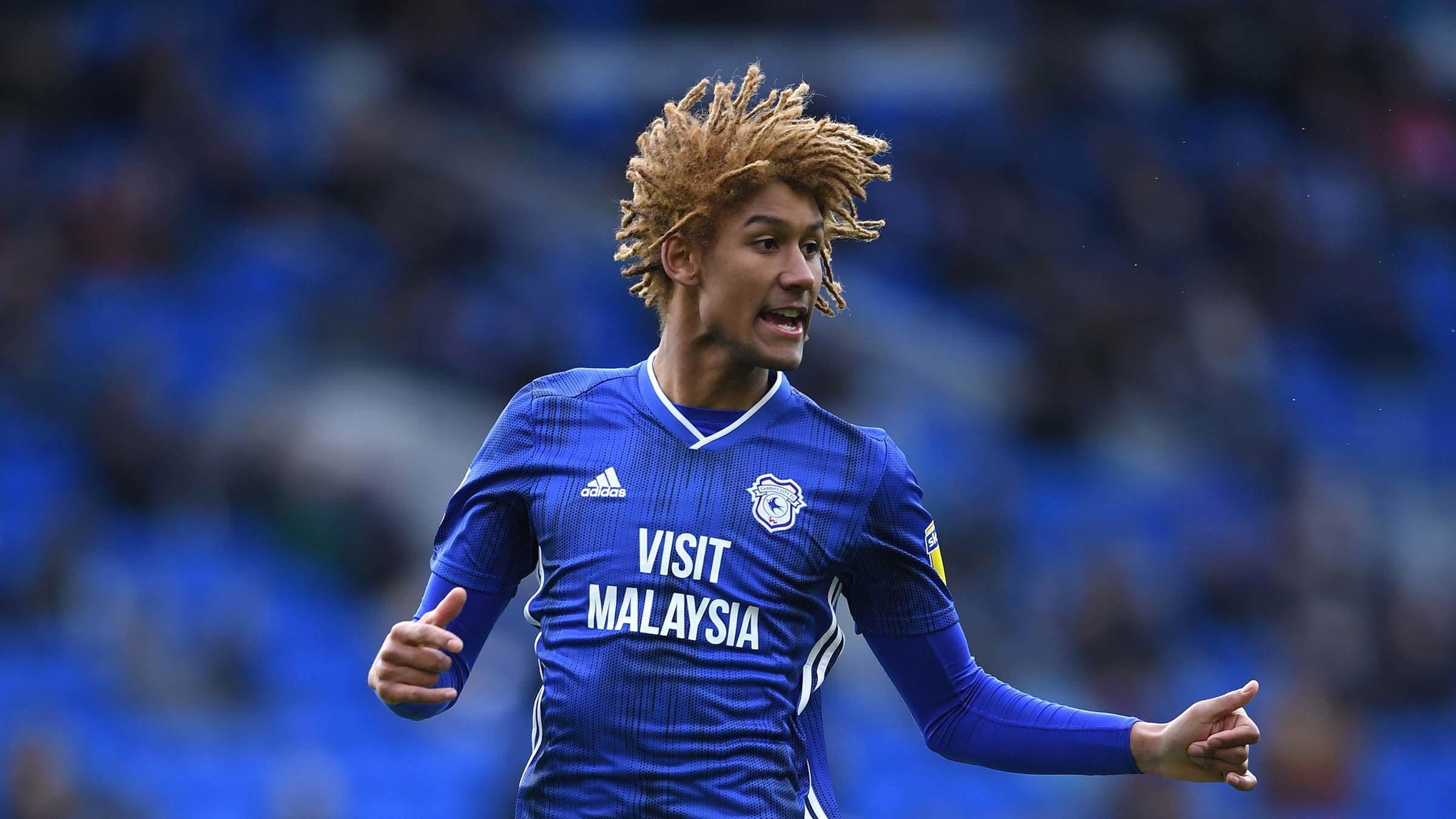 Sanderson started the season in the academy ranks, pleased to be training with the senior squad. He ended the season in a Championship Play-Off campaign. Something the youngster could not have seen coming.
"It is crazy to look back. I never could have saw it coming but I am very thankful for it. I don't think there are much better experiences to be part of than a promotion race in your first season away from your club on loan."
By Joe Lightfoot