11th October 2019
With several members of Nuno Espirito Santo's first-team away on international duty, it has opened the door for some of the younger players from the club's Academy to step up and fill the spaces in training.
Under-23 players regularly join up with the senior side to make sure the training squads are full, but with the development team currently in Zurich, Steve Davis said his under-18s are grasping the opportunity being handed to them as they spend this week under the wings of the first-team squad, learning from Nuno and his team of coaches.
On under-18s training with the first-team
"For the young players to get this experience of training with the first-team on a regular basis is great for them. For lads of that age – 16, 17 – at no other Academy would they get this kind of opportunity.
"We're really fortunate and our lads are really fortunate that they get the opportunity to go down and train with the senior players and first-team staff – but it all depends on whether they deserve it.
"It's based on their behaviour and attitude as well as their ability and performance. What's important is how they conduct themselves and if they deserve to go down there. If they don't, then they don't go down, we keep them training with us and someone else gets an opportunity instead.
"It's brilliant from their point of view, in terms of seeing what it's about; how the first-team train daily, the intensity in which the players actually train, their attitude to training – they're always on it, every day, there's no times when you can have a day off. Our lads going down there and know that, they know they have to be on it."
On young players being part of Nuno's plans
"The manager treats them like he treats the first-team; he'll get after them if they're not doing it, so they know what it's about and they know how to conduct themselves now.
"Quite a few have been going down regularly and it's improving them, they're getting better because of it, as it's getting them exposed to how a professional footballer should be, which is speeding their development up.
"Rui [Pedro Silva] contacts us in the morning and he'll advise and tell us which players or how many players they want and we can then step in and put it in place so the players can go down and enjoy their training.
"The manager wants to work with our age group, he wants to work with the 16, 17, and 18-year-olds if they're good enough and if they show the right attitude and application every day.
"For us to be able to spend this week with the first-team is brilliant and a great opportunity for the young players at the club."
On Luke Cundle's senior debut
"Luke's been very consistent this season. Physically he's still got room to grow and he needs time in that respect as he's a late developer in terms of his physicality, but his technical and tactical ability is up there.
"He's got his opportunity and he's deserved it. He's been a very consistent performer when he's been training with the first-team and also in the under-18's games. He spends time with the under-23s as well, so we're really pleased and delighted for him because he deserves it."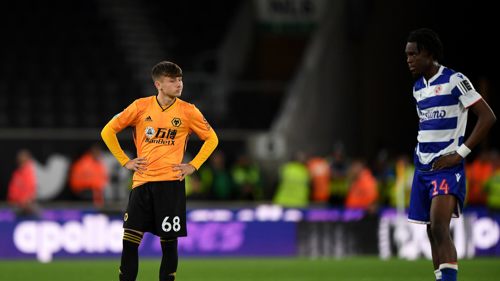 #WolvesAcademy