9th July 2019
Touted as the first £100 million player more than 10 years ago, the eyes of the footballing world were once focused on Zeli Ismail while he was just a teenager making his way through at Wolves Academy.
Now 25 and a recent summer signing for Bradford City, Ismail, who went on to make 11 first-team appearances while at Molineux, still holds fond memories of his football upbringing in gold and black.
Thank you for your time Zeli. Firstly, how did you first get involved in Wolves Academy?
At the time, I was about nine or ten and I was playing in a Sunday league team in New Park Village. Wolves approached my parents and said they wanted to take a look at me; it was Bob Bennett who first scouted me and brought me to the Academy. At first, I didn't want to go because I was just a kid and I was enjoying just playing football with my friends, but they convinced me to attend and I got signed after my first training session. But once I got there, I loved every minute of it.
What were some of your earliest memories of being part of the Academy?
I remember thinking how different it was from playing locally with my friends. I was nervous when I first joined, but once you get there you make new friends; many of them are still my friends today and I still speak to them now. I also remember playing some small sided matches, I think my debut for the Academy might have come against MK Dons in a seven-a-side game, and I managed to score – that's something I definitely remember.
You were very highly-rated when you were coming through at Wolves, did you feel pressured by the attention you were receiving?
I didn't really take notice of that kind of stuff. It didn't matter to me what people were saying, I just tried to concentrate on my football and my performances on the pitch. Obviously, I knew there was a lot of talk about me in the media and with the fans at Wolves, but I tried not to look at it, keep my head down and play, because that's all I ever wanted to do.
What were some of your favourite memories from your time as a youth player?
We had a lot of success during my time at the Academy; we finished second in the Milk Cup and I won player of the tournament there, then when I was about 14 or 15 I went with the under-16s, the older group, to the Gothia Cup and won that. Those tournaments are two of the biggest in youth football, so it was very nice to do well, and I enjoyed playing quite a lot of football where I was able to show what I could do. It was also very different from playing here and prepared us for different styles of football. It was an eye-opener really as we played against Brazilians who were so skilful, and it made me think that I needed to be as good as them if I want to go further in my career.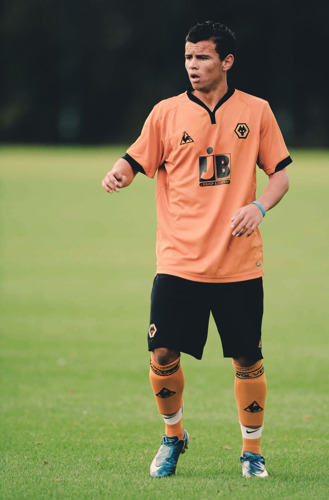 You were 17 when you signed your first professional contract at Wolves, how did it feel to put pen to paper on that deal?
It felt good because since a young age, all I ever wanted to do was play football. It's everything you work for as an Academy player; a professional contract. With it being the first one, it's really important, and once I got that signed I tried to keep my head down and work hard. Just because you've got your contract doesn't mean the hard work stops, it carries on and you have to continue to push yourself. A couple of years after signing my contract I made that step into the first-team squad which I didn't find difficult at all, to be honest. The senior players made me feel really welcome and took me under their wings as if I was already one of them. I felt very comfortable with making that step up.
You came off the bench to make your first-team debut against Chelsea the League Cup. Although the result didn't go Wolves' way, you must have enjoyed that day?
It was a great feeling. Stale Solbakken gave me my chance, and to me, the most important thing was just being out there with the group and it was another learning experience in my development. Being able to be on the same pitch as players like Hazard, Torres, Mata; it was an unbelievable experience. You're on the pitch with those players and you're watching them, trying to take tips from their game and add them to your game for the better. I think the experience definitely helped.
Following your debut, you went on several loan spells away from Wolves. Was that something you wanted to do?
As a youngster, I wanted to go out and play men's football as soon as I could. I didn't want to play under-23s or reserve football; I wanted to be part of a first-team squad. I felt the more experience I could get in a first-team, whatever level that was at, would benefit me more than under-23s football. As soon as I had that taste of first-team action against Chelsea I always wanted more. Obviously, I wanted to stay at Wolves and play there, but for whatever reason I couldn't, but was happy to go and play elsewhere. It was strange when I went to MK Dons on my first loan spell as all I'd been used to since I was nine-years-old was Wolves, but I knew if I did well there, it would benefit my career.
During Wolves' season in League One, Kenny Jackett gave you an extended run in the first-team. Did you feel it was overdue?
Yeah, definitely. A player like myself works better when confident. The more confidence I have the better I will perform, so I definitely enjoyed spending more time out on the pitch. That season, the team went on to win the league and get back into the Championship, so it was a great time to be a part of the club and play regular games.
Finally Zeli, what is the one piece of advice you learnt during your time at Wolves that you would give to the current group of Academy players?
Never give up. If you do have a bad game or are going through a bad spell, just keep giving your all, push yourself and work as hard as possible because you never know who's watching. Always give your best.
#WolvesAcademy