26th June 2019
A local lad leading the line for his club, Mel Eves lived the dream of any Wolves supporters when he had the honour of representing the football club in his DNA.
Having grown up in the local area, Eves was plucked from school by Wolves scouts into the reserve team as a youngster, in an era before what are now familiar academy systems. The forward was a product Wolves would be proud of themselves, as his 214 appearances and 53 goals were the reward for taking a punt on the schoolkid. 
Mel, as a local lad, how much was Wolves engrained into you from a young age?
I was born in a little fishing village between Wolverhampton and Walsall called Darlaston, so I was a Wolves supporter as a kid, from a Wolves-supporting family. I was born in the '50s so I've got Billy Wright, Stan Cullis, Jimmy Mullen and Peter Broadbent in my DNA. I went to my first Wolves game when I was seven in 1963 and I've been a supporter ever since.
In a time before academies in their current guise, how did you get involved as a youngster?
There wasn't an academy then, you were on schoolboy forms, but I didn't sign at 16 because the school I went to, Wolverhampton Grammar, I stayed on for sixth form. Then I played for the youth team while still at school. I played in the FA Youth Cup against Spurs when Glenn Hoddle was playing. There was five of our players who played in the FA Youth Cup that went on to make first-team appearances, people like George Berry, Bob Hazell, Gerry O'Hara and Kenny Todd. I signed full time at 18, then I was a full-time professional, getting one-year contracts. I played for nine years in total.
How did Wolves find out about you?
The chief scout would pop down and see me playing for school. I played for the county, I didn't actually play for the Wolverhampton area, I played for Staffordshire county, and then I played for England schoolboys. The chief scout was a legend at Wolves, Joe Gardner, he was a player to a coach in the Cullis era, and he spotted me, so Joe invited me to come down which I was thrilled to do.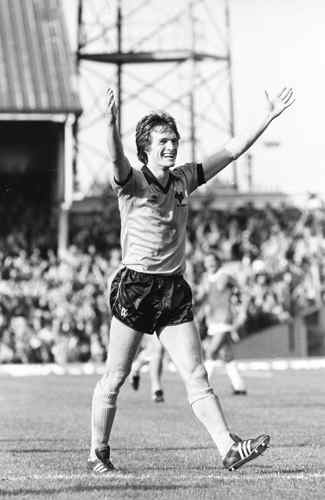 How successful was the trial and what was involved?
I played in the FA Youth Cup third round, we lost but it was very close game, and my final trial was against Leeds United reserves at Molineux. The club had to get permission from my head master for me to play. I played against Leeds at 3pm on the Saturday and the first-team were playing at Elland Road at the same time. That's how it was in the old days – the reverse fixture for the reserves. There was about 4,000 people at Molineux and they'd keep in touch with the first team with the boards.   
How did the transition go between being a fan and signing as a player for Wolves?
To get get offered a contract by the club I supported and to join in training was great. When I saw the team win the 1974 League Cup I was at the grammar school and a year later I was training with the same lads. The only player that had left was Derek Dougan, he'd just retired, so John Richards came in. Phil Parkes, Kenny Hibbitt, Geoff Palmer, Willie Carr, Steve Daley, they were all there and I'd watched them, mainly from the North Bank, as a kid. It was a bit surreal for me because the first week I didn't know whether to get my autograph book out or train with them. After that initial spell I got into it, so it was a dream come true and to have nine years here was great.
Now you cover Wolves for BBC West Midlands, how nice is it to remain involved and following the club?
It's great to be involved. I follow the club almost every game when I'm asked to do the radio, summarising for BBC WM. I've followed the team while Nuno has been in charge and it's been an absolute pleasure. It's been a joy to be Wolves fan as well as a former player. I'm blessed that I'm doing something I love to do. Since Nuno came, you can see the whole energy of the place change, everyone at the club is buying into it, and everyone is singing from the same hymn sheet. You can tell it's one big family and everyone is made to feel important.
#WolvesAcademy