23rd May 2019
With more than 400 football league appearances to his name, 72 of them in the gold and black of Wolves, Keith Andrews looks back fondly on his time at Wolves Academy where he started his career as a 15-year-old.
Joining the club as an apprentice on the same day as four other Irish players – including Robbie Keane – Andrews went on to spend ten years at Molineux before going on to a form a stellar career at football league clubs, as well as notching up 35 caps for the Republic of Ireland.
Thank you for your time Keith. Firstly, what was it that brought you over from Ireland to Wolves Academy?
Most young players are playing at quite a high level in Ireland. I played in the DDSL – the Dublin District Schoolboy League – and trials at English clubs became quite frequent for a lot of us. I must have gone on trial to about 10 or 12 clubs and then you just have to start narrowing it down to who you like, who likes you. I then started to visit Wolves more frequently and just got a good feeling about it. I felt very at home in Wolverhampton, I was very well looked after from the moment that I went over as an under-14 at the time. I had a few contract offers from different clubs, but Wolves just felt right and I felt the club would offer me the best chance of playing first-team football at a high level.
You were just 15 when you moved from Dublin to join Wolves Academy, how tough was it to make a huge life decision at such a young age?
In Ireland, we start our leaving cert - A Levels equivalent – at 16. But I felt it would be worth getting across to England the year earlier and try to settle in sooner as it would give me an advantage – much to my mother's dismay! It was obviously a big call for them to let their 15-year-old son go to England, but I was fortunate for the fact I joined on the same day as four other Irish lads. Robbie Keane was one of those boys who stated on the same day as me, and the Robbie Keanes of this world are very few and far between.
Was your time at the Academy plain sailing or did you encounter tough moments?
It was a massive step, and if I look back now I would think that I was too young, but I think the extra year did help and I settled in very quickly. I relished playing football full-time and I enjoyed the environment that I went in to. I enjoyed living in Wolverhampton, I enjoyed the family I was living with; they looked after me. I was probably slightly mature for my age and I tried to deal with it the best that I could. There were some tough times, some teary phone calls home, and you go through some really difficult moments, but that was all part of the journey of building your character and trying to forge a career in the professional game, which isn't easy.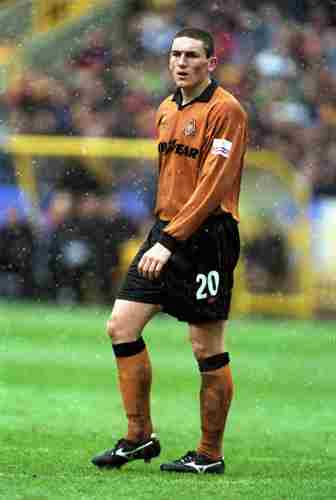 When you were in those difficult moments, what was it that made you stick with it and keep going to try to achieve your goals?
I remember one Christmas coming home and I really didn't want to go back. The easy thing to have done was to stay in Ireland, but I think it was the fear of failure and not giving it absolutely everything to try and make it. I'm very close to my family and it was those kinds of things which got me through. There were other tough things, such as fitness worries, not being picked, not progressing as well or as quickly as you would have liked. But all these things are part of the journey.
During your time in the Academy, you were part of group of players which was arguably one of the strongest Wolves have ever produced. What was it about your Academy 'generation' that was so successful?
I had a good feeling about Wolves, both the Academy and the club in general. The type of education we got as footballers, through the staff, but also how we interacted with the first-team on a daily basis was second to none. I had a proper apprenticeship, and we all know it's changed in years gone by, but it certainly meant you went into the next tier of your development – nothing was given to you easily. When you look at the players who came though during that time; Robbie, Matt Murray, Joleon Lescott, Lee Naylor, for example, the structure must have been in a good place. The club was in a good place – not as good as it's obviously in now – but it was a well-run football club with the Hayward family in charge of it.
You've gone on to have a great professional career, both in the football league and with the Irish national team. What specifically did you learn at Wolves Academy to help you achieve this?
Values will be one thing which was drilled into you as a young player, especially how you approach the game and how you do things the right way. I would have to go back to the environment that was at Wolves at the time; the senior players and the type of staff who were at the Academy. The Academy has always produced good players and will always produce good players – there's no doubt about that, even though the Academy now will have to produce even better players because of the level that the first-team are currently at.
Finally, what would be the one piece of advice you would give to the current Wolves Academy players?
You have to keep going; you have to persevere. There is going to be dark days, but you have to be able to deal with failure. Whether it's injuries, falling out with managers, falling out with players, you have to be able to deal with the downside of the game. If you don't, it's impossible to make it because there's so many more downsides in football than there are upsides, and you have to be able to deal with that in as a mature fashion as you possibly can at the age you are.
#WolvesAcademy