8th May 2019
Wolves Academy has a long tradition of producing top class goalkeepers who have gone on to be big names both in gold and black and further afield.
The man whose job it is to develop the latest crop of promising young stoppers is under-23s goalkeeper coach Aled Williams, who also oversees the entirety of the youth system's 'number ones' as lead Academy goalkeeper coach.
"I oversee the goalkeeping programme, philosophy and DNA which runs right through the youth system, from the under-23s all the way down to the pre-Academy," Aled said. "We're currently working with about 14 goalkeepers across the age ranges, making sure we are delivering the programme and have a clear identity of goalkeeper coming through the system, ready to play in our first-team.
"We must recognise that they know what their strengths are, how they can utilise that more and build up the other aspects of their game, so they can play at the top level.
"Each day, I'll usually have something in my head that I want the keepers to work on, usually around building up to the next game, looking at who we are playing, what style they play – is it a team that's going to overload the box with crosses, is it a team that looks to cut in from angles and shoot – so I'll try and base my theme around that, but link in with what Rob [Edwards, under-23 head coach] wants to do with us in possession.
"I like to take the goalies out for training about 15 minutes before the rest of the team go out, to give myself extra time with them, but we link a lot with the outfield players because the social side of the game is very important. We don't like to keep the goalkeepers away and isolated – they are around the outfield players as much as they can be.
"In the evenings I also come in and work with the young players, sometimes I'll take a session on Thursday night, so the younger players get to experience working with me a lot more."
Aled sends his goalkeepers throughout the Academy to play both in the age groups older than themselves, as well as in younger age categories, to learn how to communicate best with people of all ages.
"It's our job to challenge the goalkeepers as much as we can," he explained. "We've got to empower them to think, inspire them to play, and throughout that process we have to support them because everyone is going to be different.
"Within that we will play the goalkeepers across age groups which will give them different challenges. We'll play them up in the age group above them, so they're the small fish in the big pond, teaching them how to speak to older players and it tests what their presence is like and how they play.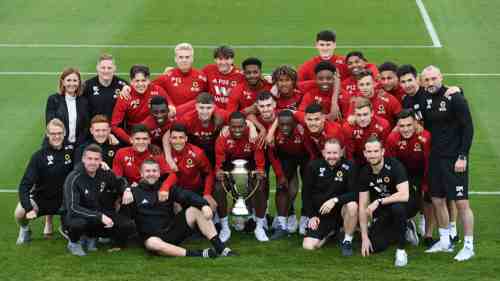 "But we will also play them in a younger age group, so they've got to be the big fish now and show their leadership, show if they're the ones thriving in that environment because when you step up to the under-23s.
"Look at Andreas Sondergaard now, he trains with the first-team at just 17, so when he's in the games with them, how does he speak to Conor Coady and the other players at the back. We want to expose them to that as early as we can so they're ready for the challenges they will face.
"The first-team took Andreas away with them on their pre-season tour, but I always tell our goalkeepers that you never know when you're going to get called up, so you've got to be ready for it.
"Rui [Barbosa, goalkeeping coach] will take Andreas down for sessions, he has worked with the younger keepers at various points and the feedback I usually receive is that Rui has been brilliant with them, and the experience of working with John [Ruddy] has been invaluable.
"The more they can spend time in and around the first-team players the better."
As part of developing the young prospective goalkeepers, Aled believes that communication is one of the key aspects for a goalkeeper, adding: "Communication is massively important If you can stop shots and crosses as the source, and, even if your team is in possession, can you be calm and collective with how you think because you can see the pitch, you can see the next pass.
"Sometimes those would be player-led sessions, they'll discuss the problems, how do we fix the problems, what are the solutions and we also get the goalkeepers to come to Molineux for the under-23 games and sit them behind the goals so they can listen to the keeper and understand how he's communicating and what's he doing, because these are the tools that they need going forward.
"Everything we do is about building the relationships within the units, within the team, with me as their goalkeeper coach, but they also need to be able to go to the manager and talk about things tactically."
Numerous goalkeepers have come through the Academy system at Wolves before establishing themselves as either the clubs' number one, or moving on to become Premier League starters with different teams, but what is Aled doing to making sure that trend continues?
"I'm not sure why Wolves have such a heritage of producing top goalkeepers, but in the last four years we've had to look into recruiting a lot more," he continued. "The biggest thing now is the pressure, because we're not looking for Championship or even Premier League goalkeepers any more, but for a top four keeper.
"I believe we have a strong contingency of goalkeepers. We've got Andreas who's with the Denmark national team, Jackson Smith and Joe Young are in and around England, and lower down than that, Luke Armstrong has been involved in the Wales camps, and that international exposure also helps us here.
"But we're not just recruiting the right goalkeepers, but the right people for the club as well, those who hold the club's values at heart and want to progress into our first-team, which is something we drum into the lads – they've got to hold their values, they've got to have their standards and they've got to have that winning mindset."
This article first appeared in the Wolves versus Brighton & Hove Albion matchday programme, which is available around Molineux on matchdays for just £3.50, and also featured content with Bobby Mason, Steve Daley and Robbie Dennison. Back issues are available in the Molineux Megastore and online now.
#WolvesAcademy