1st May 2019
Making more than 200 senior appearances in gold and black in a career which spanned 15 years before being cut short by leukaemia, goalkeeper Carl Ikeme will forever be a name synonymous with Wolves.
The Academy graduate holds fond memories of first joining Wolves as a 14-year-old at the start of the Millennium, before going on to sign professional in 2003 after progressing through the club's youth system.
Thank you for your time Carl. Firstly, can you tell us how you become part of Wolves Academy?
I was about 14-years-old at a time when my mate was offered a trial at Wolves and I was actually playing up front for my Sunday League team Chelmsley Town, but I was always better in goal. Wolves were looking for keepers at the time and my friend told them that he knew someone who could play in goal, so I came along, put my gloves on, and went from there. When I joined the Academy, it was completely different to what I was used to. I was at Aston Villa when I was quite young, and it was probably a bit too serious, too soon for me. When I came to Wolves it felt like I was coming to learn, but not as serious, which helped me settle in a little easier as I got along with a lot of people there. The staff at Wolves were unbelievable and the whole Academy seemed tighter and close-knit, because there wasn't a large number of people there and, I know it sounds cheesy, but it was like family atmosphere. It was easy to settle in and it was easy to learn, and that made it an enjoyable time for me.
What were your first experiences of being part of the Academy?
The Academy was very different back then as to what it is now. We used to train down at Aldersley Stadium on the astro-turf there, and the pitch wasn't the greatest! There was a lot of sand on it back then and we would train at night, but I still have a lot of good memories from that time. I had come in from playing Sunday League and remember being taken aback by how good everyone was. My first manager at Wolves was Mike Smith and the Academy was buzzing around that time. We had a great crop of players in my age group and the year above who went on to either play for Wolves or have a career in the leagues. There was Leon Clarke, Lewis Gobern, Nathan Talbott and many others, while a lot of the Irish lads also came over at the time, like Jonny Steele and Kevin O'Connor, and I'm still in contact with a lot of them – Jonny is one who I still speak to regularly and is one of my closest friends. Above me you had Matt Murray, Joleon Lescott, and other players who were coming through the system, so you kind of knew if you were good enough you would have a chance.
Did seeing so many of the players in the age group above you progress to the first-team give you extra motivation to know that making it to the senior side at Wolves was possible?
Yes, definitely. Seeing Matt coming through was massive for me, because he became my mentor going forward. You saw a lot of players getting chances, especially the year above me, because there was a lot of buzz around that group, as well as the group above that, and that buzz seemed to spread throughout the Academy. You had the likes of Nails [Lee Naylor], Joleon, Matt, Keith Andrews, Robbie Keane all coming through at a similar time and it gave everyone hope that there was a chance of playing and graduating. What I liked was that there was a large cultural mix, we had kids from all different backgrounds; a few lads from Wolverhampton, a few from Birmingham, a few from Ireland, and all of us came from different backgrounds and walks of life.
What did it mean to you to sign your first professional contract with Wolves?
I just remember feeling so proud that I'd actually got it. It was a proud day for me and my family, because everyone thinks when you're in an Academy that you're definitely going to make it, but that's not the case. To me it was another stepping stone and there were steps at every point throughout my time at the Academy where you think you might not make it. Signing that contract was another point of time where I felt that it was a milestone towards my aim of playing for the first-team at Wolves. I remember being happy, but I was never carried away. Going from £50 a week to about £250 a week was nice – I had a bit more money in my back pocket which helped – but I never felt like I'd made it, it was another step for me to try to break into the reserves and start to play 'men's' football. At the time I was starting to train with the first-team, so it was another big moment along the stepping stones of what I was trying to achieve.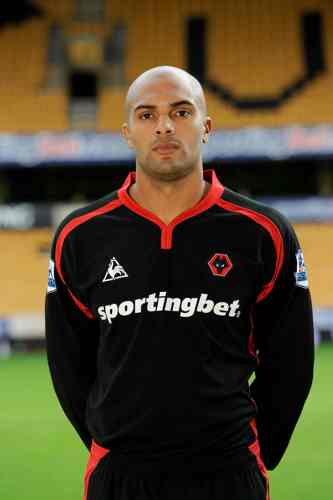 How did you find the step-up from playing Academy and youth football to being more involved with the first-team?
It was daunting to start off with because we had a lot of big personalities at the time, people like Paul Ince, Mark Kennedy, Colin Cameron, Alex Rae, George Ndah, Dean Sturridge; they were 'older' pros – not past it by no means – they were just really experiences pros and they'd come from the old school mentality of being unforgiven at times, but it was great learning from them, even though it might have been difficult going in with the first-team. When I first started with them we were in the portacabins and you would be a bit nervous going into the changing room when you were moved up and you would just sit in the corner and stay quiet. It was a good time as all those players would help me as well, they saw potential in younger lads and were more than happy to try and help with our development – even if you did get a rollicking every now and then!
You made your first-team debut against Chester in the League Cup. Was it at that point when you thought you had finally made it as a footballer?
I was so nervous at that game, I didn't eat on the day of the match as I was really nervous. I'd been training with the first-team after being out on loan to Accrington where I had a little bit of football under my belt, but it was a big moment for me. Like signing my pro contract, playing for the first-team was another milestone that I could tick off. For me, it was all a part of trying to get the manager to trust you and for you to keep improving, but it really gave me a boost at the time, gave me a taste of first-team football and made me want more. Even after playing nearly 100 league games, I didn't think I could say I was established; even when I was 30 I never thought I'd made it.
Did you ever think as a 14-year-old that you could go on to have the career you had at Wolves?
No, definitely not. I think a lot of people saw potential in my stature, my athletic ability and I was pretty brave, but I'd not had any goalkeeper coaching which I finally got when I came to Wolves. Looking back as a 14-year-old I always dreamed of playing for Wolves, but I never thought my career would go the way it did, representing my country. It was just a pipe dream that I worked so hard on, taking it one step at a time – I never rested on my laurels. But Chris Evans was a massive part of my career because he fought tooth and nail for the Academy when he was in charge. He would argue with the managers to not sign players but to put faith in the youngsters from the Academy, which was massive for all of us. A lot of players owe a big deal of gratitude to Chris for getting their chance.
Finally Carl, if you could give one piece of advice to the current Wolves Academy players, what would it be?
Don't ever rest on your ability. There's that much talent now, that ability alone is not enough, and you need the whole package. Everyone makes mistakes and you'll make mistakes in your career, but that's fine, but there's a lot of people with ability and it's about your attitude to train, your attitude to improve and your discipline to become a footballer. Concentrate on that and concentrate on being the best you can possibly be and if you make it at Wolves, that is brilliant, but don't be the type of player that only wants to play at the top level, because if you can earn a career by playing football for 15 to 20 years, then you've had a pretty good life.
This article first appeared in the Wolves versus Manchester United Premier League matchday programme, which is available around Molineux on matchdays for just £3.50, and also featured content with Joao Moutinho, Jonny Otto and John Richards. Back issues are available in the Molineux Megastore and online now.
#WolvesAcademy