17th April 2019
With more than 520 appearances as a professional to his name, including 333 for Wolves, Lee Naylor is living proof of how the club's Academy prepares young players for first-team football.
The former England under-21 international spent his teenage years knocking in the goals for Wolves as a striker before he was converted into a pacey left-back. Here Lee reflects on his time as a young player at Molineux.
Thanks for your time Lee. Firstly, how did you become part of the Wolves Academy?
I came as a schoolboy at the age of 10. I stayed until I was about 12 or 13 but I didn't enjoy it, so I left. I felt the system back then was too regimented, it wasn't what I was used to, I just enjoyed going out onto a field and playing football. When I started, we were hardly playing football, it was all about the coaching and I found it boring. I just wanted to play football and score goals, because I was a striker back in the day. I went back to my Sunday League team, before coming back to Wolves a year later, and from there I got selected for a YTS (Youth Training Scheme) and eventually started playing left-back at the age of 15.
Why did you make the change from striker to left-back?
I used to bang the goals in when I was a striker, I was scoring goals every week, but it was the coaches at Wolves who tried me at different positions on the left because I had a left foot. I had never seen myself as a left-back, but Rob Kelly decided to put me back there and saw something in me that I didn't see. It was weird to me at first, but I gave it my best and ended up being given the YTS, which at the time was such a massive thing to me. I knew I was a good footballer and I had a decent left foot, but I didn't expect it at all. I came in to the office on day with my mum and when they told me I was being given a YTS and I was just overjoyed, I was overwhelmed by the situation.
What are some of your favourite memories from your time as a young player at Wolves?
I remember Chris Turner, who was my coach at the time, used to get on at me over everything and I hated it. But obviously, now I'm older I can see that everything he said to me was for a reason, to make me a better player because he could see the potential in me. I remember doing well throughout my first season as a YTS, I played in some good reserve games, but come my second year, something just clicked in me. I was going through games and found them so easy, getting five or six goals by October as a wing-back. I played a reserve game out at Molineux against Middlesbrough and it was the best game I've ever had. It was frightening. I was ducking inside, spraying passes with my right leg – I never used my right before in my life, and I played a 70-yard pass, putting the other winger through on goal. I was taking on senior pros in that game and Paul Merson was playing. When we came off the pitch he asked me what my name was and told me it was one of the best performances he'd ever seen. The next day I was offered a professional contract.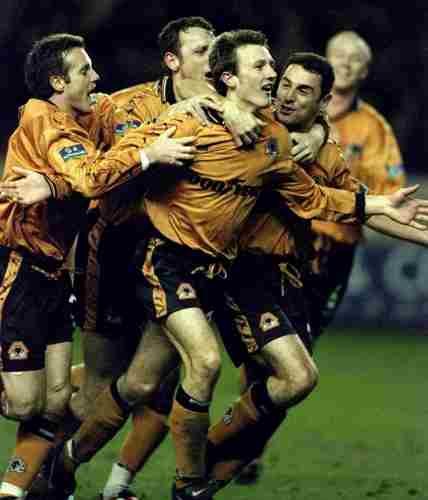 You made your professional debut in a derby game against Birmingham City, how were you feeling before that match?
I was more excited than nervous. I just got told I was travelling with the team after being in and around the reserves for quite a while. I had a mad week before that game. I had played youth team football, passed my driving test, had my best game ever for the reserves mid-week and then got chucked into the Wolves-Blues derby – live on Sky – at the weekend. All that happened in the one week and I was just on cloud nine. But I had no idea I was going to be playing in that match as I wasn't even training with the first-team. When we were having the team talk half an hour before kick-off, Mark McGhee calls out my name and tells me I'm playing. My name wasn't even in the programme. It was a brilliant day, I couldn't even hear myself think for the first 15 minutes of the game because it was so loud. Playing in front of that sort of crowd at 17 was amazing.
Finally, how did you find being part of an Academy group which consisted of some of the best players the club has produced?
If not the best in a player like Robbie [Keane]. Rob and I started with our YTS at the same time and we used to be brought in to training together by my mum because he lived out close to us in Wednesfield. We had a good crop. I think it was the first time the club had gone over to Ireland and scouted there because we had a lot of Irish boys in Seamus Crowe, Keith Andrews, Rob, Alan Dixon and it was a brilliant time. You were in and around the first team, carrying out your duties such as cleaning boots, and it prepared you well to go on and become a professional.
This article first appeared in the Wolves versus West Ham United matchday programme, which is available around Molineux on matchdays for just £3.50, and also featured content with Adama Traore, Will Norris and Sylvan Ebanks-Blake. Back issues are available in the Molineux Megastore and online now.
#WolvesAcademy