10th April 2019
Making more than 100 first-team appearances in gold and black after progressing through the Wolves Academy as a young trainee, Jamie Smith is using the knowledge he gained at Molineux in his current footballing role.
The full-back, who spent seven years at Wolves before a seven-year stint at Crystal Palace, is now the head coach of West Bromwich Albion's under-23 side, but the 44-year-old still looks back at his time across the Black Country with fondness.
Thanks for your time Jamie. Firstly, how did you become part of the Wolves Academy?
I started playing Sunday League football and got scouted by Ron Jukes when I was in the under-16s playing for a team over in Redditch called Feckenham, in the Central Warwickshire League. Ron asked me to come in to Wolves, so I played a few games and I was lucky enough to be asked to sign as an apprentice – well a YTS (Youth Training Scheme) as it was then. Before that point, I was just playing with my mates and for local teams, but I did have trials at a few clubs. I trained at Blackburn a few times, went up there in the school holidays, and they also offered me a YTS, but I turned them down and thankfully signed for Wolves.
What were some of your earliest memories of being a young player at Wolves?
Just how hard it was, because as an apprentice it wasn't easy. I thought it would've just been about playing football all day long and that would be it, but obviously it wasn't. It was long days, I was leaving the house at seven o'clock in the morning, not getting back till seven at night, and everything that goes on around it. The responsibilities of your jobs off the pitch was a big thing; cleaning boots, the changing rooms, the showers, but all of that was brilliant and gives you a great grounding – that togetherness of everybody mucking in – for the rest of your career. A lot of the principles that we learnt could be installed today, just to give the young lads the grounding of how tough it is to make it, not just in football but in life.
How did your time as an apprentice at Wolves help you in your career as a professional footballer?
For me, it was the grounding. I think young players today are mollycoddled a little bit and are given too much too early at times, which doesn't help later in life, especially if they don't make it and have to stand on their own two feet. But the mentality that we were taught; to be respectful, humble, and work hard, really helps you in life, whatever career path you end up going down. One of the key things I want from my young players is for them to work hard, try their best, and to be humble if they have success.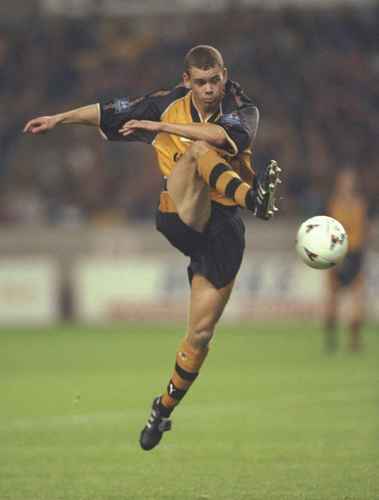 What did it feel like to sign as a professional?
It was unbelievable. When I was a kid, if anyone ever asked me what I wanted to be when I grew up it was to be a footballer, so to sign the contract and become that was an unbelievable experience. It was challenging once you got into the first-team, it was tough, but Wolves had some extremely good senior pros around at that time who would offer you so much support and help. People like Geoff Thomas, Peter Shirtliff, 'Bully', 'Thommo', Don Goodman, Dave Kelly, really helped me through when I first stepped up. But I think the way I played; I worked hard, I was humble, I was respectful, I got my head down, I grafted, and that helped gain the respect of the first-team players, which probably made that transition easier.
You went on to have a great career, playing for Crystal Palace in the Premier League, but do you have a favourite moment as a player?
Making my Wolves league debut against Reading. No doubt about it. It was a culmination of all that hard work that you'd put in for so many years, all those dreams as a kid that you have, and you finally achieve it and step out on the pitch at Molineux for your debut, it was like a massive dream. It's difficult to put into words the emotions I felt when I pulled on the Wolves shirt for the first time. It was an unbelievable experience – I was so proud and excited. My actual first game was in a friendly against Manchester United that pre-season, which was my first real taste of senior football, although it wasn't a league game, but my league debut was one of the proudest moments of my career.
Finally, is there one piece of advice you learnt during your time as a young player at Wolves which you pass on to those you currently work with?
It's a tough business for the young players coming through now, especially with the way football currently is, but I tell my players not to have any regrets. I don't want them to look in the mirror in ten years' time and think 'I wish I could've, I should've, I didn't' – just give everything you've got, so when you do look in the mirror, whenever that journey ends, you can say that you gave your all. There's going to be lots of set-backs and knocks along the way, but you need to have that resilience, work as hard as you can, so you don't have any regrets.
This article first appeared in the Wolves versus Leicester Premier League matchday programme, which is available around Molineux on matchdays for just £3.50, and also featured content with Helder Costa, Raul Jimenez and Matt Jarvis. Back issues are available in the Molineux Megastore and online now.
#WolvesAcademy