13th March 2019
After growing up in the Black Country, Vince Bartram went on to make more than 500 appearances as a professional footballer following his time as a youth player at Wolves.
Now the development goalkeeping coach at Southampton Academy, Bartram lifts the lid on the differences between life as a young Wolves goalkeeper in the mid-1980s to what Academy players experience today – as well as that infamous FA Cup clash with Chorley.
Thank you for your time Vince. Firstly, how did your move from playing non-league in Stourbridge to Wolves come about?
I was just a young kid playing at Oldswinford in the West Midlands League and had literally just got into their first team. I'd only played four games and the scouts Ron Jukes, Tony Painter and Sammy Chapman were looking at Neil Edwards and spotted this young talented goalkeeper – well I hope that's what they thought of me. Eventually I signed the same day as Neil. I never actually found out the terms of the deal, but they took the two of us from non-league and made us pros.
What was the jump from playing non-league to becoming a youth player at Wolves like for someone of such a young age?
I was blasé about it in a lot of ways. I was so naïve with a lot of things in football. I had stayed on at school and had not long as a youngster got into men's football with Oldswinford. I had played in their reserves and then got into their first team and being in their first team dressing room was a real eye-opener at 17. The six months later I was changing in the dressing room at Wolves and was training with their senior players. When I started I was non-contract terms as such and trained for one day a week – usually a Wednesday – while still at school finishing off my A-Levels during the rest of the time. I was drip-fed into playing for the youth team and the reserves on Saturdays, rather than thrown into five day a week football. That came a year after when I signed at 18, full-time, and within a month I was making my debut against Cambridge.
How did it feel to make your debut as a professional?
It just happened. Football in those days was a bit different to now, the playing surfaces were different, we trained wherever; Aldersley, the racecourse, Castlecroft. Even though Castlecroft had half decent facilities, it was a park pitch compared to the type of stuff the Academy kids are used to nowadays. But I was blasé and just went along with it and just saw it as playing football. In a lot of ways, I didn't even look at it as a career. I just played football, and someone gave me a little bit of money for doing it.
Could you tell me some of your favourite memories of your time as a youth player at Wolves?
One of my first memories was going to the club on a trial. I was invited along on a Saturday to play for the Midlands Intermediate team at Castlecroft and we played against Villa. I remember Tony Daley and Gary Shaw were playing for Villa that day, and I remember thinking 'I've seen him on the telly' and then you're playing against them. The experiences of playing at big stadiums, I remember playing at Roker Park on my season with the reserves and they stick in your mind. Then going into training with the first team and working with Tim Flowers, Jim Baron – a goalkeeper coach – something I'd never had before, it was all 'wow, this is brilliant, I love this'.
What are the major differences between the current Academy set-up to what you experienced during the mid-1980s at Wolves?
How long have you got?! I joke about it, but the Academy boys now have everything. Their food's done for them, they're not allowed to get their own transport, we arrange that for them, organise their host families. I lived in Stourbridge and in my early days I had to get two trains and then walk the rest of the way, before I got a 50cc motorbike just to get myself in every day. The boys now have psychologists, dieticians, sports scientists, physiotherapists. We had a goalkeeper coach once or twice a week if we were lucky. Now at the Academy in Southampton we have four full-time goalkeeper coaches, so the differences are incomparable.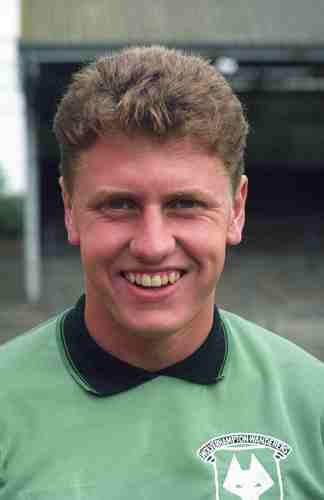 Photographs courtesy of Dave Bagnall
Were you ever disappointed not to make more first team appearances for Wolves?
Obviously, I wanted to play. That's the whole reason we get into football is to play, but looking back, I was a kid and nowadays I don't think a club like Wolves would take me on. At the time they were at their lowest ebb. They hadn't got lots of money and couldn't be picky and choosy, they had to get boys from the local area and I was fortunate that they got me on board and they gave me six years. Throughout those six years I developed and became a footballer and a lot of that is down to the club and the fact that they gave me that time. A lot of football clubs these days, you're lucky if you get 18 months/two years, if you're not doing it they've already made decisions on you, and if you're not good enough, they'll find someone better. Whereas in my day, I was fortunate the club gave me that time.
I made my debut in that first season and played six games – obviously the Chorley one is the one that most people remember. For the club it was a low point and a turning point, but for me it was three FA Cup games in the first team. I didn't play properly in Wolves' first team for another four years, but then I was ready to be a first team footballer and made the move to Bournemouth. Harry [Redknapp] took me down to Bournemouth and I knew the time was right as I needed first team football and Wolves had Stowelly [Mike Stowell] and I wasn't going to play first team at Wolves and I needed to move on.
You moved to Bournemouth, before four years at Arsenal and then another six at Gillingham. How would you sum up your time as a professional?
Bournemouth is where I made my name in football. They were the next step in my development and had three really good seasons down there, played a lot of games and was the recognised number one. It's probably on myself but I didn't have much coaching there, so ended up with more practical experience, rather than the theory side of it. I played 19 seasons and never got relegated, ironically, apart from that first season at Wolves before I was in the first team. That was the only time I've been involved with a club that had got relegated, but I wasn't really there that season. I've played in every division, in over 500 league and cup games. I say to the boys now that if they play 19 seasons in professional football and 500 first team games then they'll have had good careers. So that's how I look at it myself. I'm proud and fortunate to have done what I did, and I'm fortunate now to be involved in the game and hopefully passing on a bit of knowledge to the young kids at Southampton.
What is the one piece of advice from your time as a young player at Wolves that you pass on to current Academy players?
You've got to try and enjoy it and give it your best shot. It's easier for me to say now, because I didn't have it, but these boys have got analysists, they've got this whole team behind them to support them. We didn't really have that. We had the coaches and a physio – who would bring on his bucket and sponge. How many times now do we ask the analysts for clips of the games, how many times as a coach do we have to go through those clips, how many times do players go to the staff and ask how do I get bigger and stronger? Just use all the resources that are available to them, whatever level they're at, whether it's a Premier League club where you'll have every single resource for you, whether you're at a League One, a League Two club you might not have the same amount of resources but use what you have got.
This article first appeared in the Wolves versus Bournemouth matchday programme, which is available around Molineux on matchdays for just £3.50, and also featured content with Morgan Gibbs-White, Leander Dendoncker and George Elokobi. Back issues are available in the Molineux Megastore and online now.
#WolvesAcademy