20th February 2019
Finding the right club for young Wolves players to develop and gain professional experience is now the responsibility of former midfield maestro Seyi Olofinjana.
As part of his new role as Loans Pathway Manager, Seyi oversees that Wolves' up-and-coming players, as well as first team stars, have all their needs covered as they spend time playing their football away from Molineux.
"My aim is to find the right club and the right environment for such players, so they can get the required experience, required knowledge and lifestyle at another club," the former Nigerian international said.
"From a business point of view, it's also very important that if a player can't play for Wolverhampton Wanderers we have to find a way to get them playing football and increase their experiences away from the football club.
"I'm working with about 24 players who are currently out on loan – seven first team players and 17 young ones are away from the club. We have nine players at FC Jumilla, Christian Herc is in Slovakia and a few are on loan across the UK as well, while our senior players are out in this country, in Germany and in Spain, so there is a lot of work.
"My role sees me travelling about, seeing the players, making sure they are getting what they need, making sure their needs and support. If they need any help with the link they have to their loanee club, I can speak on their behalf.
"When I go out to check on the players, I see if they are maintaining their targets, ask them if they are doing well at the club and if they are not playing well I find out if they are learning – which is the main thing for me.
"When a player goes out on loan it's not always about playing and what they do on the pitch, it's about learning and the journey – the education they are receiving and the environment they are experiencing."
However, Seyi's role is not all plain sailing and sometimes has to have dome difficult conversations with players who might not have spent as much time on the pitch at their loanee club as they might have expected.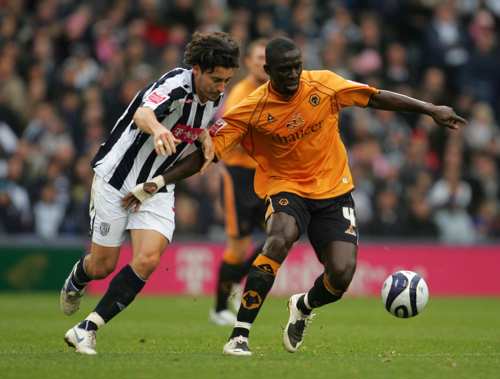 He added: "In those situations we need to be honest with them and that's the one thing you owe to them, because we can't be too nice to them. You have to explain 'I've spoke to the manager, this is why you aren't playing, you're not doing this, maybe you should add this to your game, the player playing in front of you might have one, two, three things that you need to get to play'.
"The players need to understand there's no God given right to play for the football club you are going out on loan to. You make your luck and you make sure you do everything possible to get into the side.
"This is difficult to explain to some of the players, especially the younger ones who have been in the Academy and they have always played – regardless of whether they have done well in previous weeks. There's not that real learning of earning their place, which is one of the first things you have to get used to when you go on loan."
Wolves' loans department is expected to grow over the coming years, with Seyi and loans analyst Jamie Kyte making up the small team.
"It's a completely new role," Seyi added. "At the moment it's just myself and Jamie, but we've been receiving support from Sporting Director Kevin Thelwell, Academy Manager Gareth Prosser and Player Development Manager Scott Sellars as I can't cover 24 players on my own.
"One reason the role was created is that we have so many players out on loan, due to the level of players who are coming through the Academy who need time in professional football before they can move into our first team, and the other reason is the fact that the club is growing.
"We are now a Premier League football club and we are taking forward steps into eventually building a loans department, but we need to start small and develop from that point."
This article first appeared in the Wolves versus Liverpool Premier League matchday programme, which is available around Molineux on matchdays for just £3.50, and also featured content with Rui Patricio, Helder Costa and Jack Price. Back issues are available in the Molineux Megastore and online now.
#WolvesAcademy