31st January 2019
One of Wolves' most influential goalkeepers of all time first started out as a 15-year-old schoolboy coming through the youth ranks at the club.
After progressing to the senior team, Parkes, appropriately still known as 'Lofty' due his 6ft 4in frame, went on to make more than 300 appearances in a Wolves shirt, playing a helping hand in sealing the club's passage to the UEFA Cup Final in 1972 after two semi-final penalty saves.
Thank you for your time Phil. Firstly, could we ask how you became part of the Wolves Academy?
When I was younger I used to play for my school in West Bromwich and I was part of the Staffordshire schoolboys team. I also played for my dad's work team in the West Bromwich Sunday Premier League, but I was spotted when playing on a Saturday afternoon for an under-19s team when I was just 15. On one of the afternoons, one of the Wolves scouts was at the game and asked me if he could speak to my parents. After he spoke to them, they arranged to bring me to training on a Wednesday night and I basically stayed from that point.
Did you find to be a big step-up in representing the Wolves youth team?
Not really, because when we were kids we would train on a Wednesday night, just once a week, and then play matches at the weekend. It was similar to what I was doing before I came to Wolves. At that time Wolves had five or six teams who would play on a Saturday at various levels throughout football. You had the first-team, the reserves, the West Midlands League, the Worcester Combination, and we used to play in the intermediate team who would be part of the Wolverhampton Amateur League, which doesn't exist anymore, playing against the local amateur teams from across the area, so it was what I was used to.
What are your earliest memories of being a young player coming through the ranks at Wolves?
When I left school at 16, Wolves found me a job in a steel construction factory in West Brom. I worked in the factory for two years before I signed professional. It was a vast difference to what the kids in the Academy experience nowadays, but I think working for two years in a factory – getting up at six o'clock in the morning and going to work, and then going to training twice a week on a Tuesday and Thursday was probably the best thing that happened to me. You get used to what life is all about, outside of football. No disrespect to young kids today, but they go straight into the Academy at seven, eight, nine and they haven't got a clue what life's about. Unfortunately, there's more kids that don't make it than do, which means that when they end up out of football they must start afresh. In my day they would make the young players sweep the stadiums, wash the baths, clean the kits – but it was a completely different time.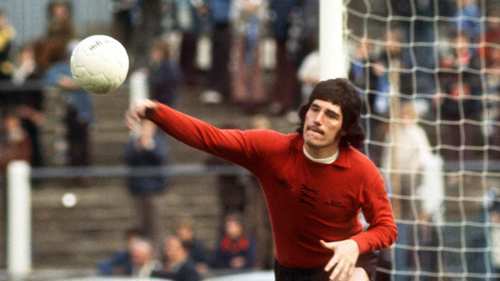 Do you think you would have been as successful had you come into football today, without going through what you did as a 16-year-old?
When I signed pro at 18, it was a totally different world to what I was used to, getting into training for ten o'clock in the morning and training every day, playing multiple games a week, and all the while thinking that I really don't want to go and work back in the factory, so it made me that more determined to work hard and train hard to make sure I didn't have to go back.
Did you find it difficult to make the transition from playing youth team and reserve team football to first-team?
Not really, because it's not like now where there are big gaps between under-18s, under-23s and first team. Everybody who was on the books at Wolves would play every Saturday as we had the five teams, playing against a good level of opposition. You would move up from one team to the next until you're in the reserve team, who were then probably better than some of the current second or third division sides. As a young player you would get the experience of playing against some of the top players in the country in reserve games, so making that step up into first-team wasn't as big.
You went on to make more than 300 first-team appearances for Wolves in some of the biggest matches in the professional game. What are your favourite memories of that time?
One of my favourite moments was playing my first game, making my debut against Preston. Fred Davies was the first-choice goalkeeper and before the match I was told Fred was injured and I would be with the first team. When you play your first game it's always a fantastic experience. Luckily enough we won the game 3-2 and I saved a penalty. The week after, Fred was fit again so I was back in the reserves. But I got back in the first-team for about 13 games from the end of the season and we got promotion that year. Coventry won the division and we came second to get promotion back into the First Division. Also, playing in the UEFA Cup Final was unbelievable. The disappointing thing was playing Tottenham in the final, because we'd played against foreign opposition, travelling home and away across Europe, and the final was just like playing another league game, it didn't feel like we were playing a European final.
Finally Phil, what would be your one piece of advice to the young players currently coming through the Wolves Academy?
I would tell them to keep their heads down, work as hard as you can and listen to your senior professionals and coaching staff. When I first came in the senior pros were great; they would talk to you, help you, and you listened to them. But they need to keep their heads down and work as hard as they can, because once you eventually get there it's a fantastic and privileged life.
This article first appeared in the Wolves versus Crystal Palace matchday programme, which is available around Molineux on matchdays for just £3.50, and also featured content with Romain Saiss, Raul Jimenez and Leander Dendoncker. Back issues are available in the Molineux Megastore and online now.
#WolvesAcademy