12th December 2018
Although more familiar to fans for captaining Watford in the Premier League in 2006, Gavin Mahon learnt his trade in the Wolves Academy but never made a senior league appearance for the club.
Released from Wolves as a 19-year-old, Mahon went on to play more than 500 times for various clubs throughout the football league. The tough-tackling midfielder now works for a sports consultancy company as a Football Intermediary where he passes on his knowledge to young players.
Thank you for your time Gavin. Firstly, could we ask how you become part of Wolves Academy?
When I was young I'd been at Birmingham City and Aston Villa, but Wolves asked me to join them when I was 13/14. They sold me on talk of the club and where it was going. I thought getting out of Birmingham at the time was the right idea, so I made the move to digs in Perton. Before I joined the Academy I was training with Aston Villa. We actually trained on the car park at Villa Park, which is definitely not something you would see nowadays! At the same time, I was playing once on a Saturday and twice on a Sunday for local junior teams. Academies don't allow players to play for local teams anymore, which I think is a shame because that's where you get a lot of enjoyment and a chance to show your natural talent, but I had that, and thankfully Wolves saw something in me and signed me up.
What are your earlier memories of being part of the Academy?
I remember after the long days when I was getting the bus home thinking if I'd made the right decision as I didn't realise how hard it would be. But I always remember looking forward to coming to training every day, which is the main thing when you're such a young lad, because you're in a new environment, you're away from home, and you have to do a lot of stuff for yourself and it makes you grow up quickly. But we had a good set of 18 to 20 lads at Wolves who all got on. We would also spend time with the senior squad who were great for us as young players. Wolves had some top players at the time; players like John de Wolf, and I learnt a lot from them.
Wolves offered you your first professional contract as an 18-year-old. What traits do you think you possessed which appealed to the management?
I think I was a footballer who would run through a brick wall for the team. Even if I wasn't playing that well I'd always give everything, and that's what I say to a lot of lads nowadays. Don't worry about having a bad game here and there, because if you're giving everything you've got that's all you can ask for. I had that mentality growing up and I had it for all my career, which is probably why I played as many games as I did and at the level I did, because you knew what you were going to get from me.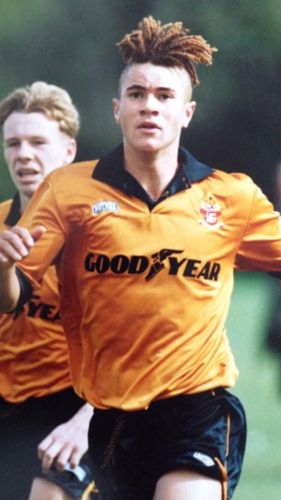 Was it a disappointment not to make an appearance for the senior Wolves side?
It was and it wasn't. I was doing well at Wolves in the reserve games and Graham Taylor was a big fan of mine. There were a few boys getting close to the first team; the Carl Robinsons, the Chris Westwoods, and I always thought with my ability I would get the chance. But when Mark McGhee came into the club everything changed, especially for the young lads. One minute you were close to the team and another minute the young players coming through were not his main priority. When I moved from Wolves I had the chance to sign for Watford, Hereford and Bradford. I thought if I went to Hereford – who had Graham Turner in charge at the time, another manager I'd worked with at Wolves – it'd be better for my development. Unfortunately, that season Hereford got relegated to the Conference and Watford got promoted, so I did think I'd made the wrong decision. But thankfully I dug deep and did really well at Hereford and got the move to Brentford. I think the year I moved from Brentford to Watford was the best season of my career.
What was your favourite moment as a professional footballer?
I'd have to say winning the play off final 3-0 with Watford against Leeds at the Millennium Stadium. People always speak about the Watford days as I played over 250 games for them and I had some really good times there; FA Cup semi-finals, League Cup semi-finals, promotion – some great days.
Do you have one piece of advice learnt from being at Wolves Academy which you pass on to the young players you currently work with?
Don't be afraid to take a step back. There's so many kids who want to be footballers, and I think only two per cent of Academy players make it to the Premier League. But don't think you can't have a good career if you get released or pick up an injury. I always try to help lads understand that if you do have a knock back, you've got to have the mentality to want to show people and prove to yourself that you can have a career. I had that. I was a talker, a warrior in a sense, and my time at the Academy helped develop that.
This article first appeared in the Wolves versus Watford matchday programme, which is available around Molineux on matchdays for just £3.50, and also featured content with Matt Doherty, Diogo Jota and Rob Edwards. Back issues are available in the Molineux Megastore and online now.
#WolvesAcademy