23rd October 2018
To commemorate 100 years since the end of the First World War, young Wolves players have learned about the remarkable story of a former footballer – and the first black officer in the British Army – who lost his life during the Great War.
From the football pitch to pitch battle, Walter Tull made history.
He came from humble beginnings. Born in Folkestone in 1888, his mother was from a farming family and his father was a carpenter, recently arrived from Barbados.
Orphaned at the age of eight after the deaths of both his parents, Walter – who went on to play football for Tottenham Hotspur and Northampton Town – was sent to be raised in a children's home in Bethnal Green, East London.
After training as a printer, Walter soon made his mark as a footballer. First in the children's home's team and then from 1908 while working as an apprentice printer for amateur side Clapton FC, winning the Amateur Football Championships.
Following a successful tour to Argentina and Uruguay, Walter signed as a professional for Tottenham, but he was soon transferred to Southern League side Northampton whom he played 111 games for.
At the start of the First World War Walter enlisted in the 17th (Service) Battalion, Middlesex Regiment – known as the 'Football Battalion' due to professional footballers being at its core – where he saw action at the Battle of the Somme and the Battle of Passchendaele.
Despite the Manual of Military Law stating only men of 'pure European descent' could be officers in the army, Walter's leadership qualities were recognised and in 1917 he became the first infantry officer of black heritage in the British Army.
Fighting on the Italian front in December 1916, he successfully led 26 men under his command on two missions at the Battle of Piave and was mentioned in dispatches for his "gallantry and coolness".
In 1918, the 2nd Lieutenant was transferred to the Western Front in France, and during the Second Battle of the Somme on 25th March, he led an attack on the German trenches at Favreuil, but soon after entering 'no man's land' Walter was struck by a bullet and died.
He was 29-years-old, and his body was never recovered.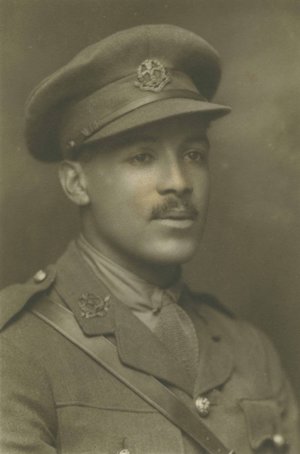 In the lead-up to Armistice Day on 11th November, young players at Wolves Academy have been learning about the life of Walter Tull, with the under-11 team also taking part in an educational visit to The Staffordshire Regiment Museum to experience what life would have been like for soldiers in the trenches.
During their visit, the under-11s discovered what clothes the soldiers would wear, and the weapons used to fight in the conflict. They also experienced the horrors of the Western Front by touring the museum's full-scale reconstruction of a First World War trench.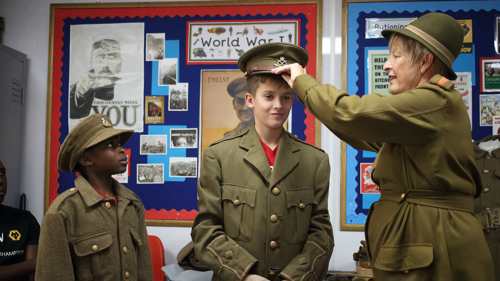 Tim Franks, education officer at Wolves Academy, said: "To give the lads a feel of what the First World War was like, one of our tutors, Linda Barnett, suggested we bring the boys to the Staffordshire Regiment Museum so they had more empathy and feeling for the subject.
"One of the most important things they learnt was how young many of the soldiers were, and how horrific life was on a day-to-day basis, not just the horrors of the battles, but of the terrible conditions in which they had to live and the awful danger they faced. Not just from bullets, but from disease, bad weather, bad clothing and just being totally uncomfortable and miserable."
Wolves under-12s have also taken part in a tournament with youth sides from Northampton Town and Manchester United as part of the first Walter Tull Festival.
The players, who have all been studying the historical impact made by Walter, as well as other lives which were lost during the Great War, laid a wreath in his memory, before reading war poems and letters they had written.
After helping the young Wolves players with their First World War studies, Tim hopes the future footballing stars will have produced enough work to create a display in their Academy classrooms by the end of the month.
"Clubs all over the country are submitting work on Walter Tull, so I think we may be working on biographies, but also writing our own war poems and hopefully the boys will get a sense and a feeling of what it was like to be a soldier, and then bring that into the work they write.
"I've been very interested reading about Walter Tull because I didn't know much about him but he must have been a really remarkable man, because British Army regulations said all officers had to be of pure European decent.
"Walter Tull's father was from Barbados, so he was the first black officer. But it wasn't just that, it was because he was made an orphan at the age of eight and he and his brothers and sisters – there was six of them – were put into an orphanage in the East End of London.
"He overcame barriers not only regarding his race, but he was also from a very poor background, while most of the other officers were from public schools and were highly educated. When we read his letters, he was highly literate and a very clever man. He overcame all sorts of barriers, class, poverty as well as his race. He was a remarkable example."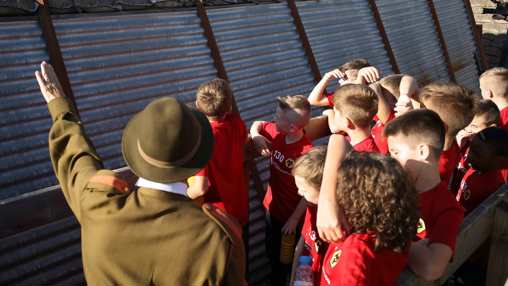 Today, Walter Tull's memory is preserved by his elder brother Edward's descendants, who on 28th March 2018 – the 100th anniversary of Walter's death – launched Tull100.
Developed with a Football Association youth advisory group, the project is working with football clubs, youth groups, schools and community networks across the country to mark Walter's achievements, as well as counter discrimination by promoting equality and inclusion, regardless of race, gender, sexuality and age.
This article first appeared in the Wolves versus Watford matchday programme, which is available around Molineux on matchdays for just £3.50, and also featured content with Matt Doherty, Diogo Jota and Gavin Mahon. Back issues are available in the Molineux Megastore and online now.
#WolvesAcademy