12th March 2021
Nuno Espirito Santo insists he and his Wolves players have been hard at work at trying to resolve their first-half issues ahead of facing reigning Premier League champions Liverpool on Monday evening.
The head coach understands the difficulty that awaits his squad at Molineux, despite Liverpool's difficult run of form since the start of the new year, and has been looking at ways in which his own team can try to improve their opening 45 minutes of matches following several slow starts to their Premier League outings.
On improving first-half performances
"Work on the aspects that we can improve, especially at the beginning of the games, trying to find the why.
"That is very difficult and requires dedication and patience at the same time as working on an idea that we must sustain our levels of performance from the beginning to the end of the game, knowing that we always face very tough opponents.
"The intention is always, from minute one, to be as good as possible. But don't ever forget that in front of you is another team full of talent, in every Premier League match, in all the clubs, who have the gameplan and the ability to be better during some moments and during some details of the game.
"You have to take it all into consideration, it's not only what you are not able to do, but what your opponent forces you to do. We've been analysing, working with the players and we have a new challenge on Monday."
On finding reasons for first-half issues
"Unfortunately, not exactly, only ideas that something has to change. But finding the right one, I think no one knows because it's a game and it can change just like that.
"I'm more focused on trying to prepare our game and our players on action after action, react to a good action the same way you react to a bad action and keep playing the game.
"I think it's better than trying to say, 'Let's achieve this immediately.' Let's go action after action,  when we have to ball, when we don't have the ball, the shape, the organisation, the reaction to the loss of the possession of the ball, how we keep the ball, how are our lines, how we must try to improve finishing actions and not allow counter-attacks to our opponents when we are unbalanced.
"I'm looking at all of the game. There are so many aspects that you have to consider and we are working on that."
Words of encouragement...

🗣😅 pic.twitter.com/UyocqaQksU

— Wolves (@Wolves) March 12, 2021
On facing the Premier League champions
"The quality, the talent and the achievements that the club and Jurgen have done is amazing and we're going to face a very talented squad, a very good football team who have a fantastic approach and idea on the game.
"Not just every team, but everyone has ups and downs. It's how you react from it and how you get through that which is important, and Liverpool, huge admiration.
"[4-0 loss at] Anfield was a long time ago, so many things have changed since then for both teams, it's going to be a new game, a new challenge.
"It didn't teach me anything. We faced a very tough opponent that was better than us in that game. The lessons that we take is from all the opponents and all the matches that we have."
On missing a connection with managers
"I think both of us wish we'd have had more time to become friends, but to build a friendship, it takes time, and it takes spending time together, 'Hello, how are you? How are things?'
"Now we don't even have the time to share in our office a wine or a beer; something that we enjoy so much. Now we don't have that chance, so it's harder.
"It's something that when I arrived to England, I was not used to. Suddenly I was invited for the managers of the Championship to join them in their offices and I started to realise how important that was, and it's something that we have lost.
"After a good game or a bad game, a draw, a win or a defeat, being able to sit down in a good way and share your thoughts is something that has no price. When you meet so many interesting managers that I have had the pleasure to be with."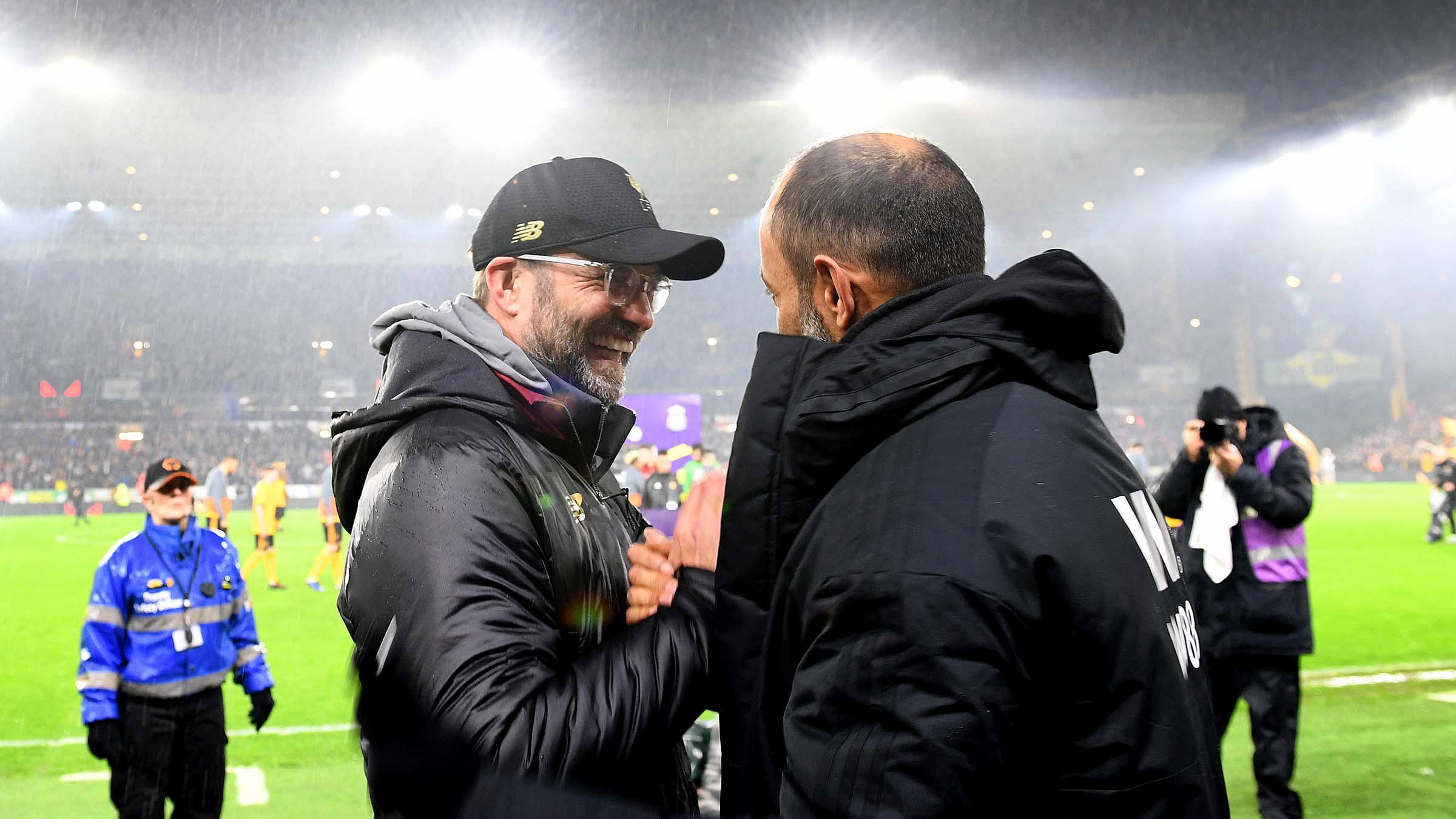 On giving feedback to the Premier League on VAR
"We're going to look because it's quite a long situation and we're going to work on that, and we're going to transmit our eventual opinions on VAR.
"But always with the same idea, to try to make the game better, to try and make the decisions fair and good for everybody, stop speculation, stop all these things because VAR has to improve, there's no doubts about it.
"I cannot say a specific issue, but sometimes people make things to try to improve and our intention is good, but sometimes it doesn't work out and you keep pushing it and you keep insisting it.
"Sometimes you don't realise the best thing is to go the other way and stop it. But as Wolves, we will try to help."
#WOLLIV